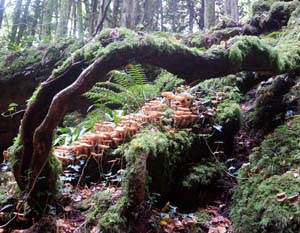 Located near the western fringes of the Forest of Dean, Puzzlewood is probably the closest thing you will find to an enchanted woodland – this side of a Disney animation.
In fact there are many links to the world of art and entertainment.  J.R R. Tolkien is said to have been a frequent visitor around the time he was writing 'The Hobbit' and 'Lord of the Rings'.  Many believe that Puzzlewood was the inspiration for the fabled forests of those two novels. More recently, the BBC has used Puzzlewood as a location for filming episodes of Merlin and Dr Who.
Once an Iron Age quarry and mine, subsequently inhabited by the Romans, the woodland has long since reverted to nature and, left largely to its own devices, has now become a tangled network of narrow paths, secret passageways and dead-ends with spectacular moss-covered rock formations, deep ravines, wooden bridges and walkways and, of course, fantastic trees.
There are no signposts, visitors are encouraged to lose themselves in this informal maze, making their own discoveries along the way. However, if you speak to her nicely, the resident cat will accompany you around and gets quite vocal if – in her opinion – you take a wrong turn!
There are various other attractions on-site, including farm animals, play barns, a willow maze and the inevitable café / gift-shop. But for many, both young and not so young, Puzzlewood alone is reason enough for a visit.
Phytophthora update
Having had the disease confirmed in one of my woods, it's been a busy time: implementing bio-security/hygiene measures, meeting with contractors and timber buyers, marking out precisely the extent of the areas to be felled and perhaps most importantly, keeping woodland owners informed about what is happening.
Luckily for me I have been very well supported by my local Forestry Commission Woodland Officer. Without his knowledge and sympathetic approach, I would be floundering. Read more…
Roadside checks
At least once each year I inspect the road frontages at all our locations in West Devon and Cornwall, primarily to ensure that there are no branches overhanging the carriageway or obstructing visibility, but also to check for trees which may be in danger of 'going over' in the direction of the road. While I'm there I also make sure that any structures are sound, gateposts are not wobbly etc. I also give the padlocks on the gates a good squirt of WD40.
My least favourite part of this task is picking up all the litter which accumulates in and around the gateways. Read more…
Phytophthora 
Spent the day with a couple of Forestry Commission representatives examining some suspect larch trees – identified via an aerial survey. Now we just have to wait for the results from the analysis of the samples they took away with them. The only bright spot is that this is a fantastic location for tree growth and a previously clear-felled area has regenerated very quickly, mainly with sweet chestnut and birch. 
Treefest at Westonbirt
Despite the somewhat mixed weather, numbers were good, especially on the Sunday and Monday. Saw many old friends among the exhibitors and had the chance to catch up with some of our woodland owners who visited our stand. Read more…
Don't disturb the wildlife:
I sometimes wonder if all that Springwatch style creeping around and talking in hushed tones is strictly necessary. In most woods, songbirds are still around literally feet from where I'm chain-sawing, I have seen deer happily grazing only 30 – 40 yards down a track from where I'm making a right din and today, in Iron Fort Wood, and in bright sunshine, my work colleague spotted an adult badger passing between him and me, no more than 20 yards or so from where I was strimming away. It seemed as oblivious to my presence as I was to its. Read more…
Showtime:
Just back from a great day out at the Royal Cornwall Show. Caught up with all the usual suspects in the forestry & woodworking area and said hello to several stall-holders who I recognised from events which woodlands.co.uk attend. Spent a lot of time looking at tractors old and new and talking to the Golden Guernsey goats, although it was a bit of a one-sided conversation. The highlight of the day though was discovering the Manic Organic stall. I haven't seen these good folk since the demise of Woodfair Southwest, which was usually held at Roadford Lake. Their Bombay potatoes are just the best thing ever. Read more…
Bluebells
What a fantastic show of bluebells there has been this year. Strangely, the bluebells in my woods down on the south Cornish coast were about a week or two behind those 'up north' at Taddiport Wood, near Torrington. Last autumn I cut a corridor through some dense young Douglas fir in Hendra Wood and now that clearing is an aisle of brilliant blue.
Brambles
I swear those tracks get longer every time! Read more…
Subscribe to our blog email updates