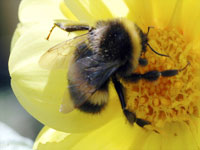 Bees are important members of both urban and rural ecosystems – they are important pollinators. Not only do they pollinate millions of hectares of fruit trees (such as apples) and other crops, but they are busy in our gardens, in our fields and woodlands enabling an enormous variety of plants to pollinate and set seed, completing their life cycle. However, there is a growing number of reports that the number of bees is falling and hives are empty.
In the United States, some 24 States have reported a dramatic decline in bee numbers which is threatening the production of crops as varied as avocados, kiwi fruits and almonds. The drop in numbers has been termed 'colony collapse disorder' or CCD.
CCD is said to have occurred when the occupants of a hive disappear leaving just the queen, the eggs and a few (immature) workers (and these are often infected with various pathogens). As yet no one knows what is responsible for the empty hives, though suggestions have varied from viruses, mites, fungi, GM crops, pesticides and radiation (from mobile phones). It is possible that the later interferes with the bees' navigation mechanism.
If you would like to encourage bees (or other wildlife) in your garden, then a visit to English Nature's 'Gardening with wildlife in mind' or Direct Gov 'greener garden' pages might be useful.
Leave a comment
Subscribe to our blog email updates
Managing Your Woodland for Wildlife
A new book on encouraging biodiversity in your woodland. Available free here »