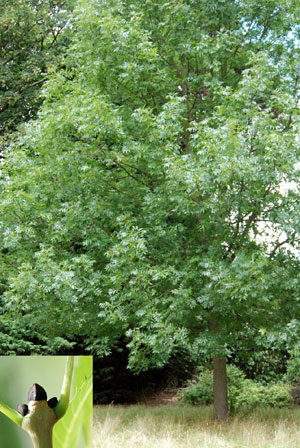 Sherlock Holmes' common criticism of his friend Dr Watson was: "You see but do not observe". All of us are guilty. But once our attention has been drawn to a subject, we start seeing 'everywhere' what had before passed unremarked upon. And this is what I want to do with Ash trees.
In May I began noticing that two Ash trees visible from the study window were behaving very differently. They were next to each other and both about 60 feet high. One flushed and developed normally, and was still in full leaf in mid-October, the other 'struggled' into leaf with a few leaves eaten, a few not appearing on shoots until August, and many shoots never flushing at all. Throughout the summer the crown was transparent with just a few, scattered leaves hanging on.
I started to observe Ash closely on my travels, which over the year have included East Anglia, West Scotland, South Wales, and southeast Ireland, as well as my home patch of central Southern England. Poorly crowned Ash were everywhere, with perhaps one tree in four looking well below par, and perhaps one in ten with much of the crown appearing dead. These are observations not measurements, but they indicate the extent of the problem.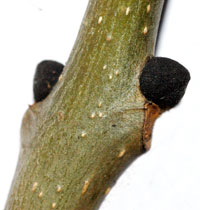 I began raising the matter with colleagues at forestry field meetings and with the research community at Alice Holt. Much of the early concern was put down to late flushing – odd after such a warm April – but the continued poor condition of many Ash crowns prompted closer examination of the problem. It appears that a nasty disease of Ash is affecting the species in eastern and central Europe, notably Denmark, Poland and Sweden, with wilting of shoots caused by the fungus Chalara fraxinea. The reports are alarming and described as serious, though unlikely to kill a whole stand of trees. The fungus has not been isolated yet in UK and, crucially, the symptom of wilting does not match what appears wrong with our Ash. However, samples of shoots showing the symptoms of (a) failed flushing, and (b) very delayed (August) flushing have been taken from 20 year old Ash in my own wood (where trees range from full health to very poorly foliaged crowns) for culturing for possible pathogens. Results are awaited as I write.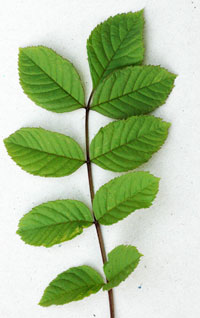 Of course, Ash is prone to several threats – unseasonal frosts, the Ash bud moth, Ash bark beetles, Nectria canker and the Ash dieback problems found in the 1980s associated particularly with hedgerow and field trees appearing to suffer from intensified farming practices. But what has been happening to Ash in 2007 is peculiar. Only time will tell of a wider significance. In my own wood I've identified, described and marked pairs of healthy and unhealthy specimens and so next Spring is now awaited with extra interest!
If readers have observed these unusual conditions The Disease Diagnostic and Advisory Service (DDAS) of the Forestry Commission's Forest Research at Alice Holt will be pleased to receive a report. Send to: ddas_ah@forestry.gsi.gov.uk   They would also like to hear from readers of reports of bleeding in oak trees especially Quercus robur.
And finally, owing to demand and interest expressed to the writer in the past, readers of this regular piece may be interested to know that 'Badgers, Beeches and Blisters – getting started in you own wood' has been reprinted with minor revisions. It is available at the same price of £8.95 (post-free) from Patula Books, Box 6674, Basingstoke RG24 4DP or visit the website www.patulabooks.co.uk for more details.
[This item by Professor Julian Evans first appeared in CONFOR's December 2007 Forestry and Timber News and is reproduced by permission] 
Leave a comment
Subscribe to our blog email updates
Managing Your Woodland for Wildlife
A new book on encouraging biodiversity in your woodland. Available free here »