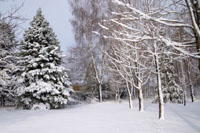 Just for fun, 20 questions.  Find the answers in this year's blogs. 
A prize of Colin Tudge's book "The Secret Life of Trees" for the first 6 replies with the correct answers.  E-mail your answers to catherine@woodlands.co.uk including your name and postal address.   (Answers will be posted in the blog in January).
1.  Another name for the muntjac is the
a) barking deer b) mooing deer c) squeaking deer
2.  How long, at least, should your willow poles for basket weaving be?
a) 6m b) 5m c) 4m
3.  In the middle ages mistletoe was thought to protect your home from
a) fire b) mice c) dry rot
4. The only bright pink toadstool found in the UK is the
a) shaggy ink cap b) waxcap c) the fly agaric
5. A cruck frame is based on a
a) box frame b) V-frame c) A-frame
6.  Sloes are the fruit of the
a) blackthorn b) hawthorn c) damson
7.  Approximately, how many cars could you park in an acre?
a) 300 b) 150 c) 80
8.  When leaves change colour in the autumn, the pigment anthocyanin makes the leaves appear
a) red  b) orange c) brown
9.  There are three native British conifers:  yew, Scots pine and
a) juniper  b) larch c) Douglas fir
10.  "Hollins" are groves of
a) holly b) ivy c) mistletoe
11.  By tradition you should pick your blackberries before
a) Michaelmas b) Christmas c) Martinmas
12.  King Alfred's Cake is a type of
a) biscuit  b) plant c) fungus
13.  The rare giant oak aphid is the size of a
a) baked bean b) coffee bean c) broad bean
14. The fungus Chalara fraxinea affects
a) oak b) lime c) ash
15.  The UK's willow industry is centred in the wetlands of
a) Devon b) Cornwall c) Somerset
16.  Parapox virus causes
a) rabbit pox  b) squirrel pox  c) fox pox
17.  Which animal likes to use a brash pile (branch thinnings) for shelter?
a) weasel  b) vole c) otter
18.  Coppicing is a method of woodland management in which a tree is harvested by cutting at
a) ground level b) head height c) knee level
19.  Add a slice of lemon to your nettle tea and it will turn
a) green b) pink c) blue
20.  Adders are recognisable by their diamond pattern.  Male adders are greyish/silvery and female adders are
a) yellowish  b) brownish c) reddish
Leave a comment
Subscribe to our blog email updates
Managing Your Woodland for Wildlife
A new book on encouraging biodiversity in your woodland. Available free here »