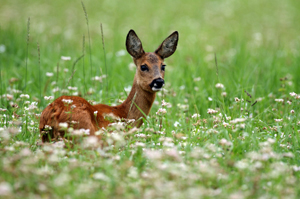 There are six species of deer to be found in the U.K. – two of which are considered native – Roe Deer and Red Deer.  The other species, Sika, Chinese Water Deer and Muntjac have been introduced in the last 150 years – and the Fallow deer is often accepted as part of our natural heritage as it was introduced back in the 11th Century.
The range of Roe Deer (Capreolus capreolus) has extended considerably in the last 40 years, as have the numbers of Roe Deer.   The natural predator of the Roe Deer is the lynx, but this does not exist in the wild in the U.K – so the population has had one control on its numbers removed.  Read more…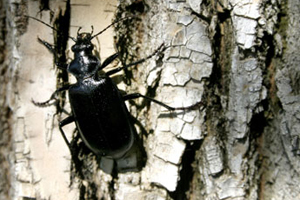 There have been various articles that comment on the decline in numbers / variety of bees and butterflies, now a recent study reported in the Journal of Applied Ecology comments on a worrying decline in the numbers of ground beetles or carabids.   Scientists at Rothamsted Research, working with the NERC Centre for Ecology & Hydrology have found that some 70+ % of ground beetle species have shown a fall in numbers.  The scientists monitored beetle populations at many locations throughout the U.K. over a time scale of some fifteen years. They found the decline in the abundance of ground beetles was comparable to those reported for butterflies and moths. Read more…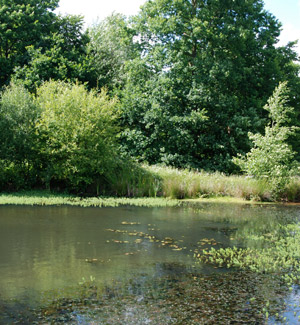 Over the last fifty or so years, many of our freshwater ecosystems (rivers, streams and ponds) have been polluted – particularly with nitrates and phosphates.  This pollution has lead to eutrophication : an overgrowth of simple green algae and subsequent loss of biodiversity.  The million ponds project seeks to create new ponds, with clean, unpolluted water.
The question might be posed "why not clean up and manage existing ones?"  Of course where this can be done, then it should be done but new ponds allow one to start with a clean slate.  They can be created in places where their water supply will be clean throughout the pond's lifetime, and generally creation is cheaper and simpler than the restoration of an existing pond. Read more…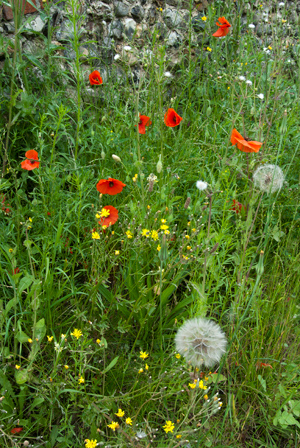 Recently the blog commented on the loss of wild flowers from country lanes and roadsides - occasioned by seeing nettles and cow parsley for miles, and very little else.  This loss of diversity may be attributed in part to the use of nitrogenous fertilisers and aerial deposition of pollutants.  It is 'rare' to see poppies around the edges of fields nowadays.   So what is happening ?
Obviously, the seed used by farmers nowadays has fewer "wild contaminants" but Plantlife is concerned that various agricultural management practices have placed arable plants under threat.  The need to make economic use of every bit of land, the increased use of herbicides (to control pernicious weeds – such as charlock, black grass, sterile brome) has a knock-on effect on many arable wild flower species, as has the greater use of winter planting.   In some parts of the country, a switch away from arable farming has also had its effects.
Some 150 wild flowers are characteristic of,  or associated with arable farming;  many are now threatened.  The majority of the 'uncommon species' are found in the south-east (crudely speaking – draw a line from the Wash across to the Bristol Channel) Read more…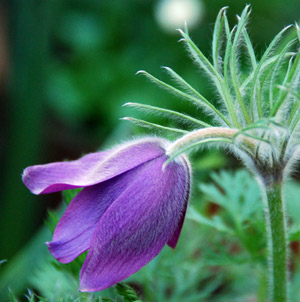 The pasqueflower is not a woodland plant, but more one of open grassland (on chalk or limestone), sometimes growing with upright brome and tor grass  However, it is a particularly beautiful and rare flower – having deep purple petals, that surround the many vibrant yellow stamens.  The flowers usually appear in mid-April when the daytime temperatures have risen into double figures; it is often associated with Easter, and is,  otherwise known as easter flower, meadow anemone or dane's blood.   The flowering period of the pasqueflower is quite long, lasting for some 4 – 6 weeks.  The pasqueflower is a member of the 'buttercup' family – the Ranunculaceae, like the wood anemone and traveller's joy
The flowers are protogynous – that is the flower has a separate male and female phases, with the yellow stigmas (female structures) maturing first.  Protogyny, or indeed protandry, are mechanisms that some plants use to promote the exchange of pollen between different plants – i.e. cross-fertilisation / outbreeding .  The plant is covered with many silky hairs – these are present on the leaves, stem and flowers (see the various images in the gallery below). Read more…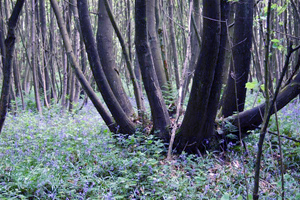 Wild boar became extinct in the U.K. in the thirteenth century –so we have been 'boar free' for circa 700 years.  However, towards the end of the last century commercial pig farming developed; seemingly some escaped and have established free living and breeding populations.
Attitudes to these pigs / boars fall into two broad categories :
those who welcome the return / reintroduction of a missing species and its ecological impact
those who have a more negative perception of the boar – in that, they do damage, have the potential to harbour disease and can cause direct damage to people. Read more…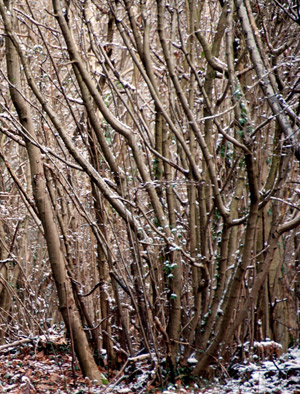 I am currently studying for a Foundation Degree in Forestry and Woodland Management at Plumpton College in East Sussex and am preparing a dissertation on dead wood in coppice woodlands.
Coppicing is a well-known silvicultural practice, carried out in the UK for the purpose of habitat and wildlife conservation, and for sustainable timber production / products. It is widely accepted that, whilst coppicing has many benefits for conservation, 'woodland historically managed as coppice is generally lacking in dead wood'  (FC 2002). Earlier literature such as Buckley (1992) and Kimmins (1997), supports the view that there is a general lack of dead wood presence within actively managed coppice woodlands. Read more…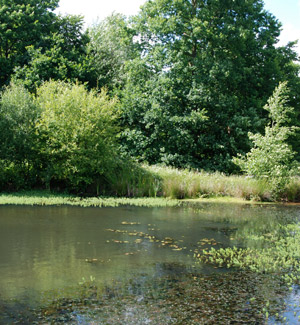 Pond building in woodland is more than just digging a big hole.   It is very much about creating a habitat, which is varied but which actually keeps the water in.  Over the last month or so, we have been digging a large wildlife pond in Kent not only for wildlife but also for enjoyment. We wanted an expanse of water that would be big enough for some canoeing and paddling around in small boats.
To do the job, we employed a pair of digger drivers with their machines but we were very much involved in the design and practicalities.  I knew several people who had dug ponds and lakes but in this case I particularly wanted something with an island; hoping that this could be a protected area for bird nesting – as well as an interesting feature. Read more…
Subscribe to our blog email updates