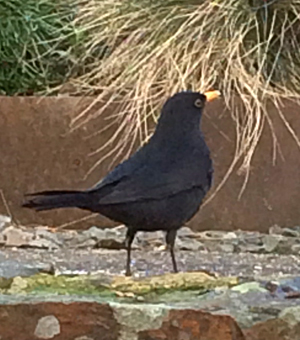 Since 1979, people have been watching the birds in their garden or local park for an hour as part of the Big Garden Birdwatch, and telling the organisers (RSPB) what they have  seen.  The Big Garden Birdwatch has been running for some 37 years and has provided a mass of data on the bird populations of the U.K.   The data gathered give an insight into how our wildlife is faring.  The RSPB's Big Garden Birdwatch takes place this weekend (28 – 30 January, 2017).  If you would like to take part, visit the RSPB's website e.g.  www.rspb.org.uk (links to a pdf file).
What is involved ? Read more…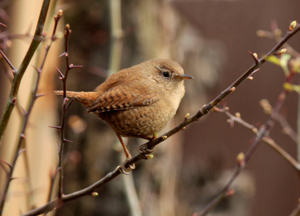 The wren is a small, brown bird; it has an almost rounded outline.   It is a somewhat 'dumpy bird', with a fine bill and relatively long legs,  and short, 'round' wings. Its tail is short and often held high – (though not in the picture here!).   Like many small birds and mammals – it suffers in very cold winters. Researchers at the University of East Anglia have found evidence that wren populations may be adapted to local climates.  Using data from the Breeding Bird Survey (run by the BTO, RSPB and JNCC), they found that wren populations were susceptible to harsh winter weather (as measured by the number of days with ground frost) BUT that northern (Scottish) populations were more resilient to harsh winters, even though these birds sometimes experienced 70% more frost days than their southern counterparts.   Information collected by bird ringers indicated that the body weight of the wrens in the warmest area (the south west) was 5% lower than those in coldest area (East Scotland). Read more…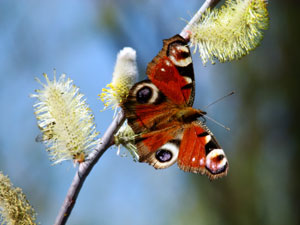 Butterfly Conservation UK and the Centre for Ecology and Hydrology have been involved in the monitoring the status of butterflies through various citizen science schemes*.   UK butterflies (and indeed, birds) are probably the best-studied wildlife groups thanks to the dedication of an enormous workforce of highly skilled and committed volunteer recorders. Butterflies and birds have been observed and recorded in detail for many, many years and these detailed records and counts yield an invaluable resource of information for the analysis of population change(s).
A recent report indicates that some 70% or more of our butterfly species are in decline and that the geographical distribution of many has contracted. Read more…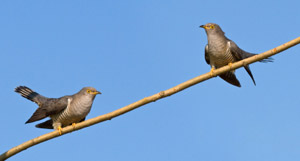 They are on the move! Who ? The Norfolk cuckoos that were fitted (last Spring) with solar powered 5G satellite tags.  Through these devices, the cuckoos were followed back to their 'winter homes' in Africa.  The tags transmit for about 10 hours at a time, then they go into 'sleep mode' whilst they are recharged by the light – ready to broadcast the position of the birds some time later ☆. Read more…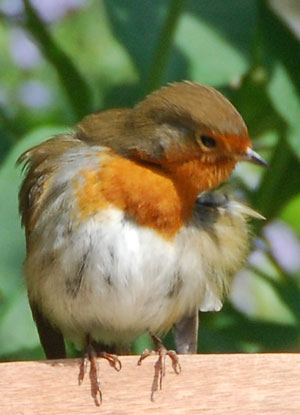 S

eason's Greetings.   
The robin, frequently pictured on Christmas cards,  is making something of a "come back".  Its numbers have increased by roughly 50%, compared to when it was first recorded back in 1970.
The RSPB has suggested that milder winters and earlier Springs have contributed to its increased numbers; and it is estimated that there are now some 5 – 6  million breeding pairs of robins in the U.K.  However, its populations can be 'knocked back' by hard winters – such as we have experienced recently.  A small bird, such as the robin, can rapidly lose much of its body mass through a short succession of cold nights and days – burning its reserves (of fat) to generate heat energy  to maintain its body temperature.  They also use up energy in the search for food, which is often in very limited supply under cold conditions. Read more…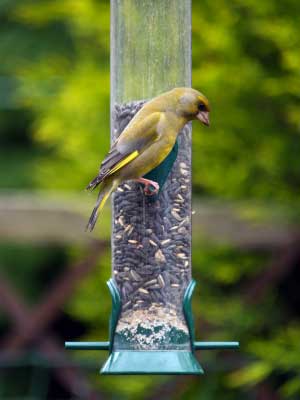 Greenfinches, parasites, heat islands and the BTO nesting survey.
Greenfinches are being killed by a protozoan parasite – Trichomonas.  The parasite causes swelling of the throat by infecting the crop and gullet, so the the birds cannot eat.  It has been suggested that as many as 500,000 greenfinches have been killed by this parasite. Read more…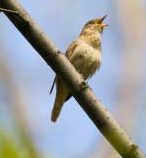 Nightingales are migratory birds and fly into the U.K. in the Spring, having spent the winter in Africa. The nightingale is particularly well known for its song; (a wma file of which can be found here).  However, not everybody in the UK is likely to hear them singing.  It is not found in Scotland or Wales, and in other places its numbers have fallen quite dramatically.  It is now mainly found in the South-East, especially Kent, Sussex, Suffolk and Norfolk. A sighting is unlikely; nightingales are shy, drab brown birds who seek the dense vegetation described below. Read more…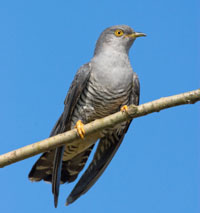 Compiled in the UK by organisations such as the RSPB and the British Trust for Ornithology (BTO ), the Red List records birds that are considered critically endangered.  Over the last few years the number of birds on the Red List has grown from 40 to 52, including the yellow wagtail, the lapwing and the wood warbler.   A recent addition is the cuckoo.  Read more…
Subscribe to our blog email updates