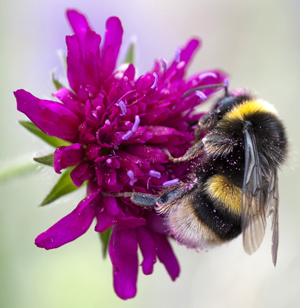 The warmth of recent days has seen bumblebee queens foraging among the Spring flowers.    They have emerged from hibernation.  They now need to feed and then find a place to create a nest.  The queen will then lay eggs, which will become 'daughter workers'.  Later in the season, males and new queens hatch – they will leave the nest / colony.  The new queens that are fertilised will hibernate after they have fed (heavily hopefully) on nectar and pollen from available flowers.
Researchers at the Centre for Ecology and Hydrology, the University of East Anglia, the Zoological Society of London and University College London, have been studying different generations Read more…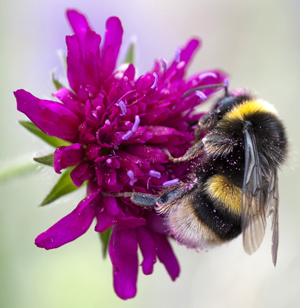 It has been known for some time that bees and bumblebees are attracted to flowers by their colour(s), scent (volatile oils), shape, nectar and indeed electric fields (see recent post).  However, it has now been shown that bumblebees can pick a plant on the basis of the nutritional content of its pollen.
Anthony Vaudo et al at the Centre for Pollinator Research (Penn State University) recorded the foraging patterns of bumblebees in defined outdoor areas, and then determined the chemical make-up (carbohydrate, protein and lipid levels) of the pollen from the different species present.  They found that the bumblebees went for pollen with a high Protein:Lipid value.    Read more…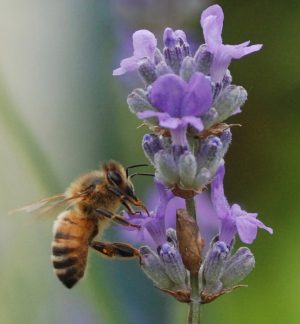 Sadly, our air is polluted with many different chemicals from anthropogenic sources – particularly the burning of fuels.  Many of these chemicals have been implicated as exacerbating a number of health conditions – notably heart disease, COPD (chronic obstructive pulmonary disease), stroke and lung cancer.  Common pollutants are particulates (from diesel), ozone and nitrogen oxides.  These pollutants not only affect us but also many different plants and animals.
Recent research at Penn State University has revealed that ozone interacts with plant scents (volatile oils) and degrades them.  As a result the scents are less effective in attracting pollinators (bees and bumblebees) to the flowers. Read more…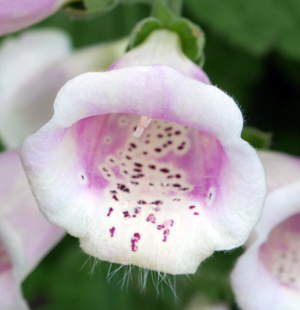 Flowers have various ways of tempting pollinating insects to visit them.  Indeed, some have very complex mechanisms to promote pollination and fertilisation, for example, the bee orchid.  In order to attract pollinating bees, the orchid has evolved "bee-look-alike" flowers.  These draw the bees in with the "promise of sex".  They attempt to mate with the flower, landing on the velvety lip of the flower and pollen is transferred.  The bee leaves 'frustrated'.  However, the right species of bee doesn't live in the U.K., so here bee orchids self-pollinate. Read more…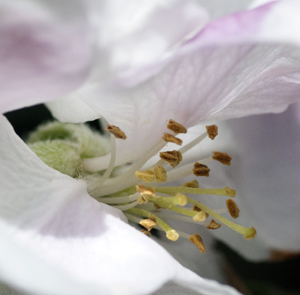 Dr Dara Stanley of New Holloway, University of London has been looking at the effects of neonicotinoid pesticides on 'efficiency' of bumblebee pollination of apples.  Several studies have already implicated these pesticides in the decline of foraging behaviour of bees / bumblebees.  As some 30% of agricultural crops depend on pollination by bees and  bumblebees, hover flies and other arthropods (with an estimated global value in excess of $350 billion / year) then the effects of these pesticides needs to be evaluated, so that informed debate on the banning or restriction  of their use can take place.
Dr Stanley and associates exposed some bumblebees to 'low' levels of neonicotinoids (such as might be found in wild flowers), others were exposed to no pesticide.  Read more…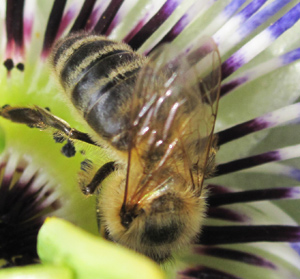 The woodlands' blog has often reported on the problems that bees and bumblebees are facing; these range from habitat loss & fragmentation, changing agricultural practices, parasites (varroa) and viruses, climate change and extreme climate events and the use of pesticides (particularly neonicotinoids).
Now there is evidence accumulating that the decline in various bird species  (sparrows, swallows and tree starlings) can be correlated with the use of insecticides.   A group of researchers from Birdlife (Netherlands), the Dutch Centre for Field Ornithology and Radboud University, Institute of Water and Wetland Research have been studying bird population declines at the turn of the century.  Read more…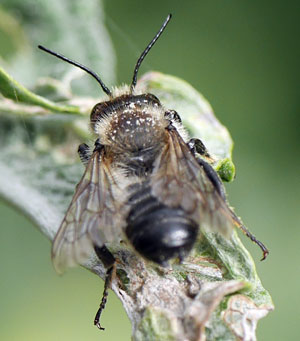 The International Union for the Conservation of Nature (IUCN) publishes the Red List.   It is a list of species that are under threat in different parts of the world; it goes back to 1964 when it published the 'list of threatened plants'. By 2012, the IUCN assessed a total of 63,837 species and reported on their status in the following terms:
Extinct (EX) – No known individuals remaining.
Extinct in the wild (EW) – Known only to survive in captivity, or as a naturalised population outside its historic range. Read more…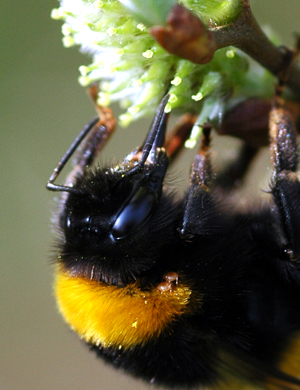 You may well have heard that bees are in trouble. Domestic honeybee hives seem to die more often than they used to, and some of our wild bees have disappeared altogether; for example, three of the UK's twenty seven bumblebee species have gone extinct. The big, long-term driver of declines has been farming intensification; where once we had plentiful hay-meadows and chalk downland, rich with flowers, we now have flower-free monocultures of wheat or silage grass.
Pesticide use is also contributing to the problem, particularly new generations of systemic, persistent insecticides called neonicotinoids that get into nectar and pollen of both flowering crops and wildflowers. Read more…
Subscribe to our blog email updates