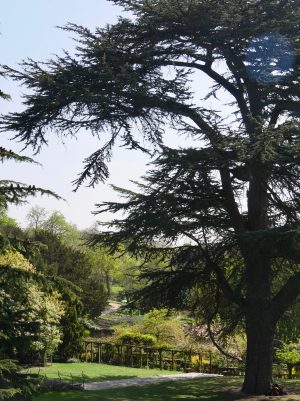 The Cedar of Lebanon (Cedrus libani) is widely planted as an ornamental tree in parks and the gardens of stately homes.  However, it is native to the mountains of the Eastern Mediterranean.  These trees were used by the Phoenicians in the building of their ships, used in the construction of Solomon's Temple in Jerusalem and the tree's resin was used by the Egyptians in the process of mummification.  Cedar wood is valued for its durability, grain, colour and fragrance; it is also a source of cedria (cedar resin) and cedrum (cedar essential oil). Read more…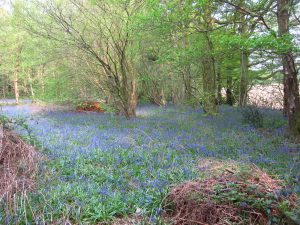 Spring brings a variety of blue flowered plants such as bluebells, hyacinths and squills in our woodlands, parks and gardens.  Bluebells are 'easily' recognisable. However, there are different types of bluebells. The bluebell that is native to the UK has the Latin or Linnaean name of Hyacinthoides non scripta.  The Spanish bluebell (H. hispanica) is also to be found, and this hybridises with the native form,  giving rise to intermediate types.
The native bluebell has deep blue and scented flowers that hang from an elegantly arching stem. It is found in abundance in many deciduous woodlands and hedgerows across the UK, though it is unusual or rarer in parts of East Anglia and Scotland.  The capacity of the Spanish Bluebell to hybridise with the native form has been seen as a threat to the native Bluebell – but now another concern has been 'identified'. Read more…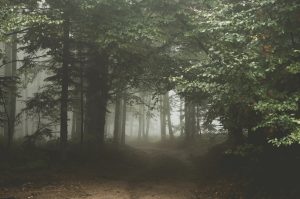 Białowieża is a forested area that lies on the border of Poland and Belarus.  It includes some 1500 sq km of some of the tallest trees to be found in Europe, including towering hornbeams.  It is a species-rich area, with carnivores such a lynx and wolves, 120 bird species (including the three toed woodpecker and pygmy owl), 60+ mammal species including the bison!  The area has been described as a "national treasure for Poland and an international treasure for us all".
The tracts of forest are special as they have never been felled, though it would be wrong to think of the woodland as 'primaeval'  like the original 'wildwood'. The woodland / forest supports a community through tourism, timber, hunting, honey and mushrooms, not to mention scientific researchers and the staff associated with the National Park.  However, only 105 square km of the forest has been designated as National Park or a Unesco Heritage Site. Read more…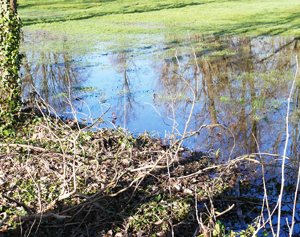 With the changing nature of our climate, so extreme events have become more frequent.  The last fifteen or so years has seen significant episodes of flooding.  Flooding used to be a relatively unusual event in the U.K.   In consequence,  efforts are now being directed at finding ways of mitigating the effects of extreme rainfall.
The risk of flooding is associated with changes in our climate (notably rainfall patterns) and the techniques of land management have changed with the mechanisation of agriculture,  the creation of simplified (larger) field systems, land drainage, increased stock densities etc.  The U.K. landscape / countryside has altered significantly over the last fifty years.   Read more…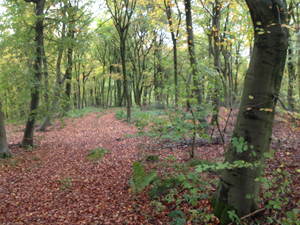 2017 could be the right year to take the plunge into woodland ownership:
1.  Money in the bank continues to yield virtually nothing, so putting some of your savings into a woodland means having an investment that you can actually enjoy;
2.  Like it or not, 2017 will be the year of Donald Trump and the uncertainty and apprehension that this brings.  In an uncertain world, having a wood of your own which you can escape to is a great reassurance;
3.  A recent survey showed that teenagers with smart phones check them on average 150 times a day: a woodland is an antidote to overdosing on screen time.  Your children or grandchildren may be suffering a "nature deficit" and being able to visit a woodland is a good way to make up this shortfall and help them grow up more healthily;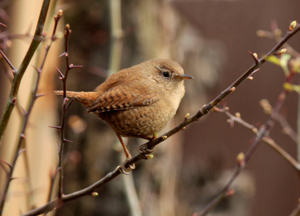 The wren is a small, brown bird; it has an almost rounded outline.   It is a somewhat 'dumpy bird', with a fine bill and relatively long legs,  and short, 'round' wings. Its tail is short and often held high – (though not in the picture here!).   Like many small birds and mammals – it suffers in very cold winters. Researchers at the University of East Anglia have found evidence that wren populations may be adapted to local climates.  Using data from the Breeding Bird Survey (run by the BTO, RSPB and JNCC), they found that wren populations were susceptible to harsh winter weather (as measured by the number of days with ground frost) BUT that northern (Scottish) populations were more resilient to harsh winters, even though these birds sometimes experienced 70% more frost days than their southern counterparts.   Information collected by bird ringers indicated that the body weight of the wrens in the warmest area (the south west) was 5% lower than those in coldest area (East Scotland). Read more…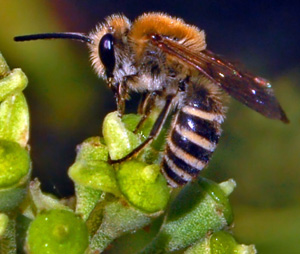 At this time of year, it is unusual to see bees flying around, but one that you might see is the ivy bee; the ivy bee is a 'new bee'.  It was first described as a distinct species in 1993.  It was present in the Channel Isles,  back in the 1970's (where it is abundant) but was not recognised as a separate species.  In the U.K., it was first reported from Dorset (at Worth Matravers) in 2001. 
It has since been found in a number of places along the South Coast – from Kent to Cornwall, and in Wiltshire, Somerset, Surrey and Essex.  It is spreading northwards, and reached the north Norfolk coast (in 2014) and Shropshire;  it has been suggested that the presence of the ivy bee here is another aspect of  climate change.    A map of the areas where this bee is likely to be seen can be found here. Read more…
Climate change is now a fact of life and one aspect of this is the occurrence of more extreme weather events.  These can take the form of high winds / hurricanes, extended periods of heavy rainfall or conversely periods of drought.  Clearly extreme weather can affect all ecosystems; woodlands and forests are no exceptions.   Consequently in recent years, a number of organisations have been looking at different tree species in order to understand more about drought resistance (or the ability to withstand prolonged flooding – when the roots are deprived of oxygen).
INRA (French National Institute for Agricultural Research) has been looking at a small tree of the cypress Family (Cupressaceae) – Callitris tuberculata.   This grows as a small evergreen tree or shrub in Western Australia.  It can survive extreme drought and has been described as "the most drought resistant tree in the world". Read more…
Subscribe to our blog email updates