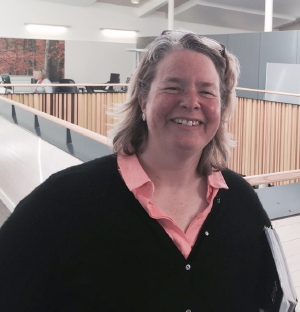 Visiting the Woodland Trust headquarters in Grantham, Lincolnshire, immediately gets you thinking of trees – it is surrounded by young silver birch trees and the walls are clad in wooden panels and even the reception desk is a sawlog that has been cut into planks for seasoning   The footprint of the building at Kempton Way is C-shaped, said to be in the shape of an unfurling fern enclosing a sheltered woodland garden.  Inside, about a hundred people, predominantly young, sit in open plan offices in front of their screens, avidly organising and tapping out the Woodland Trust message mostly fundraising or campaigning – the other staff are out in the field managing their estate of over 1000 woods or working with landowners.
We met the chief executive, Beccy Speight, who has been at the helm for a year and is clearly immensely capable and knows woodlands inside-out – her previous job was managing a chunk of the National Trust Read more…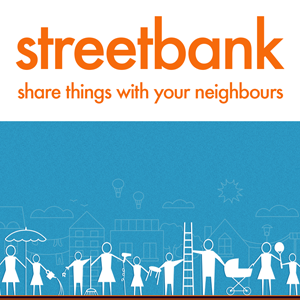 You need a tool but don't want to buy it.  You have a piece of forestry equipment and wonder if anyone else could use it. You want to know how to sharpen a chainsaw but don't know anyone nearby who could teach you how.  All these and many other problems would be solved if there were a website that put you in touch with neighbours who could help or who need help.  If such a platform existed it would help solve your problem and you would make friends locally.  In fact such a website exists already!   Streetbank.com was established as a not-for-profit enterprise to allow people to share things and skills for no cost, and it really works. Read more…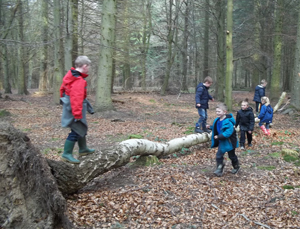 Until late in 2009 West View Project was an outdoor activity provider & youth centre that worked mainly with children who struggled in school or with schools, who wanted fun outdoor activity provision – such as canoeing & rock climbing.   Since then a lot has changed and the main driver of this change has been due to the impact of having unrestricted access to woodland. It was a very steep learning curve as we had no firm plans what to do with a wood or indeed how to manage one.  Over a very cold winter we read blogs and websites, found tools and basic equipment and also began thinking about what groups could do in a wood. Read more…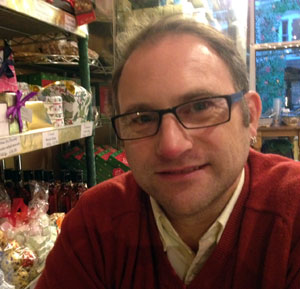 It's not often you meet a person who has set up an organisation just to make sure land is used more constructively.  Mark Walton, of sharedassets.org.uk, is such a person and today he told me about how he plans to change the way land is used.  He's been able to set up this new social enterprise because he has a Clore Social Fellowship, which funds and supports aspiring leaders in the social sector.  These fellowships last one year full time or two years half time, and Mark has used the freedom this gives to investigate how public, private and charitable landowners can be helped to use their land more productively.  He also has support from the Tudor Trust. Read more…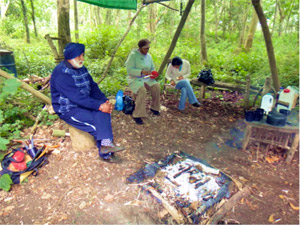 Visits to 'Glede Wood', Shropshire, provided for the use of the Small Woods Association by Woodlands.co.uk, have begun again with the start of our new project 'Branch Out'
Our Social Forestry projects have targeted a range of disadvantaged groups from NEET's (Not in Employment Education or Training) to women offenders. This time we are engaging members of Telford's black and ethnic minority.
We have managed to gain some funding to buy a minibus, bought cheaply courtesy of Hitachi Capital, which allows us to pick people up from the town centre. As a result this broadens participation and removes another barrier to exploring the forestry sector. Read more…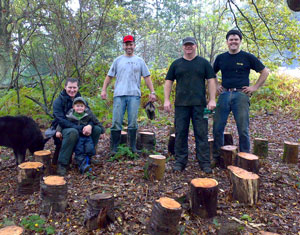 St Mark's CE Primary School (Sussex) were surprised and delighted to be given the use of a piece of woodland and meadow, only 400 metres from the school.
First the whole school visited the Ashdown Forest (under the aegis of the Sussex Wildlife Trust ), Then all the staff took part in an INSET day – also led by the Sussex Wildlife Trust. This gave the staff the opportunity to develop and refine some ideas on how to use the wood and meadow land to enhance children's learning. Read more…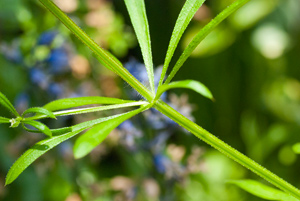 The bedstraws are slender, sprawling herbs that have square stems (in cross-section) and they belong to the genus GALIUM.  This genus belongs to the family RUBIACEAE, which includes the Gardenias,  Coffea (for coffee) and Cinchona (bark yields quinine = Jesuits' bark).
Galium odoratum (sweet woodruff) is a woodland bedstraw, which tends to form 'a carpet' and is a perennial.  Galium aparine ( aka goosegrass, kisses, cleavers, sticky bobs, sticky willy, sweethearts and robin run the hedge) is more common and is a 'scrambler"; it is also an annual. Read more…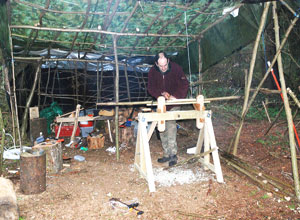 A priority when staying out in the woods is a good water and wind proof shelter
The following photos show the construction of a hazel wood shelter to sleep 2-3 people.
We are out a lot, so we built it to last.
The photographs in the 'strip' below show the various stages in the construction of the shelter. Read more…
Subscribe to our blog email updates