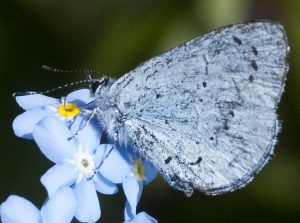 There are many types of woodland, which may be broadly categorised by the dominant type of tree(s) – thus there is, birch woodland, oak woodland, beech woodland etc.  The flora and fauna of these different types of woodland varies though there can be similarities.  Some species, such as brambles and ivy can live in a variety of conditions whilst other plants / animals have very specific requirements.
This is certainly true for various animal species – for example, butterflies and moths. For example, the Brimstone (a pale yellow butterfly) has larvae (caterpillars) that need to feed Read more…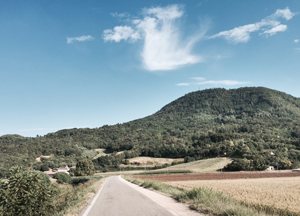 Italy has a long tradition of forestry management going back before Roman times, and ancient traditions very much influence Italy's woodlands today.  For example, 40% of Italian wood production is chestnut or beech which, along with oak, would have been dominant species for the Romans.  There are also lots of non-timber forest products that are important to Italians such as mushrooms, wild boar and firewood.  Indeed compared to the UK, Italy gets a large proportion of its energy from woodfuel with almost 60% of cut wood being used for domestic heating. Read more…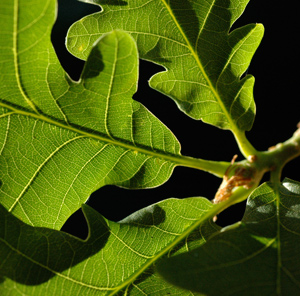 Woodlands contribute substantially to the character of the countryside, clothing the sides of valleys and hillsides, forming copses and wider swathes of wood.  The amount of woodland varies from county to county, in some areas broadleaved woodland dominates whereas others have a preponderance of coniferous plantation.  The national average for woodland cover is about 8.3%, with Surrey, Sussex and Hampshire being some of the most 'wooded' counties.  The oak is perhaps one of our largest native, broad-leaved trees.  There are two native species of oak; the sessile oak (Quercus petraea) and the pedunculate oak (Quercus robur). Oaks are (generally) long-lived trees that grow quite slowly, compared to other broadleaved species. Both the pedunculate and sessile oak (and their hybrids) can grow to be very large trees.   Old trees can have a circumference of 10+ metres. Read more…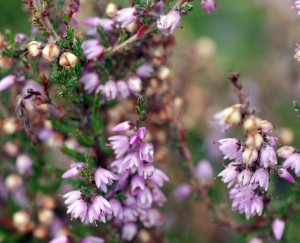 There are a number of shrubs that have branched woody stems, which can grow to about one metre in height; and are associated with heaths and bogs.  There is heather, bilberry, cowberry, crowberry and bearberry.   However, the actual height of these plants is dependent on
their level of exposure to the elements (elevation and aspect) –  particularly wind,
the nature of the soil (its pH, nutrient and water status) and
the level of grazing by herbivores (deer, sheep, rabbits).
When I last saw Oliver Rackham I was infected by his curiosity.  Someone suggested, as we walked though a woodland, that one spot might have been historically used for making charcoal so Dr Rackham dived into the undergrowth armed only with a set of keys and dug into the soil and he soon emerged triumphant with some old charred remains, proving definitively that this location had in fact been used for charcoal making.  This sort of curiosity and dogged ferreting for facts runs through his new book on the ash tree.  He considers what threats the ash tree faces, but he also uses the book as a platform for a wider diagnosis of the state of British woodlands.   Read more…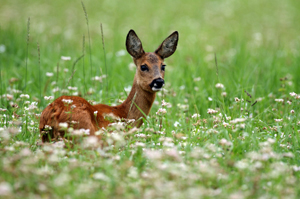 The UK's rapidly growing deer population is causing problems for the managers of woodlands of all sizes. The Deer Stalking Certificate Level 1 is a four-day course about how a deer population can be managed.  Teaching ranges from lectures on deer biology and diseases to rifle safety and marksmanship.
The course I went on at Alice Holt Forest, in Hampshire, was run by Steve Wooley, a veteran stalker who has worked as a gamekeeper on a Scottish estate for 25 years – looking after a 'patch' of Forestry Commission land – being 10,000 acres of land.
All four days were fast-paced, so it was essential to have previously studied the manual which was sent out before the course started. However, it isn't all theory: one day Steve turned up with a deer he'd shot that morning and "gralloched" it in front of us to show us how to check for signs of disease.  Read more…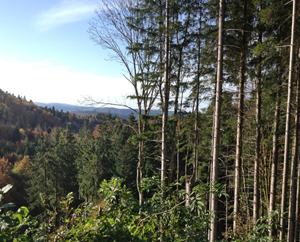 Forestry is a surprisingly important part of the Swiss economy and the sector employs 90,000 people, with 1.3 million hectares of Switzerland being given over to forestry.  To put this in a UK perspective, it is about the same amount of forestry land as Scotland and is a little more than England (which has 1.1 million hectares of forest).  The reason why Switzerland, smaller in size than England, has as much forestry land is that a much higher percentage of the countryside is given over to trees – Switzerland has 31% tree cover which is much more than England's 9% and is high even compared to Scotland which only has 17%.  In fact European countries are generally more forested than the UK – with Finland at a whopping 76% tree cover and even France is 27%, so Switzerland stands at just above the european average. Read more…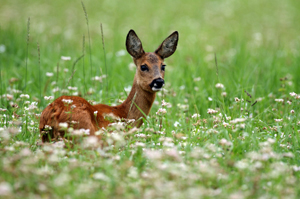 There are six species of deer to be found in the U.K. – two of which are considered native – Roe Deer and Red Deer.  The other species, Sika, Chinese Water Deer and Muntjac have been introduced in the last 150 years – and the Fallow deer is often accepted as part of our natural heritage as it was introduced back in the 11th Century.
The range of Roe Deer (Capreolus capreolus) has extended considerably in the last 40 years, as have the numbers of Roe Deer.   The natural predator of the Roe Deer is the lynx, but this does not exist in the wild in the U.K – so the population has had one control on its numbers removed.  Read more…
Subscribe to our blog email updates