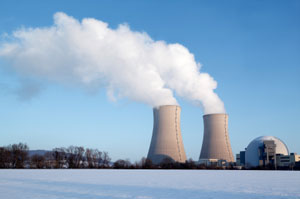 Climate change is a fact, though not one always accepted by certain politicians.   Greenhouse gas emissions have been growing since the C18th, and particularly in the period 1970 – 2004.   The warming of the world climate system is certain; air and ocean temperatures have increased.  
Though we cannot say how climate will change in any specific area with certainty, we can be sure that extreme weather events will become more common – droughts, heat waves, heavy rainfall, high winds and cyclones. Read more…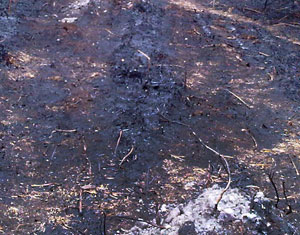 According the United Nations FAO, some two million hectares of forest were burnt in the Mediterranean region, between 2006 and 2010.  Most of these fires were 'human induced'; they (the fires) are the most frequent cause of degradation / loss of forest / woodland in this region.  In 2012, a fire swept through some 20,000 hectares of forest near Andilla (Valencia).   After the fire, it was found that though oaks, holm oaks, pines and junipers had been completely burnt, the vast majority (98% +) of the Mediterranean Cypresses were still standing, tall and green.   There followed a three year study of the fire resilience of the Mediterranean Cypress (Cupressus sempervirens var horizontalis) to see if stands of these trees might function as buffer zones to hinder or prevent the spread of forest fires. Read more…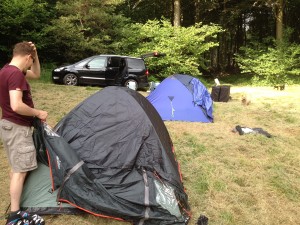 Camping in your own wood (or a friend's wood) is totally different than staying at a conventional campsite.  There is more freedom, more choice and more solitude – you can do lots of things that would not normally be allowed.  Recently, I was invited to a woodland to camp with some friends where we experienced free-range camping first-hand.
For any camping expedition, it is important to locate a camping area – we found a grassy glade surrounded by beech trees.  Next, you need to find a good spot on which to pitch your tent – ground that initially seems flat is, by the end of the first night, clearly very 'slopy'!   Read more…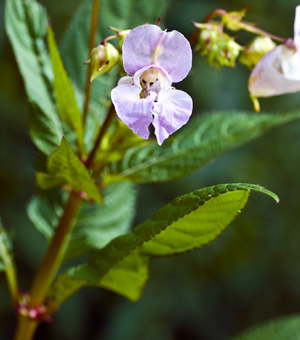 Much has been written  recent in recent years about the 'dangers' posed to our native flora & ecosystems by 'alien' invasive species.  Introduced species such Himalayan Balsam (Impatiens glandulifera), Giant Hogweed (Heracleum mantegazzianum), and Rhododendron (Rhododendron ponticum) have been cited as 'drivers' of ecosystem change – alongside habitat loss, pollution and over-exploitation.
However, voices have been raised to express concern over certain native species that can grow rapidly producing large amount of biomass (or indeed necromass – think bracken dying down in late autumn) and how they may be impacting on our flora, particularly plants of the woodland herb or field layer.  Read more…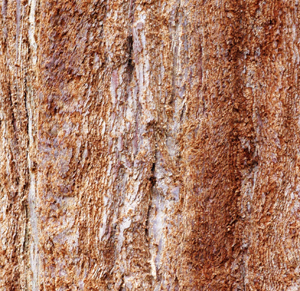 Every now and then, whilst strolling through a woodland one comes across a truly massive coniferous tree – with a thick fibrous bark.  Such trees are usually redwoods – often planted many years ago as an 'exotic'.   Victorian land owners were quite 'fond' of planting unusual species.   There are three species of coniferous trees known as the redwoods –
the coast redwood (Sequoia sempervirens ),
the giant redwood (sometimes known as Wellingtonia) (Sequoiadendron giganteum), and
the dawn redwood (Metasequoia glyptostroboides) .
The first two are natives of the western Sierra Nevada of California Read more…
With the recent spell of fine weather, some people may have wandered down memory lane and recalled "the summer of 76".  Then, the temperature reached 80oF from June 22nd through to the 16th July, and for two weeks the temperatures in some areas exceeded 90oF.
However, temperature was not the only environmental factor to stress plants – lack of rainfall or drought was also a major factor.  The previous autumn had been quite dry, as was the winter of  1975–76.   The drought became most severe during the summer months – with woodland, forest and heath fires breaking out.  Crop production was also severely affected, and there was water rationing (and stand pipes) in some areas.
Ecologists* from the University of Stirling (Professor Alistair Jump) and the JNCC have recently investigated the (long term) effects of the 1976 drought on native woodland.   They examined the records of Lady Park Wood in the Wye Valley.  This 45 hectare Nature Reserve was ideal for a detailed study as there existed long term records  / surveys Read more…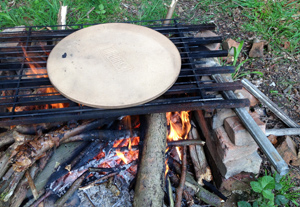 Cooking sausages on a campfire is quite easy but what about when the children want to eat something different in the woodland? You can do soups, baked potatoes, beans, lots of fried food – but can you cook pizza? My friend Johnny decided to try it and here's what he did for his "woodland pizza".
First of all he had thought ahead and brought the ingredients and the equipment. For ingredients he wasn't content with a frozen pizza but wanted to cook it properly so he brought a dough for the base, tomato sauce, and toppings of anchovies, olives, cheese and capers. As to equipment, he had brought down to the woodland a round pizza stone as a base, a shiny steel circular tray and some silver foil. Read more…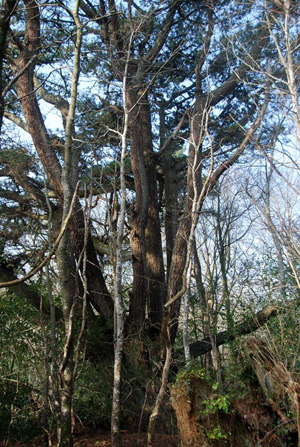 Monterey Pine or Radiata Pine (Pinus radiata) is found naturally in the coastal area around Monterey in California.  There, it is under threat from Pine Pitch Canker (a fungal disease), which makes them liable to attack by bark beetles.  Monterey pine is to be found growing in milder parts of the UK (where it grows faster than in its native habitat), and in coastal areas as it is resistant to salt spray.
The pine is extensively and intensively used in forestry, especially in countries like New Zealand (like the Kaingaroa Forest on the North Island).  The monterey pine can be used for erosion control on steep slopes – as it has a widespread and fast growing root system
The growth form of the tree is conic at first, but as the tree ages it becomes dome shaped with heavily, twisted branches. Read more…
Subscribe to our blog email updates