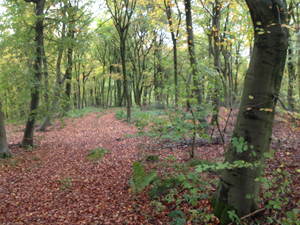 2017 could be the right year to take the plunge into woodland ownership:
1.  Money in the bank continues to yield virtually nothing, so putting some of your savings into a woodland means having an investment that you can actually enjoy;
2.  Like it or not, 2017 will be the year of Donald Trump and the uncertainty and apprehension that this brings.  In an uncertain world, having a wood of your own which you can escape to is a great reassurance;
3.  A recent survey showed that teenagers with smart phones check them on average 150 times a day: a woodland is an antidote to overdosing on screen time.  Your children or grandchildren may be suffering a "nature deficit" and being able to visit a woodland is a good way to make up this shortfall and help them grow up more healthily;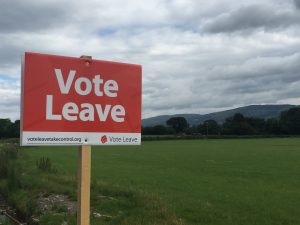 Whatever one thinks of the Brexit vote it is certainly a very big deal for the UK economy and is causing a re-evaluation of almost everything.   The most immediate effect has been a devaluation of sterling which has already dropped by over 10% against both the dollar and the euro and may well drop further.  Longer term effects may include a reduction in the number of people working here from abroad, changes in regulations and the possible departure of Scotland from the UK.
Devaluation should make woodlands relatively more attractive to buy for several reasons – firewood is more valuable in relation to other fuel prices which have already risen and timber from abroad has become more expensive Read more…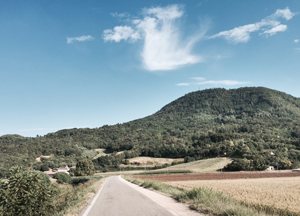 Italy has a long tradition of forestry management going back before Roman times, and ancient traditions very much influence Italy's woodlands today.  For example, 40% of Italian wood production is chestnut or beech which, along with oak, would have been dominant species for the Romans.  There are also lots of non-timber forest products that are important to Italians such as mushrooms, wild boar and firewood.  Indeed compared to the UK, Italy gets a large proportion of its energy from woodfuel with almost 60% of cut wood being used for domestic heating. Read more…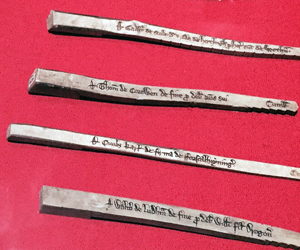 In ​the ​13th century,  ​"​forest​"​​ ​land​ included fields, heathland, villages ​as well as woodland​ – Royal Forest​​s were area​s​ where ​very ​different ​and rather Draconian ​laws applied​.  Over the previous two hundred years a "forest" had become a royal hunting ground​ for the King and, by invitation only, the aristocracy and very strong restrictions applied to this land.  ​B​y the beginning of the 13th century a third of southern England was designated as forest​ even though Royal Forests hadn't even existed before 1066: they were were set up and extended by successive​ Norman Kings.  Royal Forests were so extensive that all of Essex was included at one point.  Not only did ordinary people have fewer rights ​in forest lands ​but it was uncertain exactly what those rights were.  This left an opportunity for kings to extend the size of the forest and enlarge their powers. Read more…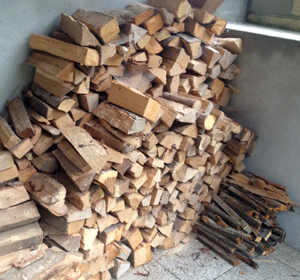 Appearing at the Wood Fuel Conference in Surrey Hills, Matthew Woodcock set out the raw figures showing why he's optimistic that South East England can help to reduce its carbon emissions from fossil fuels.  Mr. Woodcock pointed out that the South East is a relatively wooded region and that a quarter of all England's woodlands are in the South East and they cover over 15% of the land area.  Assuming that two thirds could be got into active management, he reckons that 1,000,000 cubic metres of woodfuel could be produced every year, which would create enough heat for 100,000 homes (or even more if homes were made more sustainable with insulation and similar measures).  The challenge according to Matthew Woodcock is to revive the whole sector – for many years, the south eastern timber industry has been in decline and many firms have gone out of business and even the advanced age of many forestry workers is a serious issue. Read more…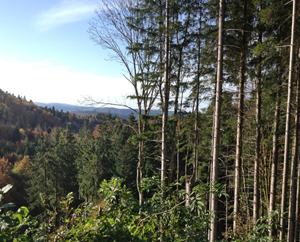 Forestry is a surprisingly important part of the Swiss economy and the sector employs 90,000 people, with 1.3 million hectares of Switzerland being given over to forestry.  To put this in a UK perspective, it is about the same amount of forestry land as Scotland and is a little more than England (which has 1.1 million hectares of forest).  The reason why Switzerland, smaller in size than England, has as much forestry land is that a much higher percentage of the countryside is given over to trees – Switzerland has 31% tree cover which is much more than England's 9% and is high even compared to Scotland which only has 17%.  In fact European countries are generally more forested than the UK – with Finland at a whopping 76% tree cover and even France is 27%, so Switzerland stands at just above the european average. Read more…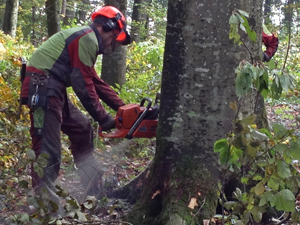 Meeting a Swiss forester this week, in the canton of Vaud, I asked if he could show me how local community forests are managed.  To my surprise, he immediately invited me to come and see an woodland area where a team of forestry workers were cutting various hardwoods.  My guide appeared quite informal but he was certainly not taking any risks as he handed me all the safety kit – a fluorescent jacket and a protective helmet attached to a visor and ear defenders. Read more…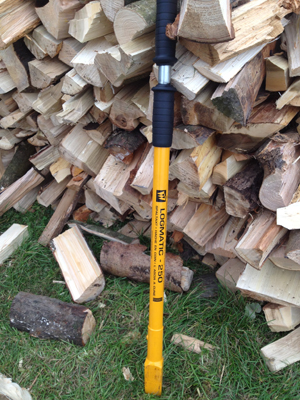 Many woodland owners get firewood from their woodland for stoves at home. Cutting the wood is important but splitting it into useable pieces can be a real challenge.  There are powerful electric machines to do it such as the hydraulic splitters (one described here) or you can split it by hand.  If you want to avoid using a traditional axe or a similar tool a good alternative is the logmatic wedge axe.
With this log splitter you place the point where you want the log to split and push the handle down with an energetic thrust.  This sends a strong hammer blow Read more…
Subscribe to our blog email updates