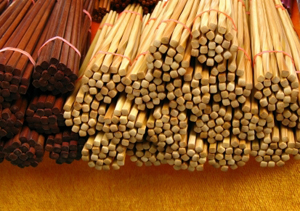 Recently a friend of mine exclaimed that China gets through 80 billion disposable chopsticks a year.  This is enough to fill Tiananmen Square three times over.  With a population of 1.4 billion, the demand for these utensils is eating away at China's forests, at a staggering rate.  China's natural forest resources are extremely limited (139th in the world); despite this, 3.8 million trees a year are being cut down – that is, about 100 acres every 24 hours.
This deforestation is having knock-on environmental effects, causing landslides, flooding and leading to climate change.  One of the contributors to forest over-exploitation is the demand for disposable chopsticks.  The situation is not looking any more promising as the uptake for Asian cuisine is becoming more common across the globe. Read more…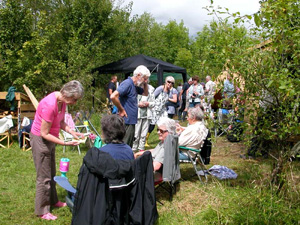 When I told family and friends that I had bought 4.5 acres of woodland in North Devon many of them expressed an interest is seeing it. In August, I therefore arranged an 'open day'. I also invited along the owners of neighbouring areas of woodland.
Guests were encouraged to bring along something to sit on and their own picnics to supplement the barbecue and drinks which I had organised. Shelter was provided by my shed, a couple of gazebos and a tipi. And that other essential, a toilet tent, contained an earth closet. Read more…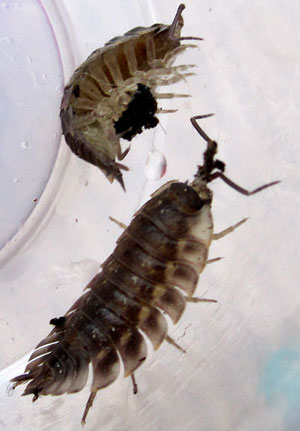 Woodlouses or woodlice have never previously seemed to me the kind of thing you would want to eat. But I came face to face with a cooked woodlouse recently when we made a woodlandsTV film about finding, cooking and eating woodlice. It turns out that they are very nutricious and as long as they are cooked they are perfectly safe. A big advantage of woodlice over slugs or snails is that they can be eaten almost immediately after collection, whereas with slugs and snails you need to put them in a plastic bag for about 24 hours so that their gut empties. For woodlice you just put them straight into the boiling water and they are soon ready to eat. Read more…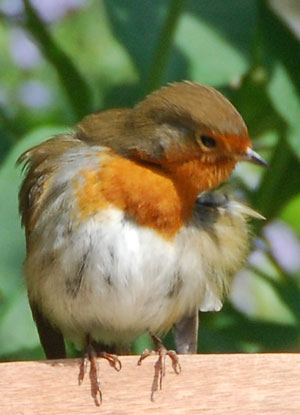 S

eason's Greetings.   
The robin, frequently pictured on Christmas cards,  is making something of a "come back".  Its numbers have increased by roughly 50%, compared to when it was first recorded back in 1970.
The RSPB has suggested that milder winters and earlier Springs have contributed to its increased numbers; and it is estimated that there are now some 5 – 6  million breeding pairs of robins in the U.K.  However, its populations can be 'knocked back' by hard winters – such as we have experienced recently.  A small bird, such as the robin, can rapidly lose much of its body mass through a short succession of cold nights and days – burning its reserves (of fat) to generate heat energy  to maintain its body temperature.  They also use up energy in the search for food, which is often in very limited supply under cold conditions. Read more…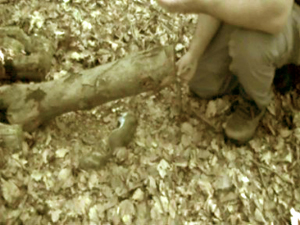 In my 2011 quest to only eat meat which I have hunted or gathered myself,  I've learned a lot. Most people ask me "how" I do it, so I thought I would share a bit more on the actual tasks of finding the food. Read more…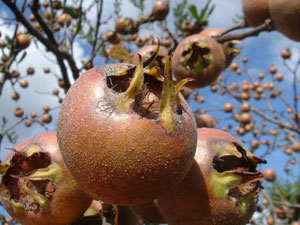 BBC's Country file recently featured a report on Medlars. The Medlar tree (Mespilus germanica) was probably a Roman import.   In the 'dark ages' and Mediaeval times, the winter months probably did not offer many opportunities for fresh fruits  and / or vegetables; and people were likely to become deficient in vitamin C (scorbutic),  as winter progressed. Read more…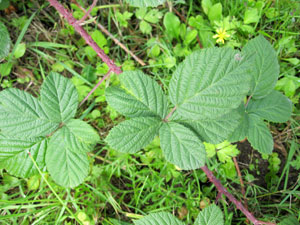 In the modern day diet, Rabbit is often overlooked as a meat source, and certainly you'd be hard pushed to find it in your everyday supermarket.   Yet Rabbit meat is high in protein, low in fat and low in cholesterol – and even better it tastes fabulous too! (Please note that there are images of a dead rabbit in this article). Read more…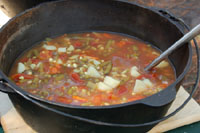 Everyone has to eat and fresh air builds appetites.  How do you set up an efficient camp fire that will cook your dinner without it taking hours or the contents of the pan ending upside down among the ashes?  Justin Sterry – the "Al Fresco Chef" – explains how to build tripods and pit fires in the second installment of Woodlands TV's Survival Series.  Read more…
Subscribe to our blog email updates