The world store of terrestrial carbon is estimated at 2860Pg (petagram = 1015 g), of this, some 1240 Pg is 'locked up' in woodlands – that is over 40%.  Much of  woodland carbon is 'locked' in dead leaves and decaying wood – in the form of complex organic molecules (carbohydrates, proteins, lignin, cellulose, pectates etc) that make up a plant.
However, with time these molecules can be degraded, broken down by the activities of micro-organisms (bacteria and fungi) – though the first stage of the process may be a physical disruption by beetles (saproxylic) and other burrowing small animals.  The activity of fungi is more obvious / visible at this time of year (autumn) as their fruiting bodies Read more…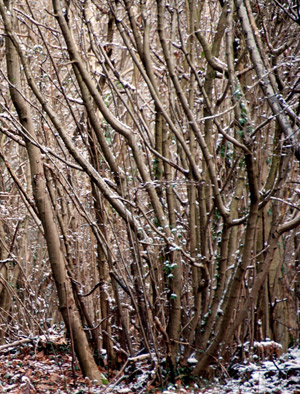 I am currently studying for a Foundation Degree in Forestry and Woodland Management at Plumpton College in East Sussex and am preparing a dissertation on dead wood in coppice woodlands.
Coppicing is a well-known silvicultural practice, carried out in the UK for the purpose of habitat and wildlife conservation, and for sustainable timber production / products. It is widely accepted that, whilst coppicing has many benefits for conservation, 'woodland historically managed as coppice is generally lacking in dead wood'  (FC 2002). Earlier literature such as Buckley (1992) and Kimmins (1997), supports the view that there is a general lack of dead wood presence within actively managed coppice woodlands. Read more…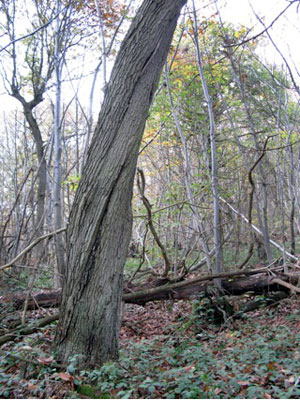 On 16th October 1987, the Great Storm took away many mature trees from the landscape of southeast England, a great swathe of destruction was wreaked on our woodland and parkland trees.  Many trees and overlarge coppice still lie where they fell, the coppice more often than not growing up again but from a much larger base.  The mature trees have been gradually rotting. All the resources locked up in the wood being released and taken up by bacteria, fungi, invertebrates and so to higher organisms.  It was a major ecological disturbance,  that in some ways has been of considerable benefit to wildlife.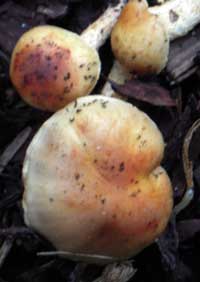 The Fungi are a very diverse group of organisms, ranging from the true fungi (Mycota), which includes the mushrooms and toadstools, and the Oomycota (which includes the potato blight fungus).  Unlike green plants, fungi do not have any chlorophyll so cannot make sugars and other compounds by photosynthesis. They get their sugars / carbohydrates through being saprobes (saprophytes), parasites, or sometimes symbionts. Read more…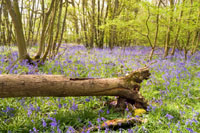 Traditionally woodland was kept "clean" by clearing away fallen timber. However, nowadays it is recognised that deadwood has an important part to play in forest management. Deadwood was removed to prevent the transfer of disease and pests – a mistaken belief as it happens, for almost all species which inhabit deadwood are specific to that habitat ("saproxylic") and will not inhabit living wood. Now deadwood is recognised as an essential part of the forest ecosystem. Read more…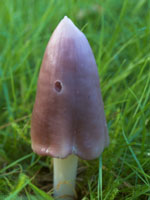 Mushrooms and toadstools are common at this time of year.  They are the visible evidence of fungi; the fruiting (spore-producing) bodies of fungi growing in the soil, leaf litter, or bark of trees. Nature's 'recycling depot', bacteria and fungi are essential to the decomposition of plant and animal remains. Many local natural history societies organise fungal forays at this time of year, as do a number of the National Trust properties. Read more…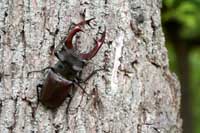 Dead and decaying wood forms an important part of any tree or woodland. In the past, dead branches and trees in woodland might have been taken for a sign of neglect or a poorly managed wood; it was regarded as a possible source of disease or 'rubbish' that needed to be tidied away. However, dead wood, whether it is part of a living tree or lying on the woodland floor, should be regarded as a resource that contributes to the diversity of the flora and fauna. As wood decays, it offers a series of different microhabitats. It has been estimated that dead and decaying wood can offer a home to some 1800 species. Read more…
Subscribe to our blog email updates