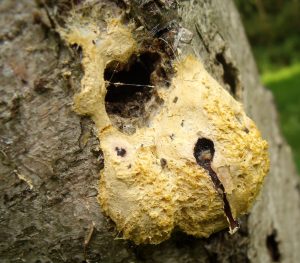 You may not be aware of it, but you are never far from a slime mould in the woods. You've probably seen one and dismissed it as some sort of noxious fungus. It is a common error, stemming from the misidentification by early naturalists that resulted in the misleading reference to mould within the name. Not plant, animal, nor fungi, these completely harmless life-forms actually belong to the single-celled group of organisms known as protists.
Although more commonly seen in Summer than Autumn, slime moulds can be spotted where you'd expect to find fungi; on leaf litter, fallen logs or dead vegetation – at least in the latter stages of their four-phase life cycle. Read more…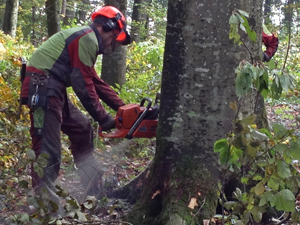 Meeting a Swiss forester this week, in the canton of Vaud, I asked if he could show me how local community forests are managed.  To my surprise, he immediately invited me to come and see an woodland area where a team of forestry workers were cutting various hardwoods.  My guide appeared quite informal but he was certainly not taking any risks as he handed me all the safety kit – a fluorescent jacket and a protective helmet attached to a visor and ear defenders. Read more…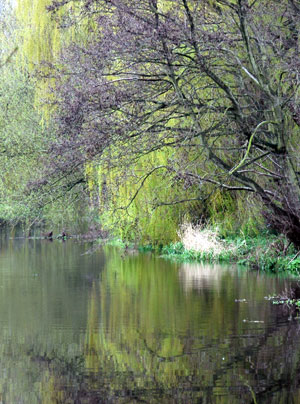 We are all dependent on ecosystem services even if we are not quite sure what they are.   At the most basic of levels, early humans benefitted from the products of nature (fruits and seeds to eat, animals to hunt) – that is, food or provisioning .   Shelter from the harsher aspects of climate and weather was also needed and provided; be it by the canopy of woodlands and forests, or the branches and other materials in woodlands used to make a simple shelter.
Ecosystem services permeate every aspect of our lives. Take soil, for example 'Where would we be without fertile soil ?'  Obviously fertile soils provide us with the best conditions for our agricultural crops and for maximising growth in our greenhouses and orchards, but beyond that soil has many important functions. The organic material of the soil, humus, can absorb and retain water.   It plays a vital role is the regulation of water run-off.  Read more…
The world store of terrestrial carbon is estimated at 2860Pg (petagram = 1015 g), of this, some 1240 Pg is 'locked up' in woodlands – that is over 40%.  Much of  woodland carbon is 'locked' in dead leaves and decaying wood – in the form of complex organic molecules (carbohydrates, proteins, lignin, cellulose, pectates etc) that make up a plant.
However, with time these molecules can be degraded, broken down by the activities of micro-organisms (bacteria and fungi) – though the first stage of the process may be a physical disruption by beetles (saproxylic) and other burrowing small animals.  The activity of fungi is more obvious / visible at this time of year (autumn) as their fruiting bodies Read more…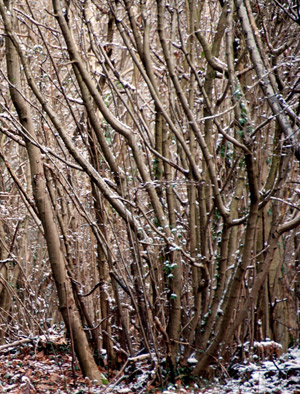 I am currently studying for a Foundation Degree in Forestry and Woodland Management at Plumpton College in East Sussex and am preparing a dissertation on dead wood in coppice woodlands.
Coppicing is a well-known silvicultural practice, carried out in the UK for the purpose of habitat and wildlife conservation, and for sustainable timber production / products. It is widely accepted that, whilst coppicing has many benefits for conservation, 'woodland historically managed as coppice is generally lacking in dead wood'  (FC 2002). Earlier literature such as Buckley (1992) and Kimmins (1997), supports the view that there is a general lack of dead wood presence within actively managed coppice woodlands. Read more…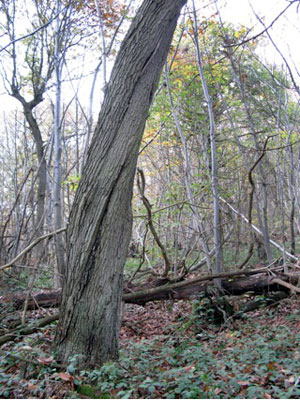 On 16th October 1987, the Great Storm took away many mature trees from the landscape of southeast England, a great swathe of destruction was wreaked on our woodland and parkland trees.  Many trees and overlarge coppice still lie where they fell, the coppice more often than not growing up again but from a much larger base.  The mature trees have been gradually rotting. All the resources locked up in the wood being released and taken up by bacteria, fungi, invertebrates and so to higher organisms.  It was a major ecological disturbance,  that in some ways has been of considerable benefit to wildlife.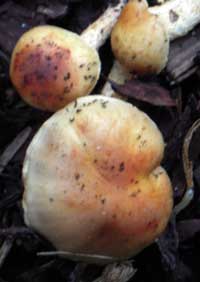 The Fungi are a very diverse group of organisms, ranging from the true fungi (Mycota), which includes the mushrooms and toadstools, and the Oomycota (which includes the potato blight fungus).  Unlike green plants, fungi do not have any chlorophyll so cannot make sugars and other compounds by photosynthesis. They get their sugars / carbohydrates through being saprobes (saprophytes), parasites, or sometimes symbionts. Read more…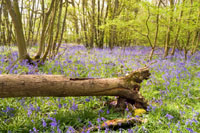 Traditionally woodland was kept "clean" by clearing away fallen timber. However, nowadays it is recognised that deadwood has an important part to play in forest management. Deadwood was removed to prevent the transfer of disease and pests – a mistaken belief as it happens, for almost all species which inhabit deadwood are specific to that habitat ("saproxylic") and will not inhabit living wood. Now deadwood is recognised as an essential part of the forest ecosystem. Read more…
Subscribe to our blog email updates