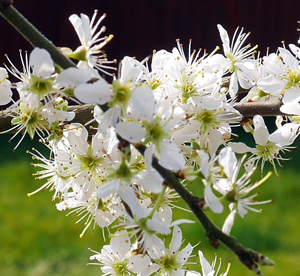 A hedge or hedgerow is made up of a number of parts or habitats.   It may offer
the main bulk of the hedge – that is the trees and shrubs
the bottom or base of the hedge – which is a strip of land with its own species, a mix of annuals and perennials, some herbaceous others more woody.  The base of the hedge can be quite variable, sometimes being narrow and light, or wide and dark (perhaps, supporting a badger or rabbit run)
a bank that supports the hedge and there may even be an associated ditch (a different habitat in itself)
a border or verge – an area of adjacent land which may be arable, pastoral or man-made in nature e.g. highway or managed in some way – mowed, grazed or sprayed.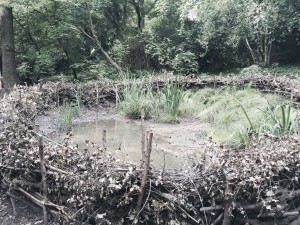 Dead hedges are piles of branches and twigs arranged to form a barrier which are increasingly used as a way to dispose of the material that arises from thinning or clearing operations in woodlands. Tree surgeons call this waste material of saplings and side branches "arisings" whereas foresters tend to call it "lop and top". Using surplus branches in this way is good for wildlife – especially for small mammals and birds – because it gives them somewhere to shelter that is protected from predators and from the wind and rain. It's also good for insects: dead hedges in effect create a linear eco-pile. Recently we at woodlands.co.uk have been using dead hedging as a way of guiding the public to stay on public footpaths and to discourage people from walking across sensitive areas of a woodland. In many situations the dead hedge needs to have gaps left in it for deer paths and for managers and owners to get around the woodland. Read more…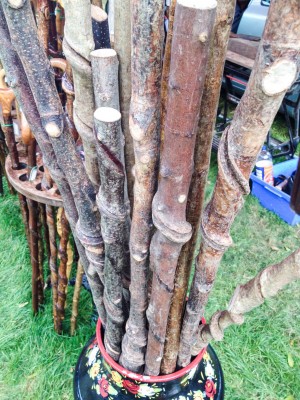 Peter Jones and his sons make walking sticks on a serious scale using sticks they come across in the woods, where they do their forestry work.  They use chestnut, silver birch, oak and hazel.  But they avoid using willow, as it goes brittle once it's aged.  Apart from finding the right stick to work on they need a steamer for bending the tops of the walking sticks and a good supply of sealant and varnish for protecting the finished sticks.
"Honeysuckle makes the best twist sticks" advises out Peter Jones, who comes across a lot of twisted stems in Kent and East Sussex.  As a result, he is able to trade these with fellow stick makers in more northern English areas – they give him carved tops for walking sticks in exchange for good twisted shanks.  But even among twisted sticks there is variety: the slower growing trees such as holly and oak twist more slowly whilst the fast-growing chestnut twists quickly.  Though he also corrected me pointing out that the maker of walking sticks should really be called a "stick dresser" Read more…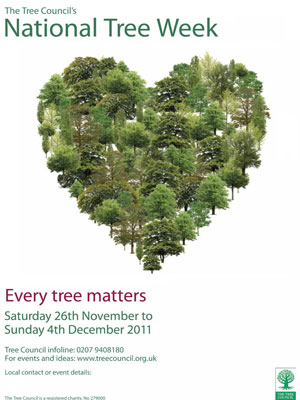 The Tree Council's annual tree weeks have been an undoubted success, emanating from the 1973  "Plant a tree in '73" campaign (some rather cynical individuals chanted "cut it down in '74") and must have resulted in not only in promoting the whole idea of trees but in planting many thousands across the country in parks, gardens, roadsides, corners of farmland and development sites to name but a few.  The Tree Coucil ( http://www.treecouncil.org.uk) is our foremost campaigner and umbrella body for UK organisations involved in tree planting, care and conservation.
Forestry and woodlands are a long-term business but those of us planting in '73 can see the fruits of our labours: we stand back and look up at the hornbeam, hazel, hawthorn and fieldmaple spreading wide and high;  the oak, ash, beech and birch are trees, a miraculous metamorphosis from those tiny whips planted during the cold winter months – it seems like yesterday.  We plant for the next generation but once established trees grow quickly so we can all enjoy watching them develop. Read more…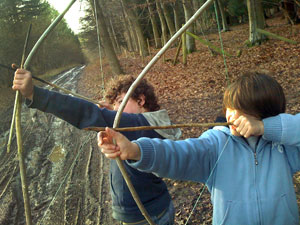 Archery is exciting – the pull of the arrow, taking aim and the "thwack!" as the arrow hits its target (if it does). We have made a film of serious archers which you can see on woodlandsTV here.   This is not something one can try without proper advice and training – and some expensive kit. However many people just want to have a bit of fun and we have recently explored two ways of firing arrows in woodland. Read more…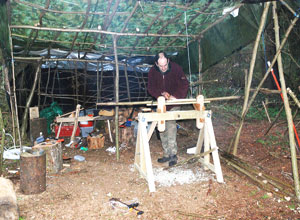 A priority when staying out in the woods is a good water and wind proof shelter
The following photos show the construction of a hazel wood shelter to sleep 2-3 people.
We are out a lot, so we built it to last.
The photographs in the 'strip' below show the various stages in the construction of the shelter. Read more…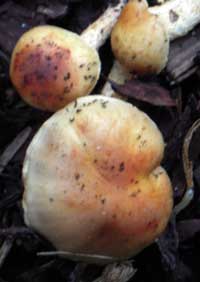 The Fungi are a very diverse group of organisms, ranging from the true fungi (Mycota), which includes the mushrooms and toadstools, and the Oomycota (which includes the potato blight fungus).  Unlike green plants, fungi do not have any chlorophyll so cannot make sugars and other compounds by photosynthesis. They get their sugars / carbohydrates through being saprobes (saprophytes), parasites, or sometimes symbionts. Read more…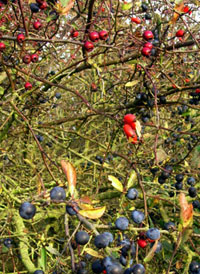 Why do hedgerows exist?  Many were originally planted to contain livestock (sheep, cattle, pigs, chickens), others existed to define boundaries – who owned which parcels of land.  Hedges often delineate fields; field is derived from the old English feld which means an area of felled trees.  However, hedge construction and management was particularly associated with the process of enclosure, which transformed the landscape of England.  This was often connected with the change of land use – from arable to pasture for sheep.  Read more…
Subscribe to our blog email updates