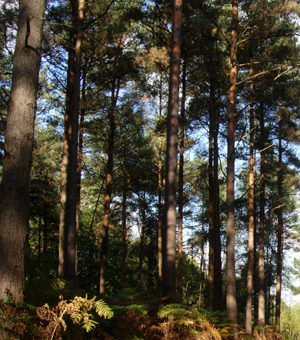 The amount of woodland in the U.K. has increased significantly in the last one hundred years. At the time of the first World War, woodland coverage was at an all time low of about 5%.  The coverage of woodlands now stands at about 12% – much is in the form of coniferous plantation (established to provide a stock of useable wood and timber).  Coniferous plantations were often established on poor quality / marginal land.
However, it is possible to recognise many different types of woodland in the U.K.   How these are described or categorised varies. There is, for example, the Peterken system of stand types* – this is based on the presence of long established tree species. It has 12 main (and 39 subsiduary) types of woodland.   Then, there is the National Vegetation Classification (the subject of a blog some time back) – this Read more…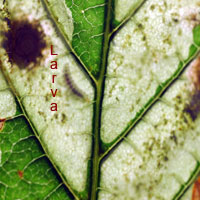 The 'progress' of the horse chestnut leaf miner (Cameraria ohridella) has been reported in the blog from summer 2006 to more recently, when a national survey was under way.  This small, but highly efficient parasitic moth was first 'discovered' in trees bordering Lake Ohrid in Macedonia in the mid-Eighties.  It was later described as species new to Europe, and since that time has managed to spread through almost all of Europe.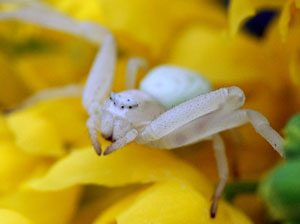 There is a considerable number of different surveys running throughout the country, some of which might hold a particular interest for you.  Many 'natural history' organisations / charities are dependent on the input from volunteers to monitor the status of plant and animal populations throughout the UK or specific local areas – especially in these financially difficult times. Read more…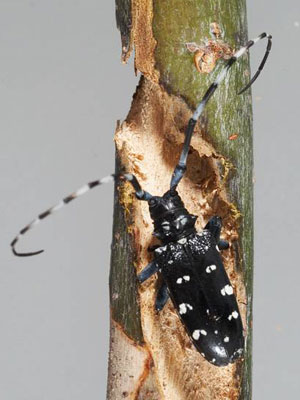 This last week, a Citrus longhorn Beetle was found in Rutland.  This beetle is found occasionally on imported trees, such as Japanese Maple (Acer palmatum). 
However each finding or interception (as the finding of the occasional beetle is sometimes termed) is treated seriously as the beetle, which is native to China and Japan, has established itself in Lombardy and other parts of the EU.  Read more…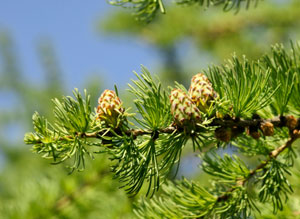 Sudden Oak Death is in the news. A number of the national and regional news programmes have recently carried reports of the felling of larch trees in the South West. Read more…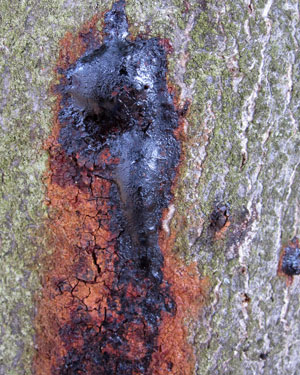 The woodland blog has been reporting on the various threats to the Horse Chestnut tree for some years: see blogs for May 2006,  Aug 2006 ,  Sept 2008 and Dec 2009 .    Basically, the tree is under attack by : – Read more…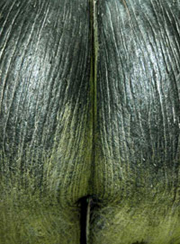 Seeds may be classified as orthodox or recalcitrant. These terms refer to their moisture content and whether or not they can enter into a state of (prolonged) dormancy. The seeds of most plants growing in a temperate climate (such as that found in the UK and western Europe) gradually dry as they mature and many enter a state of dormancy. Seeds that are tolerant to this drying process and which can be stored for a long time are said to be 'orthodox'. In this Read more…
The papers regularly document the loss of species and habitats in tropical ecosystems, such as the rain forests. However, we are witnessing a similar phenomenon in our own back-yards.
The landscape and flora of the British Isles has been determined by the weather, geological movements and, more recently by humans and human activity. With the retreat of the glaciers associated with the last Ice Age, the underlying land was once again exposed, Read more…
Subscribe to our blog email updates