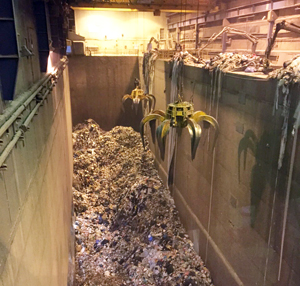 As a species, we humans have only been present on the Earth for a 'blink of the eye' in geological terms.   The Earth is approximately some 4.6 billion years old. Geologists have divided up these years into a number of geological periods or epochs – from the Pre-cambrian (from the formation of the earth until about 540 million years ago) to the most recent – the Holocene, which started at the end of the last Ice Age – about 12,000 years ago.
Modern Humans emerged out of Africa probably some 200,000 years ago, and since that time they have increased massively in number.   At the end of the C18th , there were probably about one billion people; now there are over seven billion.
We have changed the Earth in many ways.   Read more…
How many trees are there in the world?  Four hundred billion was the figure often quoted; that is, until this month when a report in Nature has come up with a figure slightly in excess of three trillion.   This approximates to 420 trees for each person on the plant.
How was this figures arrived at ?  Well, the team (an impressive array of scientists from Universities and research institutions all over the world) amassed data from national forest inventories, plus peer reviewed studies where forests and woodlands had been studied in detail; this information was then used to inform what was also being seen on satellite imagery. For the purposes of the study a tree was defined as "a plant with a woody stems larger than 10 cm at breast height".  Read more…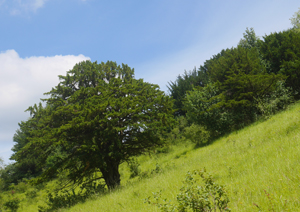 Yew woodland (in Southern England) tends to develop on the thin soils that form over chalk, often on the sides of dry valleys . They can be found along the North Downs, and in West Sussex on parts of the South Downs. Yew woodlands can also be found in the Cotswolds and in the Wye Valley (on limestone). In Ireland, there is a significant Yew wood near Killarney, again growing on top of limestone.
Yew woodland may develop from chalk grassland, when grazing by sheep or rabbits is removed. With no grazing, Juniper and / or Hawthorn start to grow.  Then, between these, shade-tolerant Yew seedlings begin to grow.   Eventually, the Yew will overtake the Juniper / Hawthorn, and shade them out. The dead remains of juniper and hawthorn sometimes may be seen on the floor of a Yew woodland. Read more…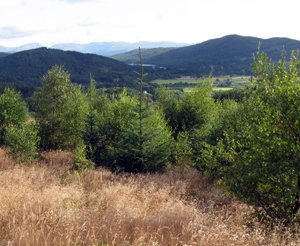 Birch is a pioneer species, that is often replaced by oak, beech or other species.   After the last Ice Age, birch moved in quickly as the glaciers receded.   Even now, after clearfell in almost any part of the country,  birch is usually the first to appear by natural regeneration (and can act as a nurse for planted oak etc.); some refer to it as the 'forester's weed'.    Birch woodland is generally "open" and the trees are often of a similar age and size. Birch regeneration is often respaced (thinned) with a clearing saw  (the resulting thinnings may be used for horse jumps – like the Grand National).
However, birch woodland has mainly persisted (in the U.K.) where conditions are harsh and limit the growth of other species. Read more…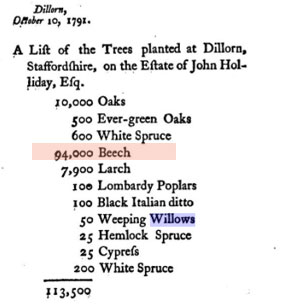 Beech woodland is native to Southern England and Wales (roughly, south of a line drawn from The Wash to the The Severn).  However, in some parts of the country, beech has been planted systematically, for example, John Holliday of Staffordshire planted some 94000 beech in 1791.  Beech is found throughout Central and Western Europe. It is generally found on freely draining (drier) soils (chalks, limestones and light loams) such as found in the Cotswolds, Chilterns and the Downs. Read more…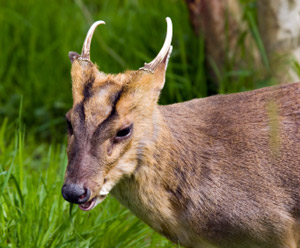 Today there are more deer in the UK than at any time since the last Ice Age.  They no longer have any natural predators in woodlands or fields. Total deer numbers are conservatively estimated at about 1.5 million and the rapidly expanding deer population threatens woodland biodiversity.  Over-grazing and browsing, particularly in ancient woodland, continues to have two very unfortunate consequences for conservation.  First, it can lead to a decline and loss in plant species in a given area, which often includes oxlip and bluebells.  Deer frequently damage saplings and cause other damage by stripping bark with their antlers. Read more…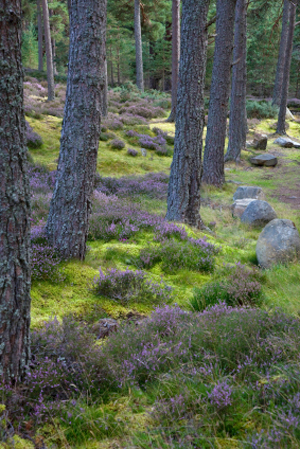 At the end of the last Ice Age, the recolonisation of the British Isles began.  Plant and animal species moved across the 'land bridge' that connected us with continental Europe.   Trees and other plants began to colonise and forest formed in many places.  As it took some time for the climate to warm, the first forests were probably coniferous – resembling the Caledonian Forests that can still be seen in Scotland today.   These early forests and woods would be characterised by pine, birch, aspen, rowan, juniper and perhaps oak.   At one stage, it is thought that such forest / woodlands covered some 15,000 km2 – a vast area.   Now, only a few remnants of this once enormous ecosystem survive in Scotland.
The Caledonian forest / woodlands represent a unique ecosystem in the British Isles – they are remnants of the vast wilderness that once existed here; and across on the Continent – as  boreal coniferous forest. These forests and woodlands are populated particularly by the Scots Pine (Pinus sylvestris).  One of the larger tracts of this native pine forest is Read more…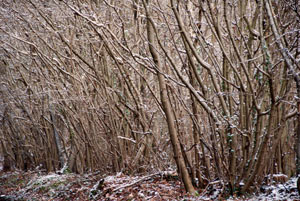 After the last Ice Age, plants, animals and humans moved back into the vast areas vacated by the retreating ice.  Plant, and then, animal communities became established and much of the area was covered by what has been termed 'wildwood' – see previous Wildwood blogs.  These areas would also have been home to human populations migrating from the hinterland of Europe and Doggerland.  Communities developed and we may suppose that areas of forest/woodland/wild wood would have been cleared – for housing, the grazing of animals, to provide firewood/timber.  Such forest / woodland would have been managed to a greater or lesser degree. Read more…
Subscribe to our blog email updates