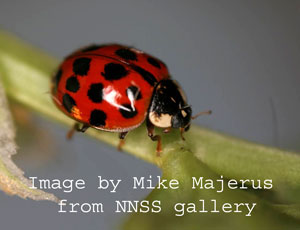 The asian or harlequin ladybird was used in commercial glasshouses / greenhouses to control aphids (greenfly / blackfly) – a single harlequin ladybird can eat up to 200 aphids a day.  Unfortunately, some of the harlequin ladybirds escaped and their offspring have spread across Europe – endangering native species.
Recent research has shown that this invasive species has an impressive immune system – the body fluids of this animal contain a strong antibiotic compound (HARMONINE) and also small proteins (peptides) that have anti-microbial properties. Read more…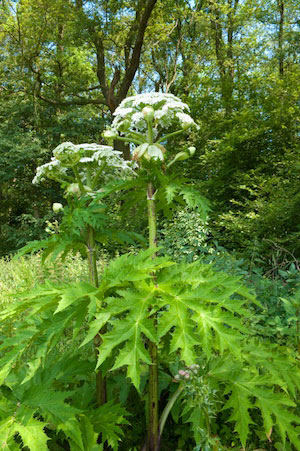 Some plants, like the Himalayan Balsam, Japanese Knotweed and Giant Hogweed are spreading across the country.   Giant Hogweed, also known as wild rhubarb, giant cow parsnip or giant cow parsley is a dangerous plant.  It was introduced as an ornamental plant in the C19th; it is however – phototoxic.  If the sap gets on the skin then photodermatitis occurs – causing blistering of the skin and scarring, and minute amounts in the eyes can cause blindness.
Invasive non-native spacies can displace native species, altering the ecology of various habitats; they might be described as 'botanical thugs'. One single hogweed plant is capable of producing 80,000 seeds.  Once established the removal of these plants can be expensive and time consuming.  The earlier an 'outbreak' or invasion by one of these plants is reported, the easier it is to deal with. Read more…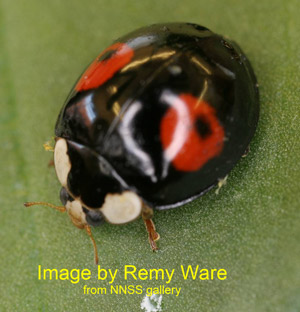 Some six years ago, there was a post about the harlequin ladybird  (Harmonium axyridis)– aka Multicoloured Asian Ladybird and the Halloween Ladybird – a 'newcomer' to these isles, and which might prove to be a threat to the native species.  The harlequin ladybird in an Asian species that has been used for pest control (aphids etc).  All ladybirds are beetles.  They belong to the order – Coleoptera – and are characterized by having forewings modified as hard wing covers or ELYTRA and biting mouthparts (cf. butterflies and moths).
Now some years later, research by scientists at the Centre for Ecology and Hydrology have evidence of strong link between the arrival of the harlequin ladybird and the decline in other species of ladybirds.  Seven out of the eight native british species have declined – with some now described as being 'near the threshold of detection'; similar issues have arisen in Belgium and Switzerland where the harlequin ladybird is also present. Read more…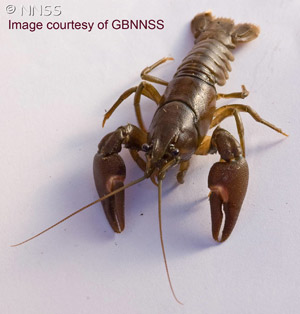 Plants and animals from different parts of the world are being 'mixed' up as worldwide travel by train, boat and plane increases year by year.  The woodlands' blog has reported on a number of plants and animals that are regarded as 'aliens' or invasive species, for example, the 'killer shrimp'.  Sometimes the 'concern' proves to be unfounded, but the arrival of various pathogens can be problematical for 'native species'.
At some point back in the 1970's, the North American signal crayfish arrived in the U.K.   Since that time it has spread through various river systems, particularly in South and South East England, at the rate of 2 km per year (approx.).   Its spread may have been assisted by damp fishing gear.  It would seem that the signal crayfish is out-competing the native white clawed crayfish (that is, native to Europe, including England, Wales and Ireland – but not Scotland). Read more…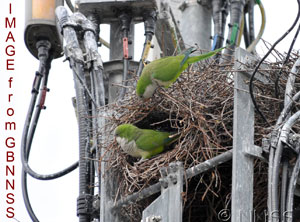 DEFRA has declared that the monk parakeet is a threat.  The home of the monk parakeet is South America.  It is being viewed as a threat because of the parakeet's unusual nesting habits.  Unlike other parrots, monk parakeets (Myiopsitta monachus) use sticks to build huge nests on the outside of a tree's canopy or pylons – these can reach the size of a small car!  In the United States, the nests have been responsible for power shortages, cuts in power transmission, fires and crop damage.  However, no damage in the U.K. has been reported to date though DEFRA has expressed concern that damage might be caused to 'national infra-structure' and native British wildlife.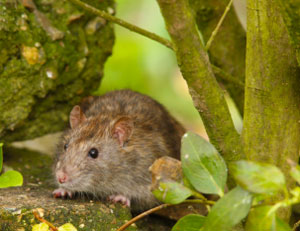 Rats (brown and black) have been 'camp followers' of humans ever since we adopted a 'settled' existence.  In modern cities, it is often said that one is never more than 20 yards from a rat.  Whether this is true or not, rats have been a pest throughout the millennia, most notably associated with the spread of disease such a bubonic plague but also Weils Disease (Leptospirosis). Read more…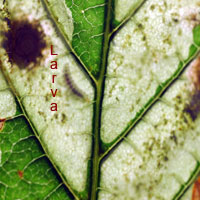 The 'progress' of the horse chestnut leaf miner (Cameraria ohridella) has been reported in the blog from summer 2006 to more recently, when a national survey was under way.  This small, but highly efficient parasitic moth was first 'discovered' in trees bordering Lake Ohrid in Macedonia in the mid-Eighties.  It was later described as species new to Europe, and since that time has managed to spread through almost all of Europe.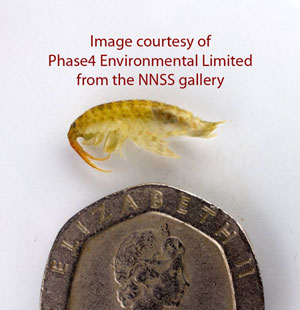 No, it is not the title of a new Stephen King novel but the arrival in the UK of Dikerogammarus villosus.  This large freshwater shrimp has its home waters in the region of the Caspian and Black Sea.  However, the opening of the Rhone-Main-Danube canal has allowed it to progress through the Netherlands, Belgium, Germany and France. Read more…
Subscribe to our blog email updates