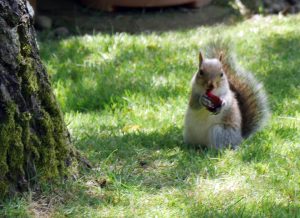 DNA profiling has many uses, notably in criminal investigations.  It often allows the identification of a victim, or can 'tie' a suspect to the scene of a crime.  However, it does have other uses.  When applied to animal populations, it can give information as to the origins of the population, the extent of inbreeding / outbreeding etc.  Recently, Dr Lisa Signorile (Imperial College, London) has applied DNA technology to the grey squirrel populations of the U.K. and Italy. Read more…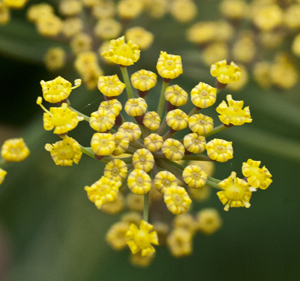 There are a number of plants that have 'fennel' in their name.   For example, :
Dog Fennel : Eupatorium capillifolium
Giant Fennel : Ferula communis
Fennel, Sweet Fennel : Foeniculum vulgare
Florence Fennel : Foeniculum vulgare azoricum
Hog's Fennel : Peucedanum officinale
Wild Fennel : Nigella arvensis
Bronze Fennel : Foeniculum vulgare 'Purpureum'
However, it is the various forms of Foeniculum :-  Fennel, Sweet Fennel or Florence Fennel that are 'best known' through their use in cooking and / or the making of absinthe.  Such fennel plants are often garden escapes, but Foeniculum vulgare has naturalised, being particularly associated with disturbed ground. and the banks of streams and rivers.  Read more…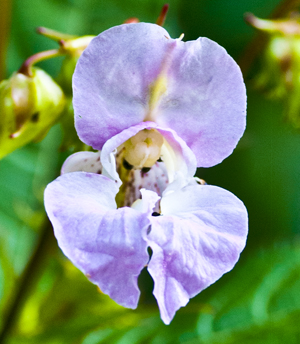 I recently undertook a Knapsack Sprayer PA1 and PA6a (NPTC) 2 day course. The course is aimed at anyone using, or purchasing pesticides, herbicides or fungicides, and applying them with a knapsack sprayer on land. The courses cover the correct preparation of equipment as well as its maintenance, safe operation and calibration. The course was broken down into the following sections:- Read more…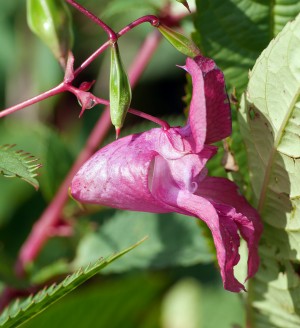 Himalayan Balsam (or Impatiens glandulifera) is a not unattractive plant; it was introduced as a garden plant to the U.K sometime in the mid-nineteenth century. It is an annual plant and probably the tallest annual in the country – growing to heights of six foot. The flowers are somewhat variable in colour from a striking pink / purple to almost white. The shape has been likened to a policeman's helmet – hence it is sometimes known by that name. It flowers from June right through to October – which is quite late in the year; i.e. still producing seeds long after most other annuals. The black seeds form in capsules – which open explosively when mature, dispersing the seeds. Read more…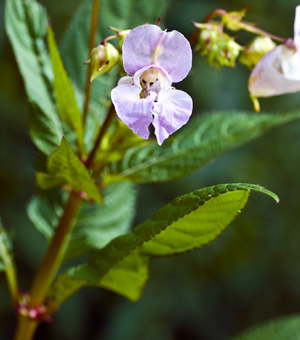 Much has been written  recent in recent years about the 'dangers' posed to our native flora & ecosystems by 'alien' invasive species.  Introduced species such Himalayan Balsam (Impatiens glandulifera), Giant Hogweed (Heracleum mantegazzianum), and Rhododendron (Rhododendron ponticum) have been cited as 'drivers' of ecosystem change – alongside habitat loss, pollution and over-exploitation.
However, voices have been raised to express concern over certain native species that can grow rapidly producing large amount of biomass (or indeed necromass – think bracken dying down in late autumn) and how they may be impacting on our flora, particularly plants of the woodland herb or field layer.  Read more…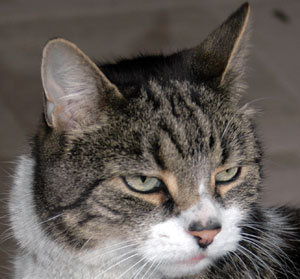 Cats have been been 'domesticated' for many thousands of years, and currently stand as the most popular pet in the world (according to Wikipedia).  It has been suggested that the Egyptians were the first to domesticate the wild cat.   Though the association with humans probably pre-dates their domestication, recent research suggests that cats were attracted to ancient farming villages – perhaps by the supply of rodents  (rats / mice).  It is possible that cats are descended from african wildcats that 'self – domesticated' somewhere in the Near East.  A kitten has been found buried alongside human remains in Cyprus; this dates from some nine and half thousand years ago.
However, more recently, the BBC's Wildlife program focused on domestic cats and wildlife.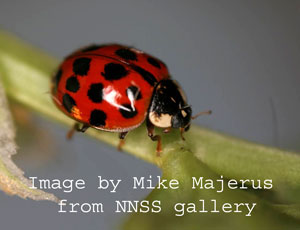 The asian or harlequin ladybird was used in commercial glasshouses / greenhouses to control aphids (greenfly / blackfly) – a single harlequin ladybird can eat up to 200 aphids a day.  Unfortunately, some of the harlequin ladybirds escaped and their offspring have spread across Europe – endangering native species.
Recent research has shown that this invasive species has an impressive immune system – the body fluids of this animal contain a strong antibiotic compound (HARMONINE) and also small proteins (peptides) that have anti-microbial properties. Read more…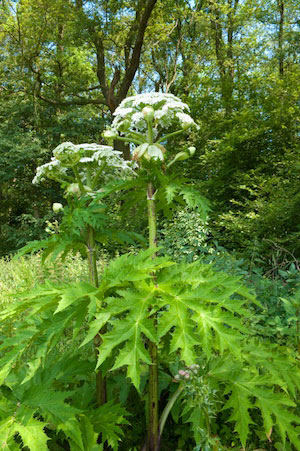 Some plants, like the Himalayan Balsam, Japanese Knotweed and Giant Hogweed are spreading across the country.   Giant Hogweed, also known as wild rhubarb, giant cow parsnip or giant cow parsley is a dangerous plant.  It was introduced as an ornamental plant in the C19th; it is however – phototoxic.  If the sap gets on the skin then photodermatitis occurs – causing blistering of the skin and scarring, and minute amounts in the eyes can cause blindness.
Invasive non-native spacies can displace native species, altering the ecology of various habitats; they might be described as 'botanical thugs'. One single hogweed plant is capable of producing 80,000 seeds.  Once established the removal of these plants can be expensive and time consuming.  The earlier an 'outbreak' or invasion by one of these plants is reported, the easier it is to deal with. Read more…
Subscribe to our blog email updates