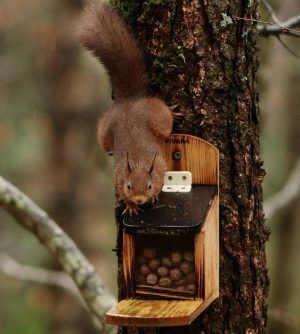 I purchased Snighow Wood, in Wasdale, with the intention of maintaining it as a wildlife habitat; specifically red squirrels. Formerly occupied by red squirrels, greys had moved in some years previously. The timing of my purchase (end of December 2015) was fortunate, as greys had been (largely) removed from the area about a year previously, by the West Lakes Squirrel Initiative. With the choice of three plots of woodland, I chose the one which I thought most suitable for the squirrels, and requiring the least amount of work. There was hazel to be coppiced, rhododendrons to be tackled and paths to be cleared or created! Read more…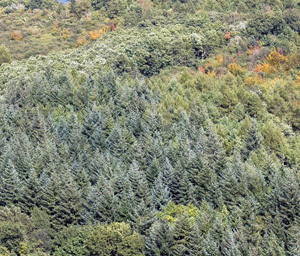 Mature woodlands and forests populated with deciduous trees remove significant quantities of carbon dioxide (a greenhouse gas) from the atmosphere, locking it up in complex organic carbon compounds – such as starch, cellulose and lignin.  Such compounds add to the biomass of the trees.  However, come the Autumn deciduous trees shed their leaves, and in Autumn and Winter winds break off branches and twigs.  These dead leaves and twigs etc contribute to the 'litter' on the woodland floor and the humus in the soil.   This material represents a vast source of 'locked up carbon'. Read more…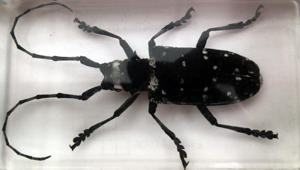 News of biological threats to our trees has not been so evident recently, in the face of imminent consideration of our place in Europe, and the very real terrorist threats. The range of pests and diseases that are making their way to our shores is ever growing, however. Whether that is due to climate change, globalisation of markets and importation of trees grown in other countries, or other factors is open to some debate, but probably all have an impact.
In some areas, it is no longer feasible to effectively fight the spread of certain diseases. In some parts of Wales, for example, Phytophthora ramorum infection of larch is now so widespread that Natural Resources Wales (which includes what was Forestry Commission Wales) are no longer issuing instructions (Statutory Plant Health Notices) to fell infected larch trees. Only to restrict movement of any trees that are felled, if infection is detected. Read more…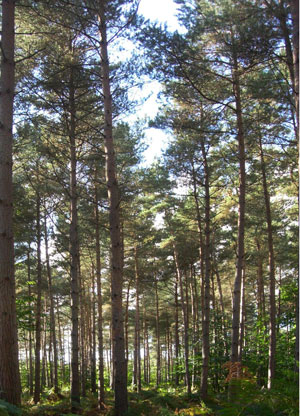 Boreal forest is found in Canada, Sweden, Finland, Norway and Russia.   Essentially, it is coniferous forest with tree species such as pines, spruces, larches and aspens.  In the U. K., this unique ecosystem is represented by the Caledonian Forest (a remnant of the vast sylvan wilderness that once existed here).  One of the larger tracts of this native pine forest is the  Black Wood of Rannoch.
One feature of the boreal forest or taiga is that it has areas of even-aged stands of trees.  This uniformity arises through cycles of natural disturbance – from forest fires to outbreaks of insect pests such as pine beetle or spruce budworm, which periodically kill off large sections of forest – but these areas, in turn, regenerate. Read more…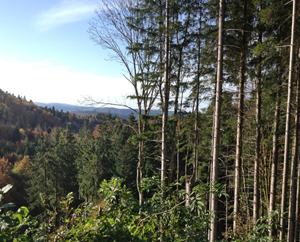 Forestry is a surprisingly important part of the Swiss economy and the sector employs 90,000 people, with 1.3 million hectares of Switzerland being given over to forestry.  To put this in a UK perspective, it is about the same amount of forestry land as Scotland and is a little more than England (which has 1.1 million hectares of forest).  The reason why Switzerland, smaller in size than England, has as much forestry land is that a much higher percentage of the countryside is given over to trees – Switzerland has 31% tree cover which is much more than England's 9% and is high even compared to Scotland which only has 17%.  In fact European countries are generally more forested than the UK – with Finland at a whopping 76% tree cover and even France is 27%, so Switzerland stands at just above the european average. Read more…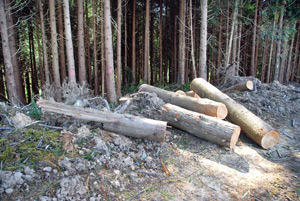 Anyone who has visited one of our woodlands for sale in Devon or Cornwall will most likely have noticed, maybe even sat upon, one of the benches which are a particular feature in the woodlands that my colleague – Stuart Brooking and I,  prepare for sale. Until now, we have bought in the timber for making the benches, from local sawmills – who use only locally sourced materials.
Recently though – through unfortunate circumstances in a way – we found ourselves with a ready supply of timber within our own woods, so we decided to go for a wholly DIY solution for our next batch of benches. Read more…
Having been born and brought up in rural Devon and then subsequently spending a career of 50 years at sea, the prospect of retirement with all its encumbrance of zimmer frames and wheel chairs was not sitting too comfortably on my shoulders. A year into this experience, at about the time the wife stopped talking to me, and with the feeling of guilt experienced every morning of really not doing very much constructive with my life, except walk the two Springers the obligatory six miles a day along the coast outside my home – it really felt as if the rot was well and truly starting to set in. That is until one day, whilst exploring a quiet part of Northumberland,  I espied a Woodlands.co.uk for sale sign. Read more…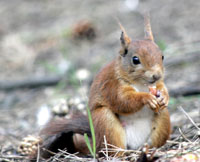 Threats to red squirrels.
The red squirrel is a delightfully charismatic species, which was once a common native over the whole of the UK, but in England is now restricted to a few small areas.  In Scotland, the situation is better, but even here there are only about 120 000 individuals. They represent 75% of the total UK population and are under serious threat, so any actions to protect them are to be welcomed.  There are two key threats,
changes to the woodlands in which they live, and
the so far relentless spread of the similar, but larger American grey squirrel. Read more…
Subscribe to our blog email updates