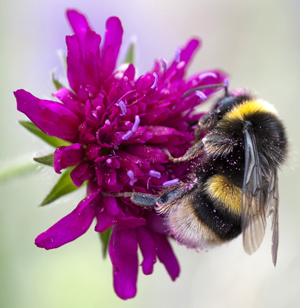 It has been known for some time that bees and bumblebees are attracted to flowers by their colour(s), scent (volatile oils), shape, nectar and indeed electric fields (see recent post).  However, it has now been shown that bumblebees can pick a plant on the basis of the nutritional content of its pollen.
Anthony Vaudo et al at the Centre for Pollinator Research (Penn State University) recorded the foraging patterns of bumblebees in defined outdoor areas, and then determined the chemical make-up (carbohydrate, protein and lipid levels) of the pollen from the different species present.  They found that the bumblebees went for pollen with a high Protein:Lipid value.    Read more…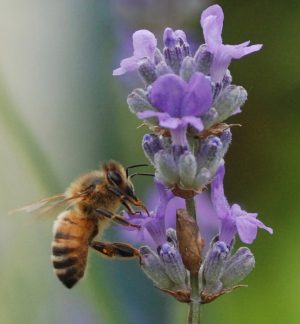 Sadly, our air is polluted with many different chemicals from anthropogenic sources – particularly the burning of fuels.  Many of these chemicals have been implicated as exacerbating a number of health conditions – notably heart disease, COPD (chronic obstructive pulmonary disease), stroke and lung cancer.  Common pollutants are particulates (from diesel), ozone and nitrogen oxides.  These pollutants not only affect us but also many different plants and animals.
Recent research at Penn State University has revealed that ozone interacts with plant scents (volatile oils) and degrades them.  As a result the scents are less effective in attracting pollinators (bees and bumblebees) to the flowers. Read more…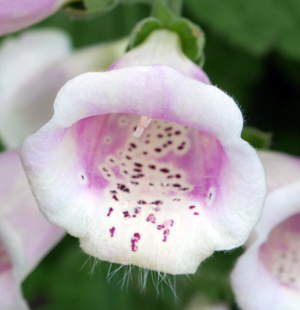 Flowers have various ways of tempting pollinating insects to visit them.  Indeed, some have very complex mechanisms to promote pollination and fertilisation, for example, the bee orchid.  In order to attract pollinating bees, the orchid has evolved "bee-look-alike" flowers.  These draw the bees in with the "promise of sex".  They attempt to mate with the flower, landing on the velvety lip of the flower and pollen is transferred.  The bee leaves 'frustrated'.  However, the right species of bee doesn't live in the U.K., so here bee orchids self-pollinate. Read more…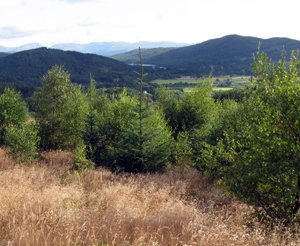 Birch is a pioneer species, that is often replaced by oak, beech or other species.   After the last Ice Age, birch moved in quickly as the glaciers receded.   Even now, after clearfell in almost any part of the country,  birch is usually the first to appear by natural regeneration (and can act as a nurse for planted oak etc.); some refer to it as the 'forester's weed'.    Birch woodland is generally "open" and the trees are often of a similar age and size. Birch regeneration is often respaced (thinned) with a clearing saw  (the resulting thinnings may be used for horse jumps – like the Grand National).
However, birch woodland has mainly persisted (in the U.K.) where conditions are harsh and limit the growth of other species. Read more…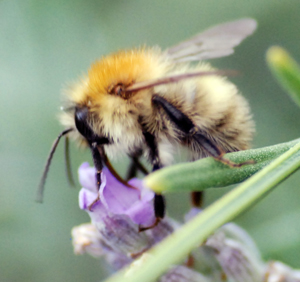 Different species of bumblebees make their nests in different places (using feathers, hair, dried moss or grass or materials for loft insulation).
| | |
| --- | --- |
| White tailed bumblebees | May be found under the floor of garden sheds |
| Buff tailed bumblebees | May use air bricks and nest in the cavity walls of house |
| Early bumblebees | Often use old birds' nests in trees |
| Tree bumblebees | Make use of holes in tree trunks |
| Carder bees | May use grass tussocks, dry leaves e.g. Under bramble thickets |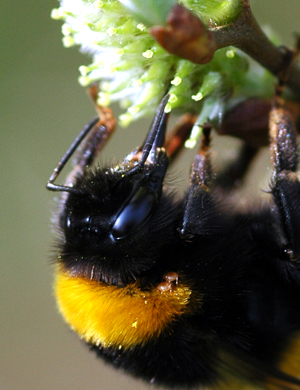 You may well have heard that bees are in trouble. Domestic honeybee hives seem to die more often than they used to, and some of our wild bees have disappeared altogether; for example, three of the UK's twenty seven bumblebee species have gone extinct. The big, long-term driver of declines has been farming intensification; where once we had plentiful hay-meadows and chalk downland, rich with flowers, we now have flower-free monocultures of wheat or silage grass.
Pesticide use is also contributing to the problem, particularly new generations of systemic, persistent insecticides called neonicotinoids that get into nectar and pollen of both flowering crops and wildflowers. Read more…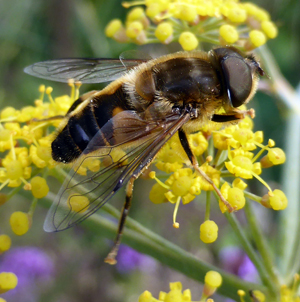 Bees are (usually) frequent visitors to our gardens.  Gardening catalogues and websites are 'always' extolling the virtues of particular flowers / plants in terms of attracting insect visitors to our gardens.  These insect visitors are important pollinators – not just for garden flowers, but also for fruit trees and other soft fruits.  But is there any evidence about the 'best flowers' to plant for insect visitors – other than "opinion and general  experience".
Now some research on this has been done by the Department of Apiculture at the University of Sussex.   The Department and Professor Ratnieks (which have featured in the woodland blog before) are involved in "The Sussex Plan for Honey Bee Health and Well being". Read more…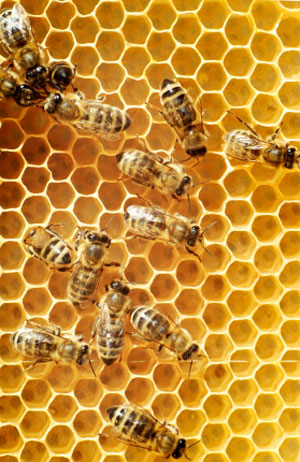 At the start of the twentieth century, it has been estimated that there were about one million beehives in the U.K. Now the number is about 280,000; there has also been a significant decline in the number of beekeepers. Read more…
Subscribe to our blog email updates