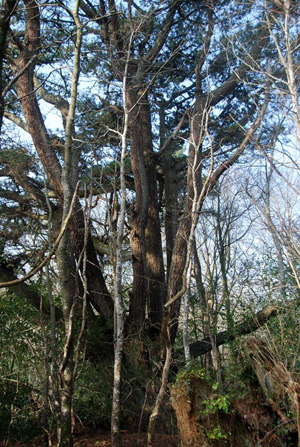 Monterey Pine or Radiata Pine (Pinus radiata) is found naturally in the coastal area around Monterey in California.  There, it is under threat from Pine Pitch Canker (a fungal disease), which makes them liable to attack by bark beetles.  Monterey pine is to be found growing in milder parts of the UK (where it grows faster than in its native habitat), and in coastal areas as it is resistant to salt spray.
The pine is extensively and intensively used in forestry, especially in countries like New Zealand (like the Kaingaroa Forest on the North Island).  The monterey pine can be used for erosion control on steep slopes – as it has a widespread and fast growing root system
The growth form of the tree is conic at first, but as the tree ages it becomes dome shaped with heavily, twisted branches. Read more…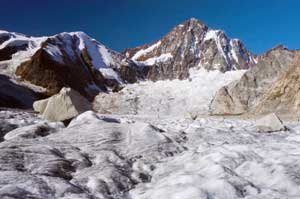 There have been many ice ages in the history of the Earth; but the last, which covered vast tracks of the Northern Hemisphere, came to an end some nine to ten thousand years ago – when the temperature (and sea level) rose.  It has always been assumed that no trees survived in the regions covered by the thick ice sheet, and that trees (like other plants) have returned to areas like Scandinavia by the gradual northern migration of species that had taken 'sanctuary' in warmer latitudes.
However, recently work has been undertaken by Read more…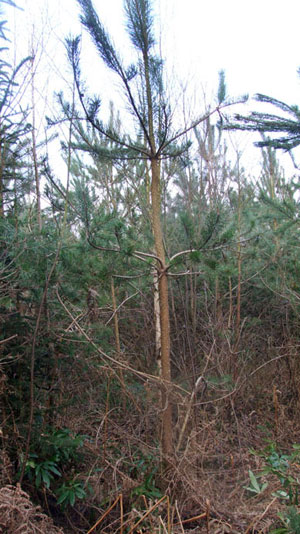 How often does the question arise "how old is that tree"?  Experienced foresters can often look at a tree and make a good estimate, based on trees they have felled in different areas where different growth rates can lead to trees of very different size of the same age.
For the less experienced, ageing trees can be much more difficult, assuming we are not felling them to count rings!  Some trees are virtually impossible to age, very old yew, mainly because of their great age cannot be accurately dated, see http://www.ancient-yew.org/mi.php/dating-yews/99 for further details. Read more…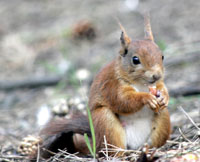 Threats to red squirrels.
The red squirrel is a delightfully charismatic species, which was once a common native over the whole of the UK, but in England is now restricted to a few small areas.  In Scotland, the situation is better, but even here there are only about 120 000 individuals. They represent 75% of the total UK population and are under serious threat, so any actions to protect them are to be welcomed.  There are two key threats,
changes to the woodlands in which they live, and
the so far relentless spread of the similar, but larger American grey squirrel. Read more…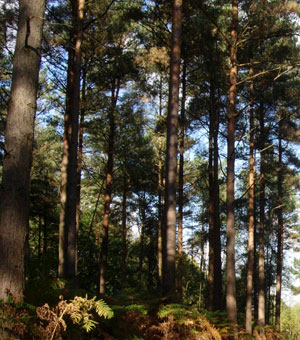 Scots pine and natural pine woodland has a wide distribution in the Northern Hemisphere (it stretches from Scandinavia to southern Spain and from Scotland to Siberia).  It is home to a number of special species, like the capercaillie or wood grouse (the males are strongly territorial and engage in a distinctive mating display).  However, in some pine woodlands the structure and composition of the understory / shrub layer changes over time so that heather comes to dominate to the detriment of the blueberry (Vaccinium ssp). Read more…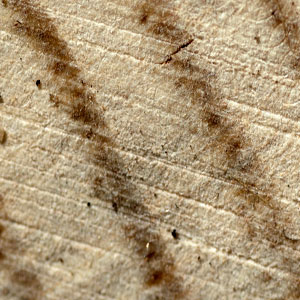 Wood is such a familiar material that we tend to take it for granted.  In general, it is a long lasting, fibrous material that is found within the roots, stems and branches of trees and shrubs.  It is mainly composed of xylem – a tissue that brings water and minerals up from the roots and distributes the minerals and water to the leaves and growing tissues of the stem.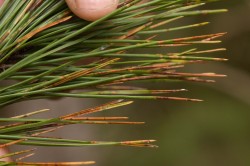 This is an interesting and dramatic condition that affects various pines, especially Corsican Pine.   Thetford Forest in East Anglia has been severely affected by it. Of the 25,000 hectares of that forest,  about 13,000 ha are Corsican Pine.  Read more…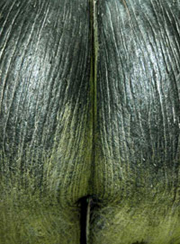 Seeds may be classified as orthodox or recalcitrant. These terms refer to their moisture content and whether or not they can enter into a state of (prolonged) dormancy. The seeds of most plants growing in a temperate climate (such as that found in the UK and western Europe) gradually dry as they mature and many enter a state of dormancy. Seeds that are tolerant to this drying process and which can be stored for a long time are said to be 'orthodox'. In this Read more…
Subscribe to our blog email updates