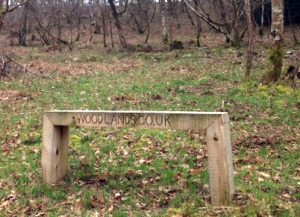 I love sitting quietly in a woodland, especially on a comfortable wooden bench.  Being still and silent in a wood allows you to feel closer to nature and nature gets closer to you: when you stop trampling through a wood the animals stop feeling threatened and they come out.  Birds and deer and even badgers will appear as you sit unmoving and comfortably on your home-made bench.   If sited carefully, you might also be able to enjoy a panoramic view from your woodland bench.
A group of us recently decided to have a bench-making competition and four different benches were produced during the afternoon.  The prize was a bottle of vintage port and the rules were simple – you had two hours to finish and you had to use materials found in the woods Read more…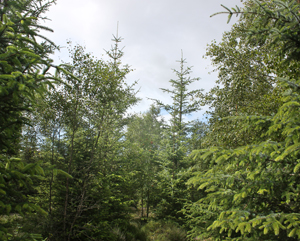 Since 1960 commercial trees in the UK have become about 25% more productive.  This has been achieved through selective breeding, mostly of Sitka Spruce and Scots pine where plants have been chosen for their rapid growth.  It has also led to better quality timber which produces more sawlogs.  Unfortunately according to the Forestry Commission's Steve Lee, no similar effort has been made with broadleaved trees so they have suffered a relative disadvantage compared to the progress with conifers.  He says, "We dropped tree selection for broadleaved trees in the 1960s because it was thought to be not worthwhile."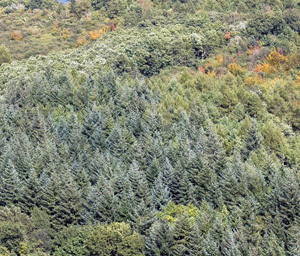 Mature woodlands and forests populated with deciduous trees remove significant quantities of carbon dioxide (a greenhouse gas) from the atmosphere, locking it up in complex organic carbon compounds – such as starch, cellulose and lignin.  Such compounds add to the biomass of the trees.  However, come the Autumn deciduous trees shed their leaves, and in Autumn and Winter winds break off branches and twigs.  These dead leaves and twigs etc contribute to the 'litter' on the woodland floor and the humus in the soil.   This material represents a vast source of 'locked up carbon'. Read more…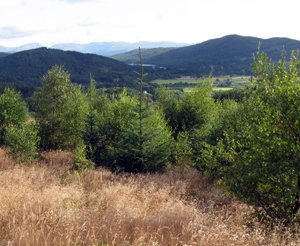 Birch is a pioneer species, that is often replaced by oak, beech or other species.   After the last Ice Age, birch moved in quickly as the glaciers receded.   Even now, after clearfell in almost any part of the country,  birch is usually the first to appear by natural regeneration (and can act as a nurse for planted oak etc.); some refer to it as the 'forester's weed'.    Birch woodland is generally "open" and the trees are often of a similar age and size. Birch regeneration is often respaced (thinned) with a clearing saw  (the resulting thinnings may be used for horse jumps – like the Grand National).
However, birch woodland has mainly persisted (in the U.K.) where conditions are harsh and limit the growth of other species. Read more…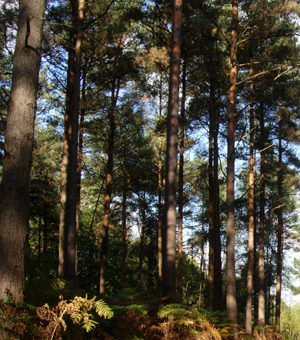 The amount of woodland in the U.K. has increased significantly in the last one hundred years. At the time of the first World War, woodland coverage was at an all time low of about 5%.  The coverage of woodlands now stands at about 12% – much is in the form of coniferous plantation (established to provide a stock of useable wood and timber).  Coniferous plantations were often established on poor quality / marginal land.
However, it is possible to recognise many different types of woodland in the U.K.   How these are described or categorised varies. There is, for example, the Peterken system of stand types* – this is based on the presence of long established tree species. It has 12 main (and 39 subsiduary) types of woodland.   Then, there is the National Vegetation Classification (the subject of a blog some time back) – this Read more…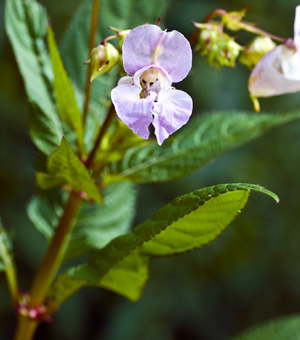 Much has been written  recent in recent years about the 'dangers' posed to our native flora & ecosystems by 'alien' invasive species.  Introduced species such Himalayan Balsam (Impatiens glandulifera), Giant Hogweed (Heracleum mantegazzianum), and Rhododendron (Rhododendron ponticum) have been cited as 'drivers' of ecosystem change – alongside habitat loss, pollution and over-exploitation.
However, voices have been raised to express concern over certain native species that can grow rapidly producing large amount of biomass (or indeed necromass – think bracken dying down in late autumn) and how they may be impacting on our flora, particularly plants of the woodland herb or field layer.  Read more…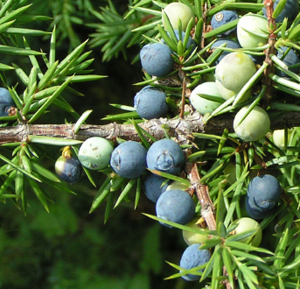 Juniper 'berries' are fragrant and provide the oils / chemicals that give gin a distinctive flavour.  The 'berries' used in gin production are rarely from the U.K. Many come from Italy or Macedonia, where the hot summers allow the full development of these oils (contained within the seeds).  A 'berry' takes some two years to come to maturity and ripen fully.  The 'berries' are often harvested by beating the Juniper shrub with a stick so that the ripe 'berries' fall to the ground for collection.
The 'berries' are not, in fact, berries but cones.  Juniper is a conifer (the other two native coniferous trees are Scots Pine and Yew).  Whereas the cone of Scots Pine hardens and become a woody structure as it ages, the cone of Juniper has fleshy, 'soft' scales that merge together to give a berry like structure, which encloses the seeds.  The 'berries' or cones are green when young but turn a purple black colour as they mature. Read more…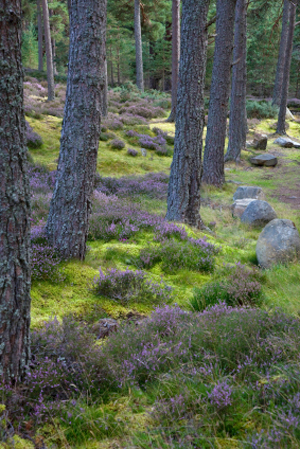 At the end of the last Ice Age, the recolonisation of the British Isles began.  Plant and animal species moved across the 'land bridge' that connected us with continental Europe.   Trees and other plants began to colonise and forest formed in many places.  As it took some time for the climate to warm, the first forests were probably coniferous – resembling the Caledonian Forests that can still be seen in Scotland today.   These early forests and woods would be characterised by pine, birch, aspen, rowan, juniper and perhaps oak.   At one stage, it is thought that such forest / woodlands covered some 15,000 km2 – a vast area.   Now, only a few remnants of this once enormous ecosystem survive in Scotland.
The Caledonian forest / woodlands represent a unique ecosystem in the British Isles – they are remnants of the vast wilderness that once existed here; and across on the Continent – as  boreal coniferous forest. These forests and woodlands are populated particularly by the Scots Pine (Pinus sylvestris).  One of the larger tracts of this native pine forest is Read more…
Subscribe to our blog email updates