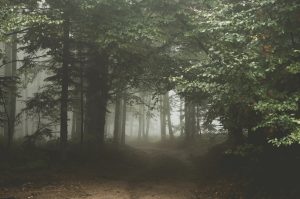 Białowieża is a forested area that lies on the border of Poland and Belarus.  It includes some 1500 sq km of some of the tallest trees to be found in Europe, including towering hornbeams.  It is a species-rich area, with carnivores such a lynx and wolves, 120 bird species (including the three toed woodpecker and pygmy owl), 60+ mammal species including the bison!  The area has been described as a "national treasure for Poland and an international treasure for us all".
The tracts of forest are special as they have never been felled, though it would be wrong to think of the woodland as 'primaeval'  like the original 'wildwood'. The woodland / forest supports a community through tourism, timber, hunting, honey and mushrooms, not to mention scientific researchers and the staff associated with the National Park.  However, only 105 square km of the forest has been designated as National Park or a Unesco Heritage Site. Read more…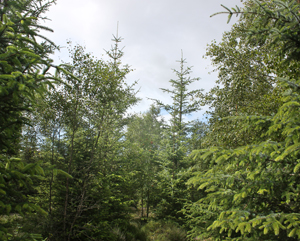 Since 1960 commercial trees in the UK have become about 25% more productive.  This has been achieved through selective breeding, mostly of Sitka Spruce and Scots pine where plants have been chosen for their rapid growth.  It has also led to better quality timber which produces more sawlogs.  Unfortunately according to the Forestry Commission's Steve Lee, no similar effort has been made with broadleaved trees so they have suffered a relative disadvantage compared to the progress with conifers.  He says, "We dropped tree selection for broadleaved trees in the 1960s because it was thought to be not worthwhile."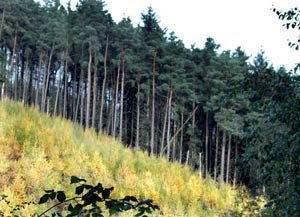 Coniferous plantations are found throughout the U.K.   There are some 300,000+ hectares in England, 900,000+ hectares in Scotland, and circa 106,000 hectares in Wales.   Large scale conifer planting 'took off' soon after the First World War.   At about this time, the woodland cover had fallen to 5% (in Britain) so the Forestry Commission was established. This had the aim of ensuring that there would be a strategic reserve of timber.
Vast areas of 'low grade' land were pressed into service.   Areas around Thetford and Kielder were used, as were some sandy coastal sites (e.g. Holkham in Norfolk) and many large tracts in Scotland (including the use of some natural peatlands). Read more…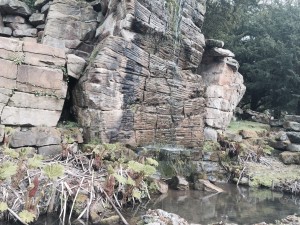 In the 1830s the 6th Duke of Devonshire, owner of the Chatsworth Estate in Derbyshire, was one of the first to plant a pinetum and arboretum.  He did this in partnership with Joseph Paxton, who later became famous for building the Crystal Palace exhibition in London.  Taking a few acres of grazing land above the great house at Chatsworth, they set about planting trees systematically in accordance with the botanical classification used at the time.  It's very clear that both the Duke and Joseph Paxton had great fun in their creation of some large-scale landscape features.   Read more…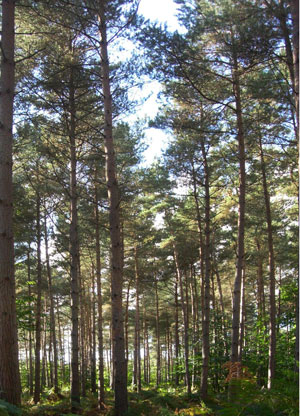 Boreal forest is found in Canada, Sweden, Finland, Norway and Russia.   Essentially, it is coniferous forest with tree species such as pines, spruces, larches and aspens.  In the U. K., this unique ecosystem is represented by the Caledonian Forest (a remnant of the vast sylvan wilderness that once existed here).  One of the larger tracts of this native pine forest is the  Black Wood of Rannoch.
One feature of the boreal forest or taiga is that it has areas of even-aged stands of trees.  This uniformity arises through cycles of natural disturbance – from forest fires to outbreaks of insect pests such as pine beetle or spruce budworm, which periodically kill off large sections of forest – but these areas, in turn, regenerate. Read more…
Having been born and brought up in rural Devon and then subsequently spending a career of 50 years at sea, the prospect of retirement with all its encumbrance of zimmer frames and wheel chairs was not sitting too comfortably on my shoulders. A year into this experience, at about the time the wife stopped talking to me, and with the feeling of guilt experienced every morning of really not doing very much constructive with my life, except walk the two Springers the obligatory six miles a day along the coast outside my home – it really felt as if the rot was well and truly starting to set in. That is until one day, whilst exploring a quiet part of Northumberland,  I espied a Woodlands.co.uk for sale sign. Read more…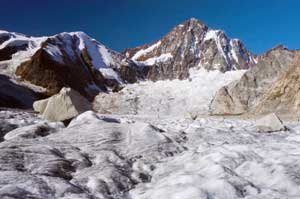 There have been many ice ages in the history of the Earth; but the last, which covered vast tracks of the Northern Hemisphere, came to an end some nine to ten thousand years ago – when the temperature (and sea level) rose.  It has always been assumed that no trees survived in the regions covered by the thick ice sheet, and that trees (like other plants) have returned to areas like Scandinavia by the gradual northern migration of species that had taken 'sanctuary' in warmer latitudes.
However, recently work has been undertaken by Read more…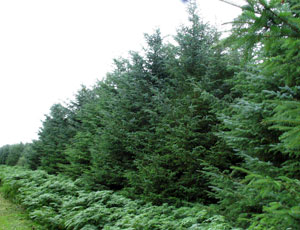 About 70% of Britain's commercial tree plantations are Sitka Spruce.  The Forestry Commission have been planting sitka since as far back as the 1930s both because it is able to survive in inhospitable peaty conditions and because sitka grows fast and produces good quality timber.  Botanically called Picea sitchensis, sitka spruce is most easily identified by the "three p's": it has a pointed crown, its leaves (needles) are on pegs and it has pendant cones. Read more…
Subscribe to our blog email updates