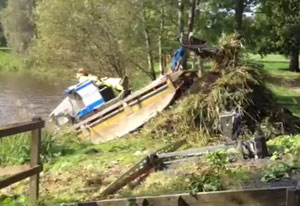 In deciding how much you should be dredging your pond or ponds you may want to do a sort of "loss vs benefit analysis" – ponds which are soak-aways from heavily-fertilised agricultural areas are likely to be poor in wildlife and by dredging you may be able to remove polluted sediments and hopefully create silt traps and ways to buffer the pond from future pollution.  It may be that your pond is in a marshy area and you may be better off digging small shallow pools rather than undertaking big excavations.  Often it is easier  and cheaper to create a new pond than to dredge an existing one.  Digging new ponds can be much more useful to wildlife than planting trees – trees will self-seed if land is left alone whereas ponds are much less likely to create themselves.  Indeed, very often the most useful way of improving a pond for wildlife is to reduce (or remove) overhanging trees which keep out light and can degrade the pond with heavy leaf-fall. Read more…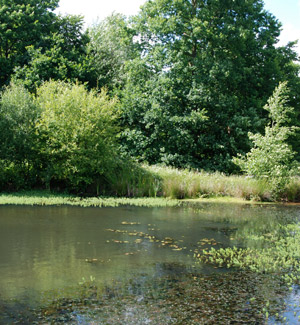 Over the last fifty or so years, many of our freshwater ecosystems (rivers, streams and ponds) have been polluted – particularly with nitrates and phosphates.  This pollution has lead to eutrophication : an overgrowth of simple green algae and subsequent loss of biodiversity.  The million ponds project seeks to create new ponds, with clean, unpolluted water.
The question might be posed "why not clean up and manage existing ones?"  Of course where this can be done, then it should be done but new ponds allow one to start with a clean slate.  They can be created in places where their water supply will be clean throughout the pond's lifetime, and generally creation is cheaper and simpler than the restoration of an existing pond. Read more…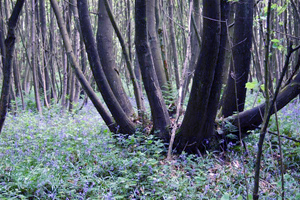 Wild boar became extinct in the U.K. in the thirteenth century –so we have been 'boar free' for circa 700 years.  However, towards the end of the last century commercial pig farming developed; seemingly some escaped and have established free living and breeding populations.
Attitudes to these pigs / boars fall into two broad categories :
those who welcome the return / reintroduction of a missing species and its ecological impact
those who have a more negative perception of the boar – in that, they do damage, have the potential to harbour disease and can cause direct damage to people. Read more…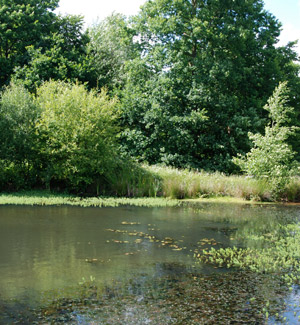 Pond building in woodland is more than just digging a big hole.   It is very much about creating a habitat, which is varied but which actually keeps the water in.  Over the last month or so, we have been digging a large wildlife pond in Kent not only for wildlife but also for enjoyment. We wanted an expanse of water that would be big enough for some canoeing and paddling around in small boats.
To do the job, we employed a pair of digger drivers with their machines but we were very much involved in the design and practicalities.  I knew several people who had dug ponds and lakes but in this case I particularly wanted something with an island; hoping that this could be a protected area for bird nesting – as well as an interesting feature. Read more…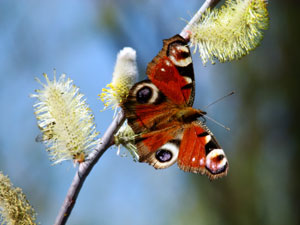 Butterfly Conservation UK and the Centre for Ecology and Hydrology have been involved in the monitoring the status of butterflies through various citizen science schemes*.   UK butterflies (and indeed, birds) are probably the best-studied wildlife groups thanks to the dedication of an enormous workforce of highly skilled and committed volunteer recorders. Butterflies and birds have been observed and recorded in detail for many, many years and these detailed records and counts yield an invaluable resource of information for the analysis of population change(s).
A recent report indicates that some 70% or more of our butterfly species are in decline and that the geographical distribution of many has contracted. Read more…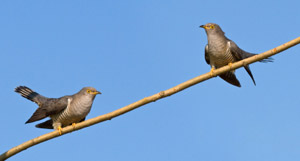 They are on the move! Who ? The Norfolk cuckoos that were fitted (last Spring) with solar powered 5G satellite tags.  Through these devices, the cuckoos were followed back to their 'winter homes' in Africa.  The tags transmit for about 10 hours at a time, then they go into 'sleep mode' whilst they are recharged by the light - ready to broadcast the position of the birds some time later ☆. Read more…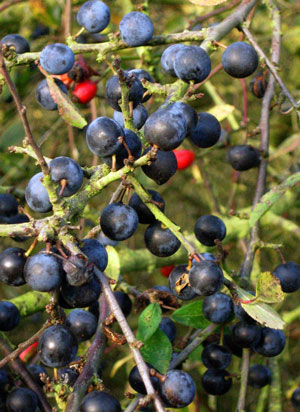 The importance of hedgerows in the maintenance of biodiversity cannot be over-emphasised.   Hedgerows provide vital food, in the form of a variety of berries – sloes, haws, blackberries etc,  for small mammals and birds (redwings, blackbirds) and hedgerow flowers support pollinating insects – a  variety of bees and butterflies.
However, the 'management' of hedgerows or trimming / flailing of a hedgerow can make a significant difference to its productivity – that is, the number of flowers and fruits produced. Read more…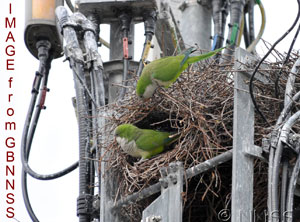 DEFRA has declared that the monk parakeet is a threat.  The home of the monk parakeet is South America.  It is being viewed as a threat because of the parakeet's unusual nesting habits.  Unlike other parrots, monk parakeets (Myiopsitta monachus) use sticks to build huge nests on the outside of a tree's canopy or pylons – these can reach the size of a small car!  In the United States, the nests have been responsible for power shortages, cuts in power transmission, fires and crop damage.  However, no damage in the U.K. has been reported to date though DEFRA has expressed concern that damage might be caused to 'national infra-structure' and native British wildlife.
Subscribe to our blog email updates