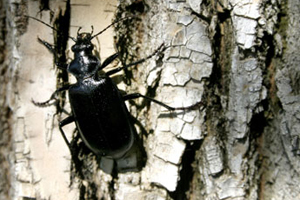 There have been various articles that comment on the decline in numbers / variety of bees and butterflies, now a recent study reported in the Journal of Applied Ecology comments on a worrying decline in the numbers of ground beetles or carabids.   Scientists at Rothamsted Research, working with the NERC Centre for Ecology & Hydrology have found that some 70+ % of ground beetle species have shown a fall in numbers.  The scientists monitored beetle populations at many locations throughout the U.K. over a time scale of some fifteen years. They found the decline in the abundance of ground beetles was comparable to those reported for butterflies and moths. Read more…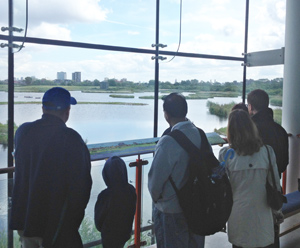 "That's the wettest woodland in the county" is a comment people often make about their local woodland.  But this comment cannot be literally true for very many woods.  It seems that people are often surprised by how wet woodlands can be and hence are often keen to drain them.  However, wetlands are important habitats and can be home to unusual birds, invertebrates and mammals.
Visiting the London Wetlands Centre recently I discovered how a former sewage works has been transformed into a wildlife sanctuary over the last 20 years.  Having become redundant as a sewage treatment plant, because of the creation of the Thames Water ring main, negotiations in the late 1980s led to part of it being developed for housing by Berkeley Homes (about 40 acres) and the remainder Read more…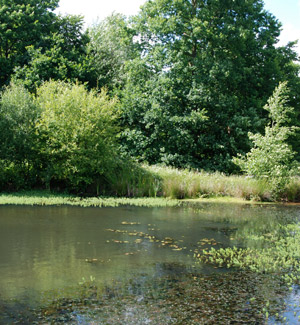 Pond building in woodland is more than just digging a big hole.   It is very much about creating a habitat, which is varied but which actually keeps the water in.  Over the last month or so, we have been digging a large wildlife pond in Kent not only for wildlife but also for enjoyment. We wanted an expanse of water that would be big enough for some canoeing and paddling around in small boats.
To do the job, we employed a pair of digger drivers with their machines but we were very much involved in the design and practicalities.  I knew several people who had dug ponds and lakes but in this case I particularly wanted something with an island; hoping that this could be a protected area for bird nesting – as well as an interesting feature. Read more…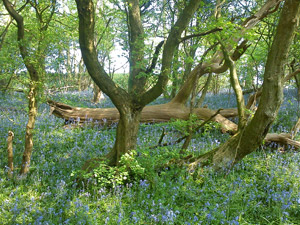 My wife and I decided on the purchase of a small wood a few years ago.  We were able to research financial, legal and physical practicalities on-line and www.woodlands.co.uk was the most useful site in our search for a suitable wood. We visited nine or ten woods  across the South of England, from Devon in the West to Kent in the East.  We were looking for a wood between 3 and 6 acres up to a  spend of about £40K. Some people spend as much on a car, whilst for us non-drivers – a wood is a much better, permanent investment, especially when financial products are looking risky.
But we weren't just looking for somewhere to bank money but a place of natural beauty and quietude to enjoy and preserve.   Our wood had to be accessible from London by public transport but still a rural gem away from built habitation.  We were ideally looking for a bluebell wood with a good mix of tree cover — not a conifer plantation. Read more…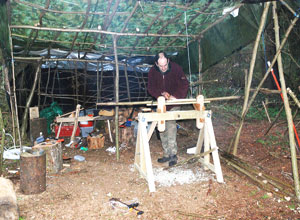 A priority when staying out in the woods is a good water and wind proof shelter
The following photos show the construction of a hazel wood shelter to sleep 2-3 people.
We are out a lot, so we built it to last.
The photographs in the 'strip' below show the various stages in the construction of the shelter. Read more…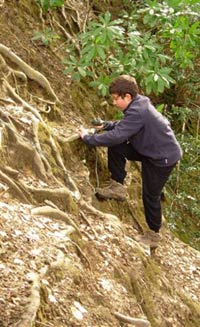 This is the central question in Richard Louv's book, "Last child in the woods," and this concern is shared by the broadcaster Sir David Attenborough.  As Attenborough says, "all children start off being interested in the natural world, it's deep in our instincts…".    Children may have theoretical knowledge but not touchy-feely experience. As Louv explains, " children today are aware of global threats to the environment but their physical contact, their intimacy, with nature is fading."

Nature-deficit surveys
Natural England did a survey recently in which they examined changing relationships with nature across generations and they found that fewer then 10% of children now play in natural places (such as woodlands and heathlands) compared with 40% of today's adults who did so when they were young.  The BBC Wildlife Magazine carried out another survey which found that many children now cannot identify common species such as bluebells and frogs. Read more…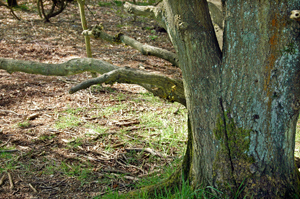 Public access has dominated the debate on the proposed Forestry Commission (FC) forestry disposals, but behind the official documents there are a few less obvious but perhaps important implications:
The government don't really trust the Forestry Commission, DEFRA or even politicians any longer as owners of the forests.  There have been some kind words said publicly about current management but it is clear from what's being proposed that the government want to get this land out of FC hands just as soon as possible.  Read more…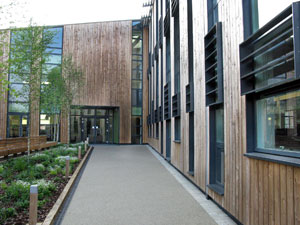 The Woodland Trust has been going since 1972 and has grown into quite a big organisation with a turnover of over £25 million per year and it owns over 1,000 woodlands covering about 50,000 acres.  It's big in other ways too with about 270 staff and a spanking new headquarters at Grantham which they moved into in mid-November 2010 and large collection of supporters and volunteers.  Last year, the membership topped 200,000 and this had doubled over the previous 9 years. Read more…
Subscribe to our blog email updates