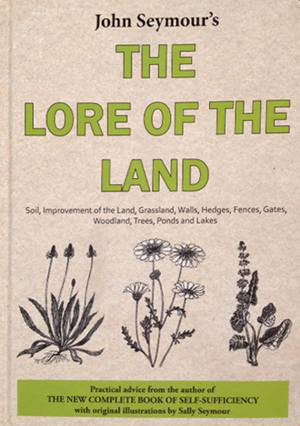 Have you ever wanted to know how to stop fence posts rotting, how to choose which trees to plant, or how to build a pond so that it holds water?  This guidebook, originally written in the early 1980s, is packed with tips and explanations based on John Seymour's own experience of improving his wooded smallholding in Pembrokeshire.  Lazy readers like me can follow the explanations through the drawings that Seymour's wife, Sally, has scattered through the book.  But it's not just a guide on how to manage woodlands and improve a smallholding – it's also a whole philosophy of life…….
"The reason", says Seymour, "why our land is so desperately badly husbanded now is that it is held in too large units."  He greatly improved his smallholding over a period of many years using his own hands and he was doing it for a clear purpose – so that he could "hand it over to the next generation with pride."
"As well as rights we have a positive duty with regard to land" he argues and says that we should improve the land with "tender loving care".  We should, he says, plant it with trees, use hedges rather than wire fences and build timber gates instead of using steel ones.
"The Lore of the Land" is presented by Seymour's daughter, Anne Sears, who worked as a child with her parents on their smallholding and, as with the management of many small woodlands today, it was very much a family affair.  She points out that some activities from the early 1980s are not recommended today – for example in order to get strong preservative into fencing stakes her father advocated heating up a drum of creosote on a fire with the stakes dipped into the hot liquid – the idea being that as the stakes cool off they suck in the tar.  He admits that despite taking great care his creosote drum once boiled over resulting in a huge conflagration in which he almost lost his Jeep.  Other solutions he offers are using motor oil and, most importantly, using suitable timber such as sweet chestnut or oak.
Many ideas in The Lore of the Land go against the current way of thinking which worships economies of scale and gives little thought to aesthetics: Seymour's  guidebook shows how combining logic, hard work and care can create improvements that will last for the long-term especially in drainage and in planting.   Despite his independence of mind, even Seymour is taken in by a few forestry fashions of the early 1980s such as excessive enthusiasm for planting Southern Beech (Nothofagus) and he is almost sycophantic about the Forestry Commission.  His style is informative but informal and if in doubt he recommends what he calls OMCS – "Old Mother Common Sense".
If you prefer swinging into action to technical reading, this is the book for you – you can simply leaf through to drawings which show how to construct a gate, how to fell a tree, and how to dam a stream – you'll then be drawn in and looking before you leap.  The Lore of the Land is the ultimate hands-on guide to many of the practicalities of managing a small woodland.
Leave a comment
Subscribe to our blog email updates
Managing Your Woodland for Wildlife
A new book on encouraging biodiversity in your woodland. Available free here »