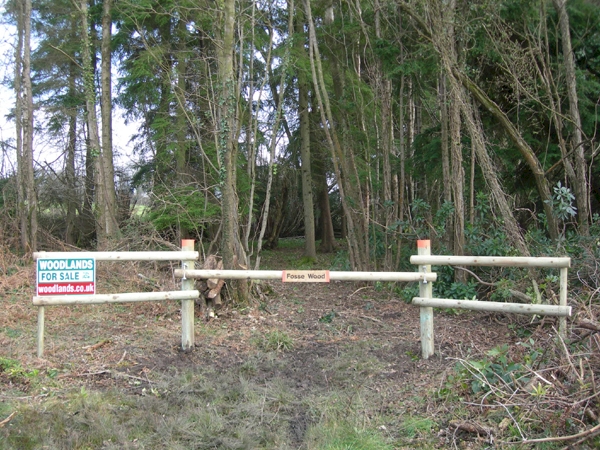 The most striking feature of this beautiful level area of woodland is the great diversity that it offers for both the owner and resident wildlife. At the outer fringes of the wood mature conifers and bluebells give way to grassy areas on softer ground that support numerous species of woodland insects and woodland flowers.
This type of varied habitat is the basis for many and varied food chains as the grassy wet areas attract a range of butterfly caterpillars which feed on the grasses and in turn become tempting treats for the woodland birds. Wandering deer are also at ease in this environment, able to browse in relative seclusion under the woodland canopy. Foxes and badges can enjoy the abundant insects that populate this fertile ground.
Further into the dense interior large broad leaf species dominate where few have ventured in recent years, in a world where nature has firmly taken hold there are fine examples of oak, beech and ash and some particularly dramatic red flowering rhododendron. A large hidden clearing is the perfect spot to camp.
Fosse Wood has easy access from a quiet rural lane and then a short walk to the woodland entrance where secluded clearings provide perfect camping spots. This woodland is considered to be sufficiently important that it has been awarded a tree preservation order to protect the broad leaf tree species within the wood by requiring a specific consent from the local authority to cut down any such specimens in accordance with good woodland management practises.
There has recently been activity here to upgrade the access track to the woods and carry out a replanting scheme of mainly indigenous hardwood species to replace recently felled conifer and wild flowers have been planted in areas where rhododendron has been cleared. This we believe will greatly enhance this woodland for future owners in the long term. For further information please contact our local manager Dan Sharp.
The wider surrounding area is characterised by quiet country lanes and small villages in an overwhelmingly rural local area where the hills shelve gently down to the south coast a short drive away. The market towns of Chard, Axminster and Crewkerne provide everyday services for the woodland owner.
The purchasers of the woodland will be asked to enter into a covenant to ensure the quiet and peaceful enjoyment of adjoining woodlands and meadows.