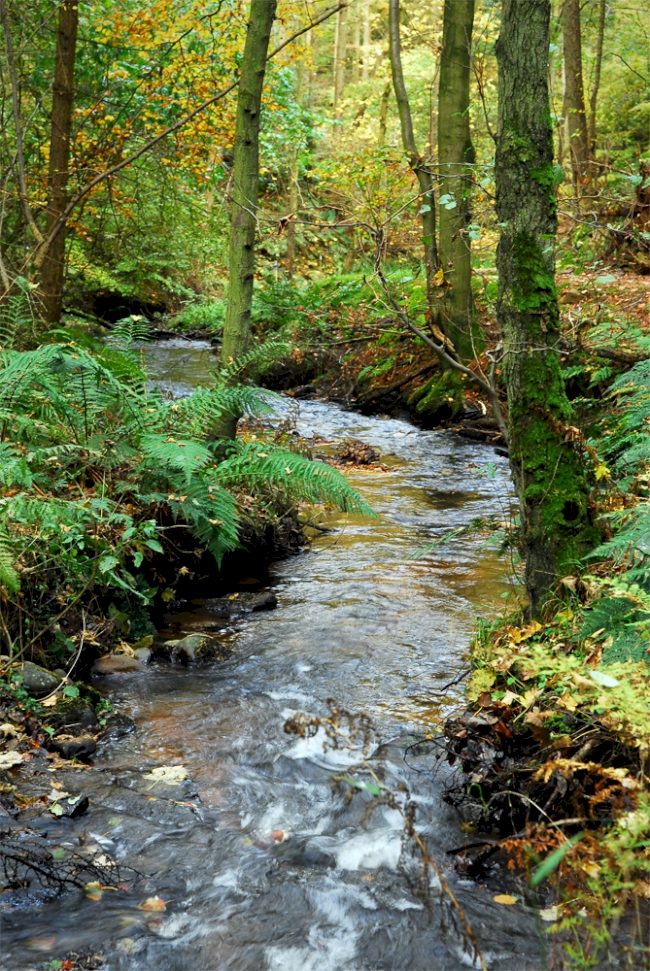 Westmarch wood is a beautiful secluded woodland near Brampton in the North of Cumbria. Well spaced larch trees cover the slope down to the beck, while Sessile oak and Scots pine form the canopy along the top half of the wood and provide shelter for occasional young birch, beech and rowan trees. Massive mature beeches form an impressive boundary line with wide veiws across the farm land along the southern edge.
The Hell Beck meanders in sandy banks around the north and eastern edges of the wood, providing a home to dippers, invertebrates and small fish.
There is a wide range of ground flora to be found among the mosaic of open grassy areas. Honeysuckle and raspberry can be found growing among the trees, and in the open areas there is an abundance of dog violets, creeping campanula, wood sorrel and opposite-leaved saxifrage. These point toward the historical status of the the wood, which is recorded as a Plantation on an Ancient Woodland Site (PAWS).
Westmarch Wood is an ideal habitat for a range of mammals and birds. Red squirrels are often seen feeding among the Scots pines and buzzards can be heard overhead. Polecats and pine martens, rare in the UK, are recorded in the wood and in the surrounding area.
The track, which is edged by foxgloves and red campion, runs to the upper part of the wood which has many areas suitable for camping.
The Area: Westmarch Wood is very close to the location of a battle 1570, known as the 'Battle of the Hell Beck'. This was a significant battle as control of the whole of the English West Marches rested on the outcome.
The wood is in an undiscovered area of Cumbria. With the attractive market town of Brampton to the north and the Lower Eden Valley to the south, Westmarch Wood is perfectly located and is close to the North Pennines Area of Outstanding Natural Beauty (AONB). The wood is a short distance from Talkin Tarn Country Park and Geltside RSPB nature reserve, There are also plenty of B+Bs locally.
The purchasers of the woodland will be asked to enter into a covenant to ensure the quiet and peaceful enjoyment of adjoining woodlands and meadows.