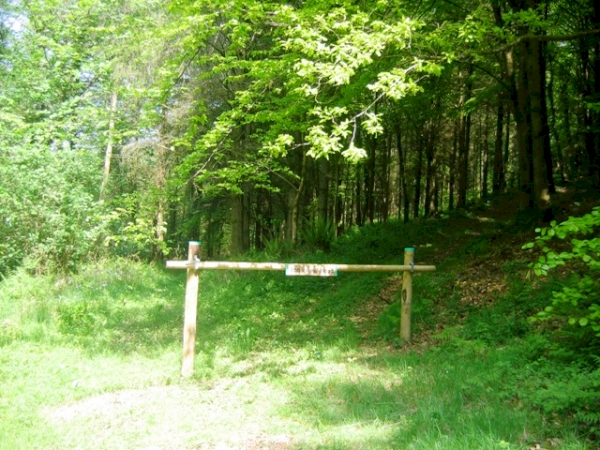 Abbots Hill Wood is a mixed woodland with many fine examples of conifer and broadleaved trees. There is a clearing at the entrance near to a stream that flows along the western boundary which provides the ideal car parking space. The entrance to Abbots Hill Wood is marked by a ride stop, immediately behind which lies a striking stand of beech trees. Scattered around the woodland are many fine examples of broadleaved trees including oak, ash, silver birch and an area of sycamore coppice, probably planted as a fast growing and sustainable source of firewood. There is an area of spruce and fir species which are now well established having been planted in 1967, interspersed with the occasional grand fir tree.
The woodland has been well managed over the years during which time thinning has been carried out to maximise saw log production. The timber can be utilised for forestry projects or for firewood.
There are many places within the woodland which would make great camping spots, the best of which is probably next to the stream by a clearing, with good access and well established internal tracks Abbotts Hill Wood would be ideal for those looking to participate in family forestry.
For those interested in observing wildlife this woodland provides opportunities to watch at close quarters red and roe deer along with foxes, badgers and a host of other locals such as bats and owls.
The woodland is classified on the Government's habitat database Magic as Ancient replanted woodland. Ancient replanted woodland is where the original native tree cover has been felled and replaced by planting, often with conifers. This means the site is a long established wooded area which is excellent for ground flora species such as ferns, and as a habitat for woodland-dwelling species.
Abbots Hill Wood is ideally located with many services nearby and is convenient for making visits around mid-Devon and the north Devon coast. The Portsmouth Arms train station is a 10 minute walk from the woodland and the station is part of the Tarka line - famous for being one of the most beautiful train journeys in the country. The rail line links directly to Exeter. Also The Portsmouth Arms Inn is close by for refreshments after a day in your woodland.
If you fancy a treat when visiting your woodland, perhaps as an alternative to camping, the beautiful Northcote Manor is just a 5 minute walk away. You can also eat at the Manor in the evenings. There is a saw-mill within a mile and a chainsaw shop at nearby Umberleigh.
Abbots Hill Wood lies about 8 miles south of Barnstaple which is the gateway to explore the rugged coast of north Devon with its many beautiful beaches such as Westward Ho! and the popular surfing beaches of Croyde and Woolacombe.
Particulars and plans were prepared by our local manager, Stuart Brooking.
The purchasers of the woodland will be asked to enter into a covenant to ensure the quiet and peaceful enjoyment of adjoining woodlands and meadows.