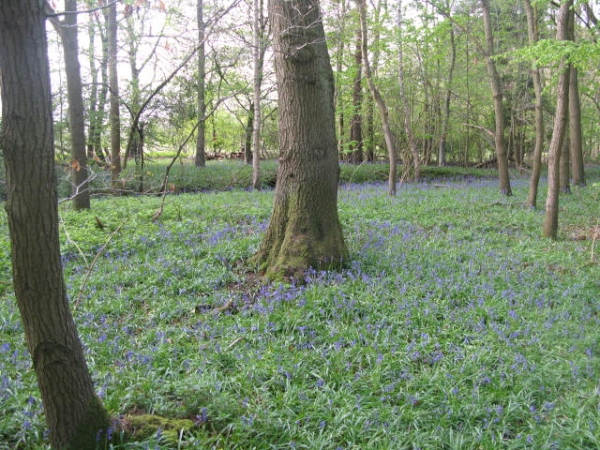 As you approach Elk Wood along a wide forest ride you leave the hustle and bustle of urban life behind; you realise that this is a special and tranquil place. If you have walked quietly you may be lucky to see a local hare lollop past you or hear the chattering of two squirrels as they chase each other.
The entrance is marked by a ride-stop and immediately to its right stands a magnificent specimen oak. Its branches reach up and out and in summer will provide dappled shade over this open area. A rough bench has been made from a fallen hornbeam.
A large area of bluebells grow to the left of the glade enjoying the extra light from the woodland boundary. The eastern field boundary bathes the wood in morning sunlight and adds another dimension to the area.
The wood is deceptive in that, although it is mostly level with plenty of open areas, there are some undulations which create some secluded and private areas. As you explore you can find some hidden treasures such as a seasonal pond that is tucked away near the western boundary.
The wood has a large variety of trees. Mature oaks and hornbeams dominate the wood with ash, silver birch, willow sweet chestnut also being present. Along the track a couple of magnificent Coastal red woods make a nice departure from indigenous trees and towards the back of the wood stands an enormous holly tree.
Elk Wood is surrounded by private woodland, the benefits of this being evident in the diverse amount of wildlife and habitat. Muntjac deer, hares and squirrels can be found along with over 30 species of bird. Woodcock feed in the damp undergrowth close to the ditches that crisscross the wood and the eastern boundary is a great place to spot the deer as they rest basking in the sunlight here.
Conveniently located - it is just ten minutes from the A12 and 30 miles from the M25. There are excellent local services including pubs and a village store within a short drive or cycle ride.
Because the woodland is so special it has a tree preservation order on it and is protected by the local authority. This simply protects the woodland and does not prevent woodland management -free guidance is available from the Forestry Commission and other organisations.
The purchasers of the woodland will be asked to enter into a covenant to ensure the quiet and peaceful enjoyment of adjoining woodlands and meadows.