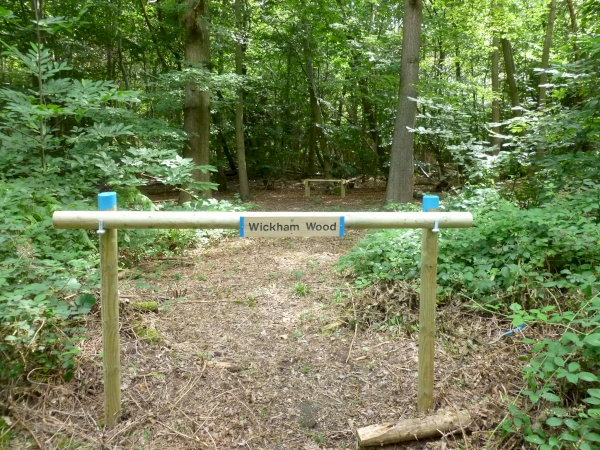 Wickham Wood has wonderful mix of oak, sweet chestnut, hornbeam, silver birch, willow, hazel, ash and pine with many fine mature examples. As you venture into its depths you will find some attractive open areas in which you can rest and enjoy the woodland.  In spring bluebells carpet parts of the woodland making a truly wonderful display.
The woodland has a good understorey in places with mixed patches of bramble and wild flowers providing cover and food for wildlife.  Badgers, muntjac deer and foxes are often seen. A recent survey counted over thirty different birds that inhabit this area.
A bench has been built, please take some time sitting here and enjoy the surroundings. Close your eyes and listen to the bird-life, at dawn and dusk it is truly amazing.
Wickham Wood is surrounded by areas of private woodland on three sides giving it a feeling of seclusion, yet Wickham Wood is conveniently located - just ten minutes from the A12 and 30 miles from the M25.
With excellent local services including pubs and a village store within a short drive, this is an ideal wood for family forestry.
Because the woodland is so special it has a tree preservation order on it and is protected by the local authority.  This simply protects the woodland and does not prevent woodland management - free guidance is available from the Forestry Commission and other organisations.
Particulars and plans were prepared by our local manager, Matt Marples.
The purchasers of the woodland will be asked to enter into a covenant to ensure the quiet and peaceful enjoyment of adjoining woodlands and meadows.