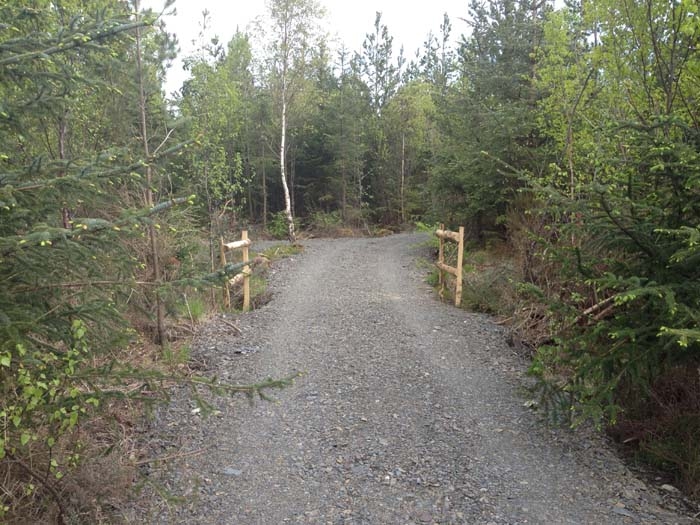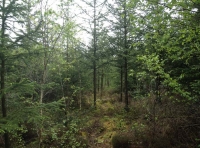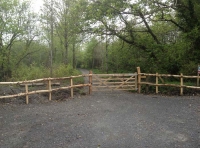 Coed Rhoslan is part of a larger woodland historically known as Gwinllan Rhos Ddu. The first part of the track leading from the main road to Coed Rhoslan used to be an old London Midland and Scottish railway line, opened in 1872, closed in 1964, travelling from Pwllheli to Caernarfon. The house opposite the entrance used to be a crossing keeper's cottage next to Ynys railway station. Beside this section of track there is an old well which looks to be part of the old railway operations. The well is brick built, still contains water, and has a very thick steel lid on the top to protect the water from contamination.
There is a very good track meandering through the woodland where it comes to an end with a turning circle. Off this turning circle there is a parking space and small oak wooden gate that leads into Coed Rhoslan. From this gate there is a path that travels through the woodland over small wooden bridges that cover the well made ditches and water ways. The pathway also gives way to natural clearings with ground coverings of mosses, ferns, bill berry and heather. In these clearings in particular you can find many insects, butterflies and bees.
Coed Rhoslan was clear-felled of Sitka Spruce and replanted around 15 years ago with some broad leaf trees and spruce, however there has been a significant amount of natural regeneration over this period. Some of the tree species that can be found here include sweet chestnut, oak, beech, silver birch, rowan, willow, holly and pine.
Being such a diverse and young woodland, it is bustling with song birds, pheasant, Jay, ducks and woodcock.
Although Coed Rhoslan can be simply enjoyed, as it is now for its conservation and ecology value, there is also an opportunity to create an even more diverse woodland by introducing new tree species and further encouraging the bio-diversity.
This woodland could also appeal to those that would like to manage a woodland in the more traditional ways using hand tools, rather than power tools, as the woodland is still young enough to manage in this way.
Coed Rhoslan is just outside the Snowdonia National Park, and conveniently situated near the towns of Cearnarfon, Porthmadog, and Criccieth, for all local amenities.
The purchasers of the woodland will be asked to enter into a covenant to ensure the quiet and peaceful enjoyment of adjoining woodlands and meadows.