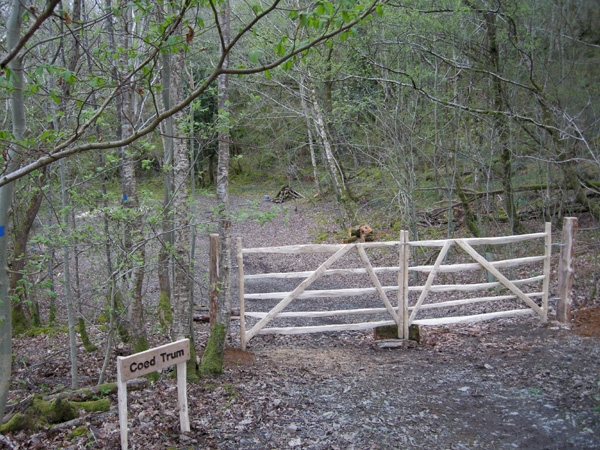 Coed Trum is located just outside the village of Maentwrog near Ffestiniog in north-western Wales. It is a broadleaf woodland of an easily manageable size. The woodland consists mainly of young birch and oak with occasional mature specimens here and there. Also, much of the northern end of the woodland has been recently planted with native trees.
In general, the land is fairly steeply sloping with some flatter terraced areas also being present. Just inside the hand-made ash gates that provide the main access into the woodland there is a large level hard-standing area that has vehicle access and could be utilised for many different woodland activities such as family camping or even as a large green woodworking space.
The eastern edge of the woodland is bordered by a high stone wall. Here the ground is rocky and is well covered with Bilberry bushes as it tumbles down to the north. From here there are views down the valley to the east towards Maentwrog.
Access to the woodland is gained from the A496 through a gated entrance and then up a good four-wheel-drive track. Coed Trum is the land located to the left of this track. The track divides and turns left and through a gate. Straight ahead you will see the double gates into Coed Trum. The track also forks to the right just before the double gates and continues up the hill following the boundary of Coed Trum. At the brow of the hill the track widens enough to allow space to turn a vehicle.
Coed Trum is close to the Gwaith Powder Nature Reserve, and overlooking the River Dwyryd. The town of Penrhyndeudraeth is three miles away via the Grade II listed Pont Briwet toll bridge.
The purchasers of the woodland will be asked to enter into a covenant to ensure the quiet and peaceful enjoyment of adjoining woodlands and meadows.
Boundaries:
The north and the west boundaries follow the edge of the access track. The southern boundary is marked by a row of painted posts. The eastern boundary follows a high stone wall. All boundaries are marked indicatively in dark blue paint on both trees and posts.