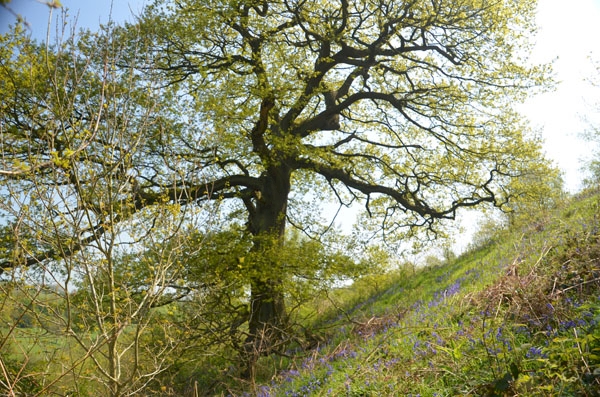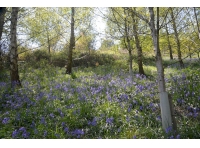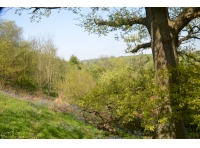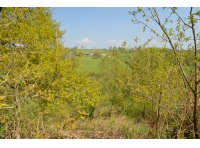 Staffordshire has some of the best landscapes in England and none more so than here, where the woodland trees rooted in the valleyside of Ordleybank Wood contribute to making this the best of places to own a wood. New planting from about 12 years ago has grown well on the fertile soils, and will soon provide poles and logs for homefires from thinnings of the ash. Mature oak, some of great character, contrast with the smooth stems of the new trees, which in the fullness of time will develop their own deeply fissured bark of age.
A hard track leads off Ordley Hill running along the north side of Ordleybank, providing access for parking and turning and to the 'ridestop' entrance. Above this the wood climbs to the level areas on the western side, then across to the drystone wall separating the wood from the meadow beyond. Wildlife at all levels - from the solid red deer to the smallest shrew, from the buzzards above to the tiny wrens flitting amongst the undergrowth - each in their own way enjoy the flowers, the shrubs and the trees. The owners of the neighbouring woodland, Lathercliffe Wood, have a private right of way on foot only, along the top of Ordleybank.
Access: Off Stanton Lane / Ordley Hill along a private track along which purchasers will have a full right of way.
The Area: The woodland is situated in the The Weaver Hills, considered the most southerly extent of the Peak District. These hills are of carboniferous limestone as is most of the Peak District, including Malham and Dovedale. The pretty village of Stanton, with stone houses and cottages, is just up the road. All roads in the area lead down into the market town of Ashbourne just over the border in Debyshire on the river Dove, 10 minutes' drive from the wood. The aerial view from Google is several years old and shows the wood at an early stage of development.
The purchasers of the woodland will be asked to enter into a covenant to ensure the quiet and peaceful enjoyment of adjoining woodlands and meadows.
Boundaries:
The boundaries are indicated with turquoise markings. The eastern and south west boundaries are with Ordley Lane. The northern western boundary is marked with posts and the western boundary has a drystone wall.