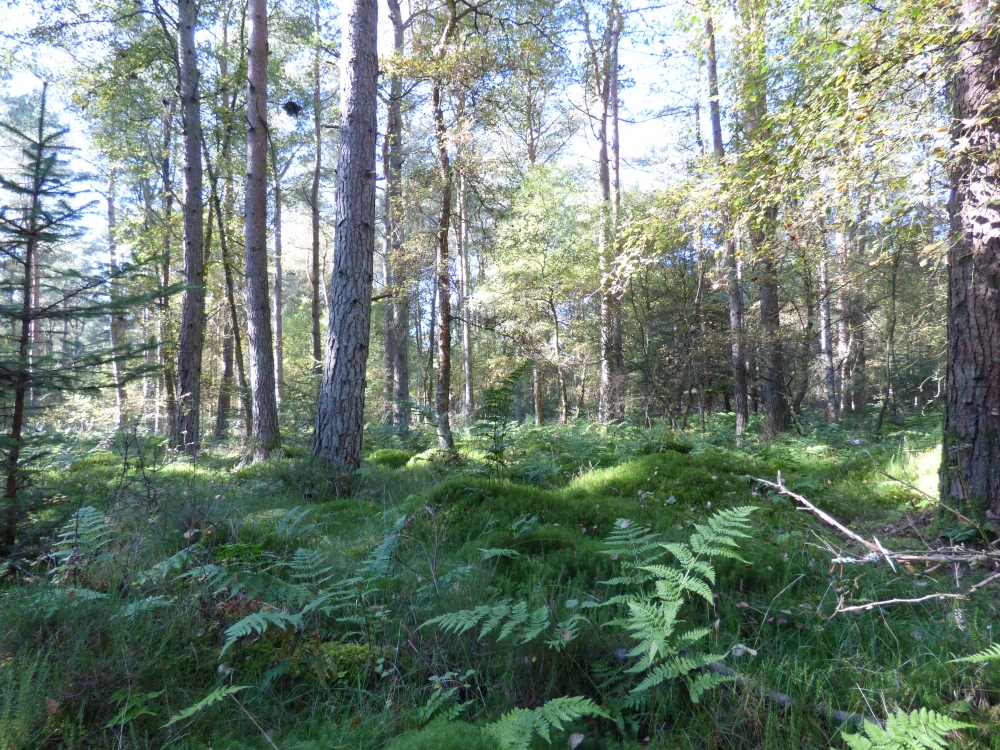 Pitgarvie Woodland, which Alana Wood is part of, is situated in idyllic, historic and very peaceful rural surroundings. The trees are a diverse mixture of species and ages and have been well managed. Currently mature Scots pine, spruce and birch are dominant, but there are significant areas of mixed broadleaves including rowan, oak and alder. Red squirrels, deer, hare, small mammals and birds, including woodpecker, inhabit the woods. There are grants for encouraging capercaille, which occupied the area until relatively recent times.
The name Alana is derived from the Gaelic for beautiful, peaceful or serene and is particularly appropriate. The trees are predominantly towering pines that have been sensitively thinned and then left to mature. The woodland is absolutely in its prime with an abundance of good standing timber that is easily accessible and useful for building materials, though it could be left to mature further. Alternatively, the enterprising owner could use further thinnings as a source of sustainable firewood. There is an emerging understory and a particularly rich diversity of ground flora including wood sorrel, foxgloves and an abundant variety of mushrooms and fungi.
Alana Wood is benefitted by its own private entrance directly off the road with a generous hardstanding turning area and its own lockable gate. A few yards into the woods is a large bench milled from a fallen tree , a perfect place to sit a while.
At some point in the recent past the woods have been thinned with evidence of old forwarder tracks crisscrossing the woods allowing easy access throughout. Though a great place to visit throughout the year, it is late summer and autumn that the bountiful nature of these woods become apparent when a wide range of mushrooms emerge. There is an old Czech adage, "every mushroom is edible, but some only once!", so great care must be taken whilst foraging.
Surrounding Area: Nearby are the tourist villages of Edzell, with its beautiful but hidden, "rocks of solitude" walk along the North Esk river, and Fettercairn with its working distillery. Slightly further afield are Glamis Castle and Lunan Bay beach and the fishing town of Montrose. Dundee and Aberdeen are each approximately 35 minutes drive.
The purchasers of the woodland will be asked to enter into a covenant to ensure the quiet and peaceful enjoyment of adjoining woodlands and meadows.
There is a growing interest in hut, bothy and temporary shelter building, especially in Scotland; for those interested in erecting a hut or shelter, here is some interesting and very helpful guidance from Reforesting Scotland's Thousand Hut Campaign. Your Local Planning Authority should also be consulted.