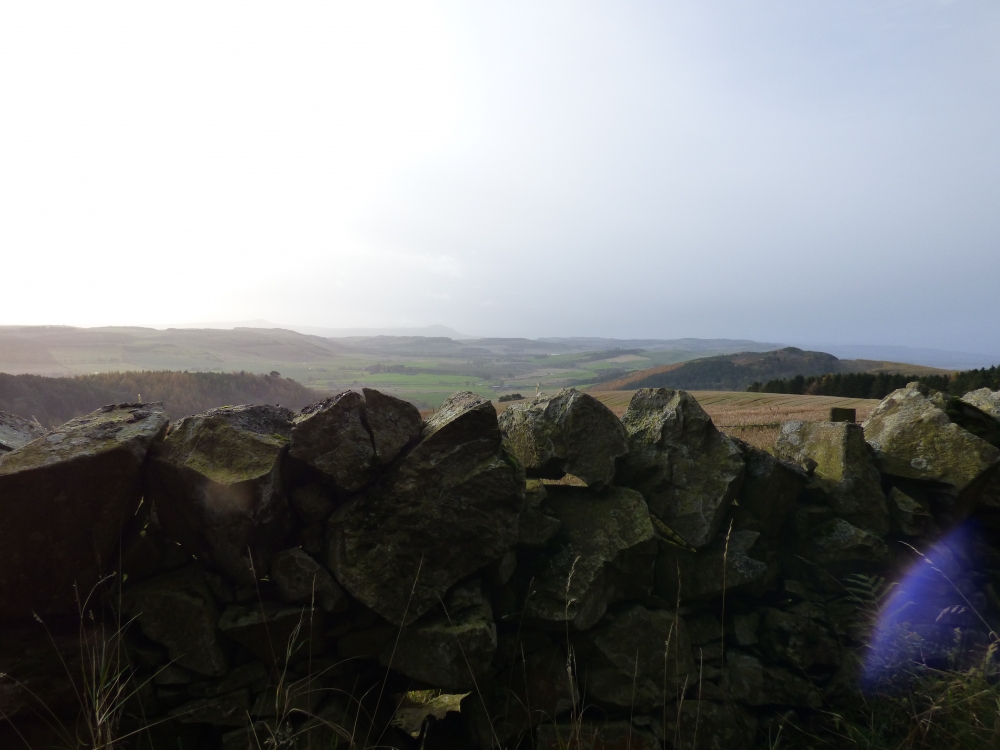 Fife, by custom, is widely held to have been one of the major Pictish kingdoms, known as Fib, and is still commonly known as the Kingdom of Fife within Scotland. The hill-fort of Clatchard Craig, near Newburgh, was occupied as an important Pictish stronghold between the sixth and eighth centuries AD and is in close proximity to the woods at Ayton Hill.
A renewed access track to this woodland has been enhanced with crushed stone, along with a hardened vehicle area at the foot of Back Briery Woods. Along with this access, an internal track has been cleared within this incredibly private wood and follows the field boundary: there is scope for it to be easily upgraded in the future if required.
This is a substantial woodland that has very clearly defined zones, both in the variation of trees and the topography of the land. As can be seen from the maps, it is quite elongated and straddles the hillside giving it yet further interest, character and diversity.
The initial section is quite dense spruce, though with very little light reaching the ground it is a haven for fungi of all descriptions. The second area of woodland is well thinned Scots pine and some more mature spruce. There is an abundance of ground flora, with wood sorrel and fern carpeting the floor, while towards the northern boundary there are half a dozen grand oak sentinels, far outdating the pine.
Beyond these two initial sections, the woods open out significantly to a mixture of larch, birch and some more spruce, before sycamore begins to dominate. A number of small windblown trees are found in this area, a proportion of which have been cleared and stacked into a number of habitat piles: these are great for small insects and invertebrates and by extension will provide food for the resident songbirds.
Views from here are simply quite majestic: on one side there is the panorama looking south into central Fife and to the north a more intimate view of the River Tay and its surrounds.
Cut and stacked timber will provide a truly sustainable source of winter fuel for even the largest domestic requirements, with a likely surplus. These woods generate a feeling of wonderful potential and will be of great interest to a wide variety of potential owners, whether the motivation is to study the abundant wildlife and flora, or to enjoy the enormous freedom of this size of wood with family and friends, or whether someone wishes to act as custodian of a truly majestic landscape.
Within the wood there are two benches of different designs: the main one is large and stoutly built, big enough for all the family while the second is tucked away off one of the tracks, see if you can find it.
Surrounding Area
Back Briery Wood is situated in north Fife on the old Ayton Estate near the middle south area of the Ayton Hill woods. The rural area, rolling hills and abundance of semi-natural ancient woodland makes this part of Fife particularly attractive to wild fauna and flora including red squirrel, roe deer, bluebells, primroses and wood anemones. The highest hill in northeast Fife is Norman's Law (part of the Ochil Hills) with a commanding 360° vantage point at the trigonometry pillar. It is known as a Marilyn, a hill with at least a 150m drop all the way round. Newburgh and Cupar are about 7 miles away with St. Andrews, Dundee and Perth are all within 30 minutes drive. Edinburgh and Stirling are just over 60 minutes drive away.
The purchasers of the woodland will be asked to enter into a covenant to ensure the quiet and peaceful enjoyment of adjoining woodlands and meadows.
There is a growing interest in hut, bothy and temporary shelter building, especially in Scotland; for those interested in erecting a hut or shelter, here is some interesting and very helpful guidance from Reforesting Scotland's Thousand Hut Campaign. Your Local Planning Authority should also be consulted.