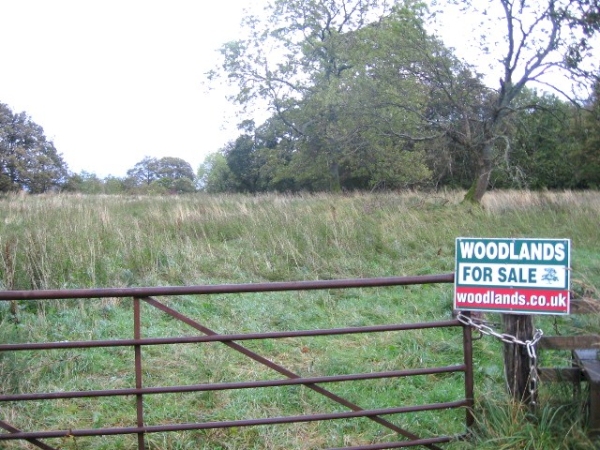 Description: Barr Meadow is an enchanting area of ground nestled at the bottom of the Barr Wood craigs on gently undulating grazing land. The land has many interesting features including an 80m stretch of running stream providing water for grazing livestock or equestrian use or for occasional paddling about in and enjoying the riparian wildlife.
Standing tall across the parkland meadow and along the boundaries are grand oaks, beech, sycamore, ash, birch, chestnut and hawthorn trees which provide useful shade and shelter and harbour an array of wildlife. There is a more wild fenced off area in the southeast corner along the stream where Scots pine and willow can also be found. Some meadow wildflowers and gorse and broom attract bees and butterflies.
Other features include an old brick and turf roofed ice house to the south and a small old quarry to the north which respectively used to act as a cold store and supply the stone for the nearby farm and manor houses.
The land has many interesting undulations, dips, hollows and mounds providing a variety of terrain and views out west across the fields or north towards the Trossachs and Southern Highlands.
Access: this is directly off the minor public road via two entrances - the recommended main entrance gate to the west and a secondary gate to the north (both shown on the detailed map).
Sporting Rights: these are fully owned and included with the land
Surrounding area: Barr Meadow lies on the edge of a semi-natural ancient woodland (SNAW) known as Barr Wood on the rural outskirts of the city of Stirling in peaceful countryside. The nearby Carron Valley, Touch hills and Campsie Fells provide easy access to outdoor activities such as good cycling, walking, fishing and general wildilfe viewing opportunites. For more challenging and remoter outdoor experiences the beautiful lochs and mountains of the Trossachs and southern highlands are within 40 minutes' drive. The historic city of Stirling has many local facilities and attractions associated with its pivotal position and place in Scotland´s history and battles for independence. Stirling is within 5 miles and Glasgow and Edinburgh can be reached within 30 and 45 minutes respectively.
The purchasers of the woodland will be asked to enter into a covenant to ensure the quiet and peaceful enjoyment of adjoining woodlands and meadows.