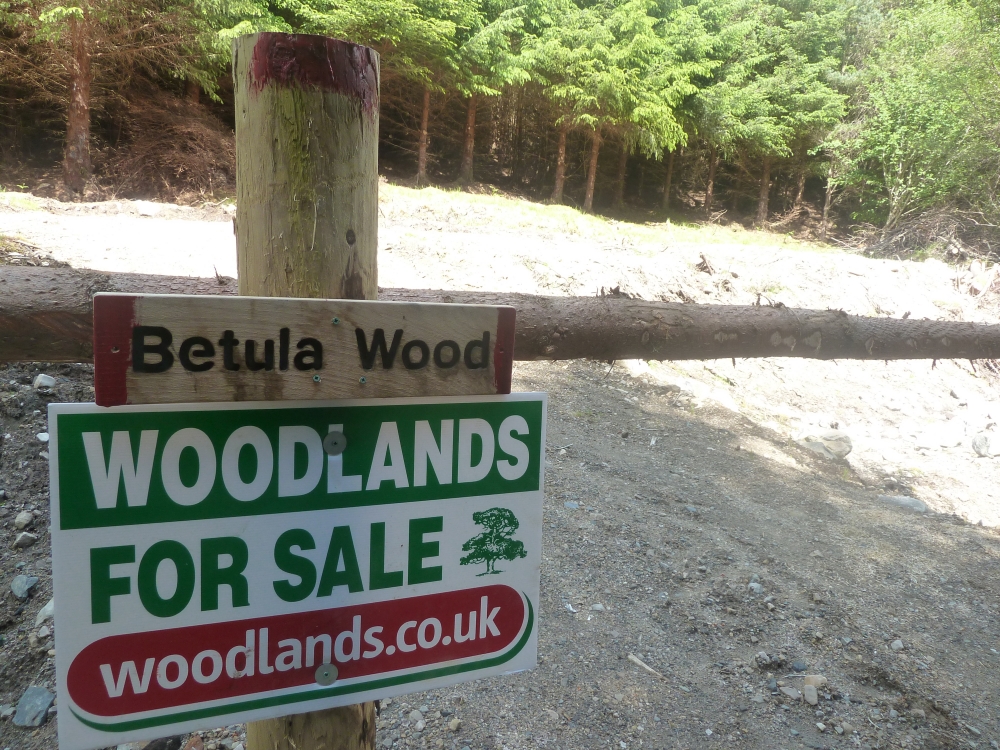 The origin of the name Betula Wood, stems from the genus of one of the pioneer tree species, birch, which is common throughout the northern hemisphere and beyond. In Celtic culture, the birch symbolises growth, renewal, stability, initiation and adaptability; it is highly adaptive and able to sustain harsh conditions with casual indifference. Proof of this is seen in its easy and eager ability to regenerate in areas damaged by forest fires or clearings. In Gaelic folklore, birch is also associated with the Tír na nÓg, the land of the dead and the Sidhe, and as such frequently appears in Scottish, Irish, and English folksongs and ballads in association with fairies or returning from the afterlife.
Betula Wood occupies a stunning location with its south facing aspect set directly opposite Schiehallion. Access is very good and there is an extensive hardstanding area for timber stacking, parking or the siting of a woodland shelter. A network of paths have been created throughout this very private woodland and on entering the wood lower down the hillside it is apparent that the strongly growing spruce and Scots pine dominate: there is plenty of potential to take a thinning cut for domestic firewood or simply to open out more glade areas to encourage the colonisation by other tree species. The creation of glades by more extensive cutting, is extremely worthwhile if increased biodiversity is sought: the plant, insect and animal species that colonise newly created opportunities, all rely upon these sunny openings to enable them to gain a foot hold on the landscape. Higher up in the woodland, birch, rowan and other native deciduous species prevail, while higher still, the hillside presents wide open vistas with far reaching views. There are some interesting boulder areas where heather dominates, attracting insects in search of nectar: in turn these insects attract the birdlife that predate upon them. Red squirrel inhabit the woodland as well as deer and probably pine marten. It essence, Betula Wood is a wood of contrasts and will appeal to those looking for an authentic slice of rugged Scottish countryside.
The views from the high plateau speak for themselves and viewing is highly recommended.
Surrounding area
Betula Wood is part of the old Creag Dhubh Forestry Estate, which is situated just above Dunalastair Water, on the lower south-eastern slopes of corbett Beinn a' Chuallaich. The surrounding area is renowned for its natural highland beauty including the ancient Caledonian Pine woods (Black Woods of Rannoch), series of Lochs (Rannoch and Tummel), cascading rivers (Tummel and Garry) and the classic, conical shaped munro (Schiehallion). Betula Wood is very close to Dunalastair Water which has the reputation of one of the best places for wild trout fishing in the UK. The nearby village of Kinloch Rannoch is one of the more remote villages in the area and is a draw for tourists as well as being the home to an outdoor pursuits centre. Further afield is Pitlochry, a small, picturesque tourist town in the geographical centre of Scotland and a handy place to pick up supplies when you are running low while the beautiful city of Perth is only about 30 minutes drive to the south.
The purchasers of the woodland will be asked to enter into a covenant to ensure the quiet and peaceful enjoyment of adjoining woodlands and meadows.
There is a growing interest in hut, bothy and temporary shelter building, especially in Scotland; for those interested in erecting a hut or shelter, here is some interesting and very helpful guidance from Reforesting Scotland's Thousand Hut Campaign. Your Local Planning Authority should also be consulted.