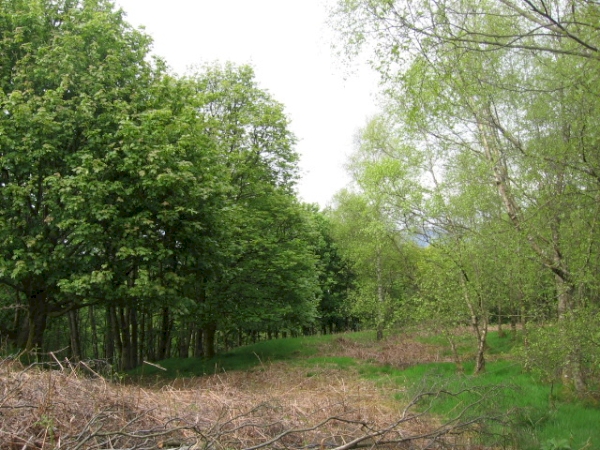 Description: Bowie Wood has a semi-natural and ancient feel to it: when you walk along the perimeter wood sorrel, bluebells, primroses and large sycamore, birch, ash, beech and oak combine to create a wonderful layered structure of arching branches and colourful floor vegetation.
Other trees such as willow, rowan, hazel and holly can also be found interspersed along the edge of the plateau, sheltering and surrounding a large central area covered in bracken and grass. Yellow flowering gorse and purple rhododendron hug the eastern fringe of the plateau attracting busy bumble bees, butterflies and small birds.
The central open glade would be ideal for: spotting wildlife, tree planting and making the most of the sun. Birds of prey including buzzard, sparrowhawk, merlin, red kites and possibly goshawks can be seen in the vicinity as well as woodpigeon, robin and chaffinch amongst the trees and the increasingly rare woodcock often hidden in dense cover. If you are lucky and careful you may also see a few roe deer browsing nearby.
Towards the north and northeast about 20 metres back from the top of the old stone quarry (which was used to provide stone for local estate houses), views out across Stirlingshire countryside could be opened up with some selective pruning.
Internal access is provided via a track leading to a grassy parking area and an undefined private trail inside the perimeter of the wood (as shown on the detailed map).
Access: is via a shared hard access track (in green on the detailed maps) suitable for four wheel drive vehicles which leads from the minor public road up a gradual incline to the wood at the top. There is shared parking at the bottom quarry area if required.
Sporting Rights: these are owned and included with the land.
Surrounding area: Bowie Wood lies in the nothwest corner of a historical semi-natural ancient woodland (SNAW) known as Barr Wood in peaceful countryside not far from Stirling, between the Touch Hills and Carron Valley. The historic city of Stirling five miles away has many local facilities and attractions associated with its pivotal position and place in Scotland´s history. Glasgow and Edinburgh can be reached in 30 and 45 minutes respectively.
The purchasers of the woodland will be asked to enter into a covenant to ensure the quiet and peaceful enjoyment of adjoining woodlands and meadows.
There is a growing interest in hut, bothy and temporary shelter building, especially in Scotland; for those interested in erecting a hut or shelter, here is some interesting and very helpful guidance from Reforesting Scotland's Thousand Hut Campaign. Your Local Planning Authority should also be consulted.