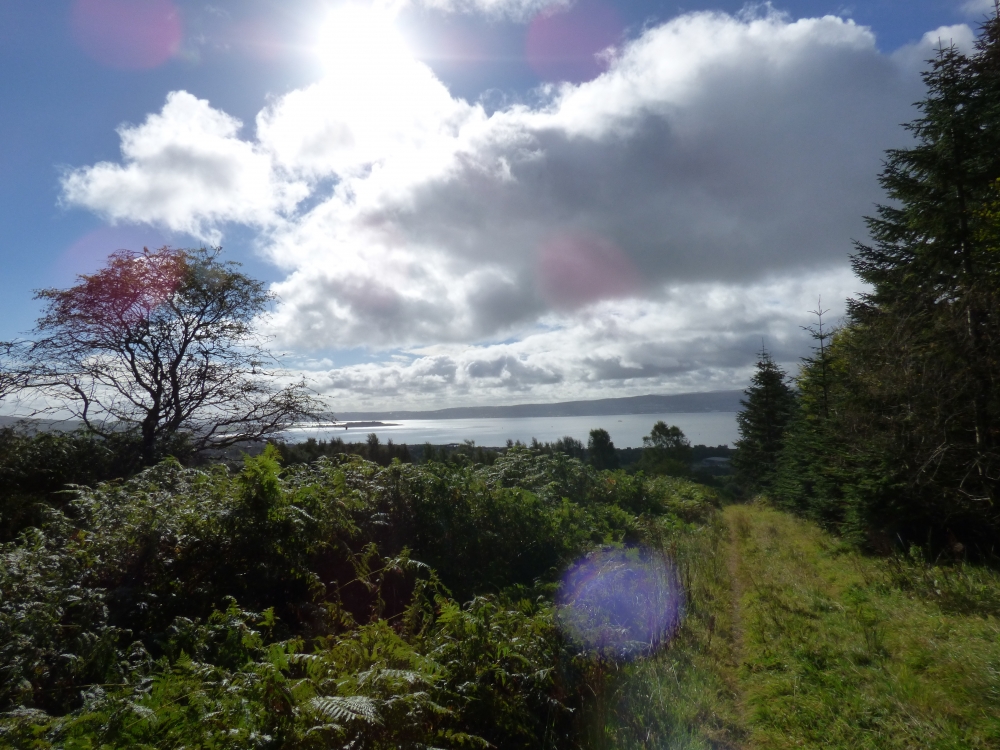 The town of Helensburgh was founded in 1776 and was built on the site of Ardencaple Castle, itself dating back to 1600. Brae Wood is situated in the middle and northern half of Ardencaple Wood and is surrounded by woodland on three sides. The hillside as a whole, is known as Tom na h-Airidh, meaning hillock of the sheiling and would have been a summer residence for herdsmen and cattle.
Brae Wood is a very attractive mixture of broadleaves and well-spaced conifers: the noble fir and Norway spruce have been interspersed with native species of beech, ash, rowan, oak and birch. The gentle incline and open glades provide splendid south-facing views across the Gareloch and the Firth of Clyde. The tree stock is healthy and well-established, being founded on well-drained, mineral rich soils. The borders of the wood are clear; a thick hawthorn hedgerow to the west and access tracks to the north, east and south. Adding to the appeal of this beautiful woodland is an easy to access burn with a small but picturesque waterfall. Towards the western edge of the wood there is a useful tool shed, seating area and a well built pheasant pen. This area could be easily expanded to create a fine level camping area or perhaps the siting of a woodland shelter.
For those interested in harvesting a sustainable source of domestic fuel, there is an abundance of firewood both already felled or ready to fell. The woodland would benefit from further sympathetic selective felling of mature noble fir, allowing sunlight to reach the woodland floor and the understory of deciduous trees to strike out.
The Ardencaple Woods are situated on the north side of the Gareloch and are wonderfully south facing. The thoughtful planting under a Broadleaves Grant Scheme, first started in 1985, and management practices since then, have created a very good balance of mixed-age trees, flora, open spaces and a variety of colour throughout the year. It is within easy reach of central-west Scotland and the nearby facilities, yet is still very private and tranquil. There are ancient tree remnants across the woodlands while to the north there is a commercial conifer plantation called Highlandmans Wood. Various water features, from trickling streams to flowing burns, are widespread throughout. The neighbouring open fields, verges and nearby woodlands provide ideal habitat for rich and diverse wildlife including sparrow hawk, owl, roe deer, buzzard, woodcock, pheasant and kestrel which are all common visitors to Ardencaple Woods.
Surrounding Area: Nearby Rhu and Helensburgh are both charming places to visit or stay, while the grandeur of Loch Lomond and the Trossachs National Park are within an hour's drive.
The purchasers of the woodland will be asked to enter into a covenant to ensure the quiet and peaceful enjoyment of adjoining woodlands and meadows.
There is a growing interest in hut, bothy and temporary shelter building, especially in Scotland; for those interested in erecting a hut or shelter, here is some interesting and very helpful guidance from Reforesting Scotland's Thousand Hut Campaign. Your Local Planning Authority should also be consulted.