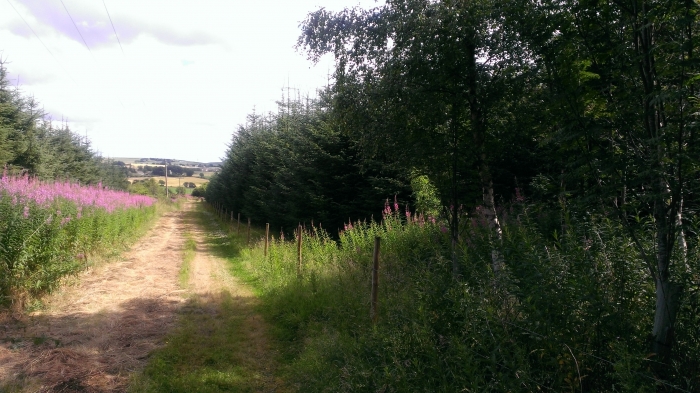 Approaching Lairshill from the direction of Aberdeen the landscape passes swiftly from city to rolling countryside. The woods at Lairshill are ideally located if you are looking for a bolthole away from the pressures of modern city life.
Cavil Wood is an attractive young woodland planted in 1999, whose appearance is improving year on year as the trees have entered a strong growing period. The main body of the wood consists of spruce conifers providing a secluded setting and a valuable habitat for red squirrels. Cavil wood is in a region of Scotland that is on the frontline of action to save this iconic native species. Click here for more information www.woodlands.co.uk/blog/flora-and-fauna/red-squirrels-in-scotland/ .
In contrast to the spruce, two areas of deciduous broadleaves provide bright and open spaces ideal for pleasant camping or taking in the surrounding views.
The ridestop entrance is flanked on one side by a triangle of mature beech and sycamore trees, with ample space for parking and turning; on the other side is a pleasant scattering of young hazel, oak, alder and birch trees.
On entering the woods there is a path directly ahead that follows the boundary and could be expanded in the future to allow vehicular access to the far end. Here there is a large clearing bordered on two sides by drystone walls suitable for etablishing a campsite or creating an additional planting project. The open ride that dissects the wood could also be opened up to create larger sunny glades.
There is an abundance of wildlife in the area, from majestic buzzards soaring above the canopy to red deer foraging for food. The more time spent within the wood, the more nature will reveal itself.
Surrounding area
Aberdeen is Scotland's third largest city profiting from a booming oil industry with property being very sought after. To the west is the fertile and attractive region of Deeside and beyond are the eastern fringes of the Cairngorm National Park. To the north is the whisky producing area of Speyside whilst the north east coastline provides atmospheric empty beaches and historic fishing villages.
The purchasers of the woodland will be asked to enter into a covenant to ensure the quiet and peaceful enjoyment of adjoining woodlands and meadows.
There is a growing interest in hut, bothy and temporary shelter building, especially in Scotland; for those interested in erecting a hut or shelter, here is some interesting and very helpful guidance from Reforesting Scotland's Thousand Hut Campaign. Your Local Planning Authority should also be consulted.