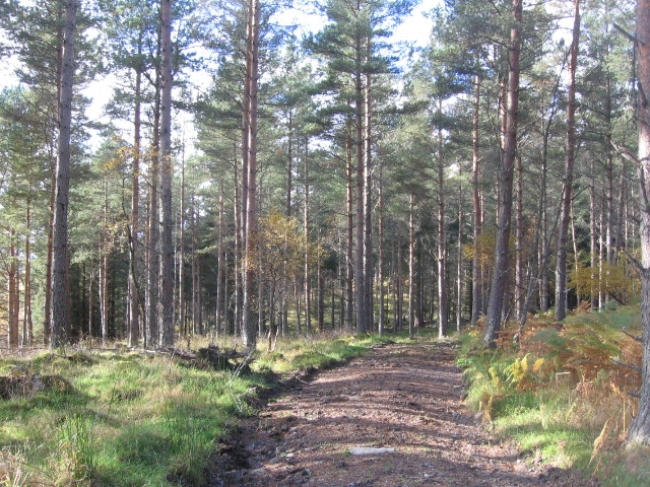 Description: Comair Wood is an open mature Scots pine woodland with some young native broadleaf trees - mainly birch and rowan - and an area of mature spruce to the northwest creating an interesting mixed woodland. Ideal wood for family enjoyment or as a conservation project.
The conifers were planted in 1971 and have been thinned in the past, leaving some fine specimens. Most of the land is gently sloping up towards the north area. The area is home to abundant wildlife and a thriving ground vegetation includes ferns, grasses, heather, mosses and lichens.
To the west there is a small burn coursing its way down a valley and for much of this the buyer will own both sides. Another small watercourse in the form of a land drainage ditch bisects the wood between the open pine and denser spruce. This flows from the east and joins the main burn towards the southwest corner of the wood. "Comair" is a confluence of streams in Gaelic.
The internal access has been enhanced with a track leading from the entrance to a levelled parking area. This spot is ideal for basking in dappled sunshine, spotting red squirrels, building a campfire and listening to the harmonious sounds of nature which vary across the seasons. A brashed path gives access by foot to the stream glade and spruce areas (both shown on the detailed map).
Access: From the B847 into the large open area (at present we are using this to store stone etc for track making), then through the metal gate where there is a full right of access over the shared private track along the entire northeast boundary of Comair Wood. Near the start of this shared track there is a ridestop entrance on the left providing vehicular access into the wood.
Sporting Rights: These are fully owned and included with the land.
Surrounding area: Comair Wood is part of the old Creag Dhubh Forestry Estate which is situated just above Dunalastair Water on the lower south-eastern slopes of corbett Beinn a' Chuallaich. The surrounding area is renowned for its natural highland beauty including the ancient Caledonian Pine woods (Black Woods of Rannoch), series of Lochs (Rannoch and Tummel), cascading rivers (Tummel and Garry) and classic conical shaped munro (Schiehallion). The area is renound for outdoor pursuits from hill-walking to mountaineering, boating (for sailing or fishing) to rafting. Local wildlife includes grouse, red deer, red squirrel, pine marten, capercaillie, cross-bill and various birds of prey. There are also many interesting fungi, insects, birds, lichens and other plants indicating a healthy and diverse ecosystem and making the area something of a mecca for conservationists and biologists. Creag Dhubh is a wonderful spot in which to relax, feel the senses come alive and take in some of the purest air and most beautiful scenery in Scotland.
The purchasers of the woodland will be asked to enter into a covenant to ensure the quiet and peaceful enjoyment of adjoining woodlands and meadows.