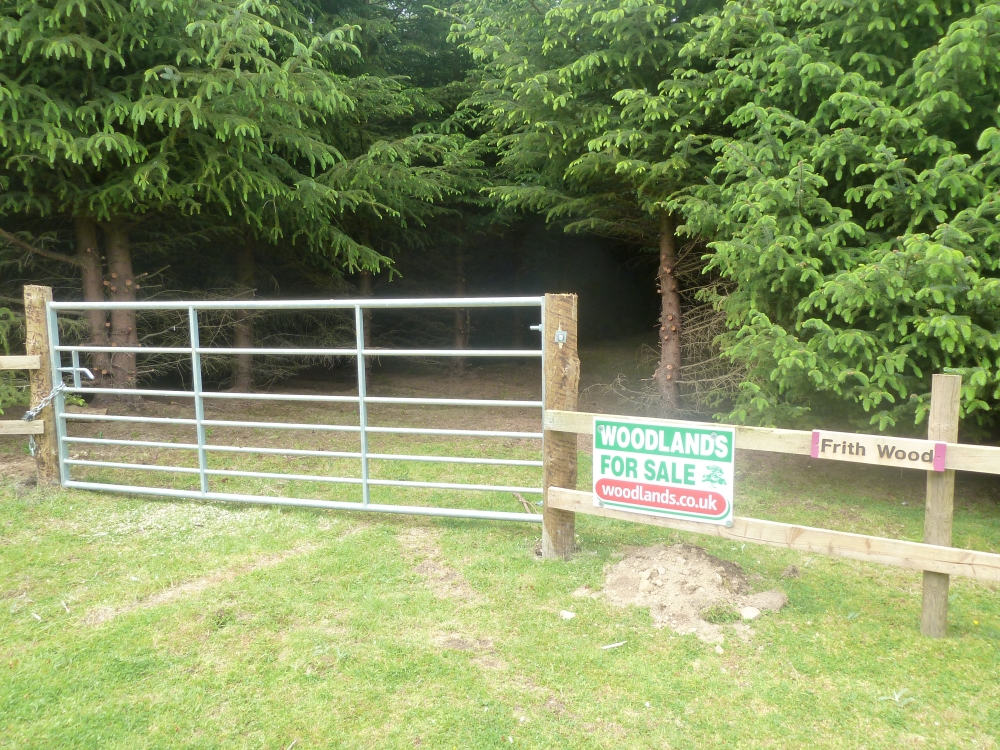 The name Frith is derived from Old English and has a number of meanings associated with peace, freedom, protection, security and sanctuary. Seating oneself on a frith stool was sometimes a requirement for claiming sanctuary in certain English churches in the middle ages.
Though there is not a frith stool in this particular wood, there is a convenient bench, set in a lovely clearing at the northern end of the wood and there is a sense of peacefulness and sanctuary from the hustle and bustle of modern life when walking through the woods of Lairshill.
Frith Wood is predominantly a young conifer plantation on flat and level ground, with the common practice of planting deciduous trees on the fringes; the conifer will provide a steady and sustainable supply of firewood and could also be a useful source of material for building tool stores. The deciduous planting on the outside of the wood adds diversity to the timber species and helps attract a wider variety of birdlife. The thicket and ground cover provides valuable cover to both deer and ground dwelling or nesting birds alike.
A number of tracks have been made through the woods that could be expanded upon to create more clearings. Following the trail for a short distance from the ridestop at the entrance, the first of the existing, quiet and secluded grassy glades is discovered. The creation of clearings or glades promotes diversity among the flora, as other species can begin to flourish in the increased sunlight levels: in turn, wildlife will visit and re-colonise these glade areas, attracted by the ever increasing diversity of flora and fauna.
The boundaries are delineated by sturdy drystone walls on two sides and the track and boundary posts on the third and fourth. There is a substantial clear area inside the wood, suitable for turning a vehicle and the stacking and drying of timber if required.
Surrounding area
Aberdeen is Scotland's third largest city profiting from a booming oil industry with property being very sought after. The villages of Newmachar and Hatton of Fintray are nearby, as is the Kirkhill Forest and Formartine and Buchan Way cycling/walking routes.
To the west is the fertile and attractive region of Deeside and beyond are the eastern fringes of the Cairngorm National Park. To the north is the whisky producing area of Speyside, whilst the north east coastline provides atmospheric empty beaches and historic fishing villages.
The purchasers of the woodland will be asked to enter into a covenant to ensure the quiet and peaceful enjoyment of adjoining woodlands and meadows.
There is a growing interest in hut, bothy and temporary shelter building, especially in Scotland; for those interested in erecting a hut or shelter, here is some interesting and very helpful guidance from Reforesting Scotland's Thousand Hut Campaign. Your Local Planning Authority should also be consulted.