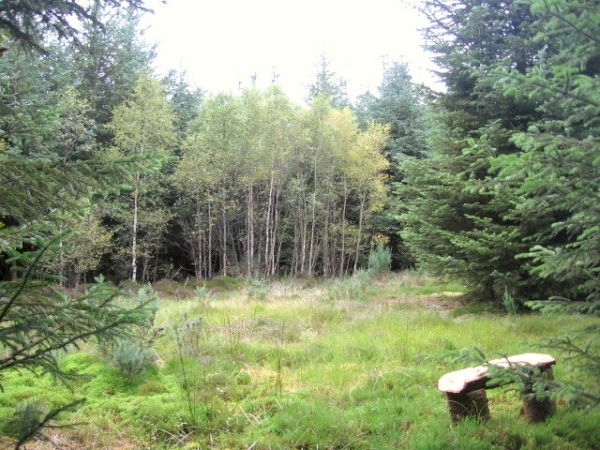 Description: Hert Wood is a mid-aged conifer woodland made up of two compartments situated in the heart of a mixed forest which is rich in mammalian, avian and fungal wildlife.
The larger area, to the west of the open grassy ride which bisects Hert Wood, is characterised by a series of wide parallel furrows with mainly spruce and some Scots pine planted in 1990, and a series of parallel birch rides (see the aerial photo). These birch rides bring lots of light into the wood. There are three main ditches in this section all carrying water to the nearby Dowrie Burn. A circular path helps navigate through the wood and five differently designed timber structures cross the three ditches on the way round. These small 'bridges' are a particular feature of this wood, as are the bay bolete and chanterelle mushrooms. You may even spot some tiny mushrooms growing on the spruce branches too.
In the peaceful heart of the wood you can enjoy private camping, simple relaxation, picnics, perhaps with some locally foraged wild food.
The eastern compartment has a further 'secret' clearing where more open mixed conifers are interspersed with mid-aged deciduous trees including birch, some willow and rowan. There are also red squirrel in Hert Wood now that the trees are bearing cones, and there are browsing roe deer to be seen on several of the tracks.
Access: is from the B974 through a shared double gate entrance and then along a shared private track (marked in green on the maps) over which Hert Wood has a right of access for all purposes.
Sporting Rights: these are owned and included with the land.
The Lady Jane Woodlands, ofwhich Hert Wood is part, are situated in idyllic, historical and very peaceful rural surroundings. The trees are a diverse mixture of species and ages and have been sympathetically managed throughout Lady Jane's long history. Currently, mature Scots pine, young spruce and birch are dominant, but there are significant areas of mixed broadleaves including oak, rowan and alder. Red squirrels, woodpeckers, pheasant, deer, hare and various fungi inhabit the woods. There are grants for encouraging capercaillie.
Surrounding Area: nearby are the tourist villages of Edzell, with its hidden "rocks of solitude" walk along the North Esk River, and Fettercairn with its working distillery. Slightly further afield are Glamis Castle and Lunan Bay beach www.undiscoveredscotland.co.uk/montrose/lunanbay/index.html and the fishing town of Montrose. Dundee and Aberdeen are each approximately 35 mins drive away.
The purchasers of the woodland will be asked to enter into a covenant to ensure the quiet and peaceful enjoyment of adjoining woodlands and meadows.