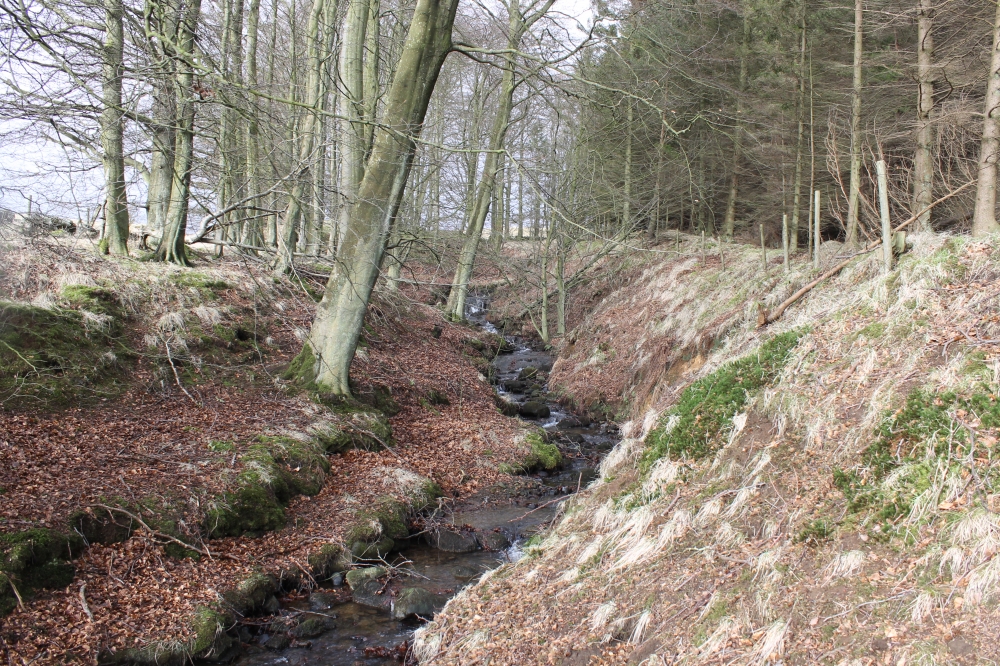 Lapin's Loup Wood is a fine mix of mature beech trees, mature pine and younger spruce. Holl Burn runs down one side of the wood providing opportunities for a small water turbine project or perhaps just the perfect place to sit and do absolutely nothing.
The views are spectacular on all sides and would suit those looking for a slice of peace and tranquillity, but at the same time also being convenient to access from Edinburgh and surrounding towns.
There are two open areas that would be suitable for timber stacking or as a base for woodland management and the siting of a shelter or tool store. These woods are worthy of a visit in all seasons.
Surrounding Area:
The surrounding woodland is called Bridle Bank and looks out north, across to the distant Lomond Hills, or the 'Paps of Fife' as they are commonly known. This hilly area will entertain the mountain biker and walker alike. The surrounding area, east of Loch Leven, is easily within reach of Edinburgh to the south and Dundee to the north. The Lomond Hills have a rich and varied history. From the Iron Age are the remains of several hill forts, which can be found around the summits of both East and West Lomond as well as at Maiden Castle, a grassy knoll that lies between the two.
Bridle Bank sits next to Holl reservoir, one of several in the area and it is from here one can take an alternative route up Bishop Hill. The route starts from the car park at Holl Reservoir and winds its way up through farmland and forestry plantings to emerge on the grassy open hilltop. This is a perfect place for a leisurely picnic while enjoying the wonderful views of Loch Leven with its islands and castle far below.
The purchasers of the woodland will be asked to enter into a covenant to ensure the quiet and peaceful enjoyment of adjoining woodlands and meadows.
There is a growing interest in hut, bothy and temporary shelter building, especially in Scotland; for those interested in erecting a hut or shelter, here is some interesting and very helpful guidance from Reforesting Scotland's Thousand Hut Campaign. Your Local Planning Authority should also be consulted.