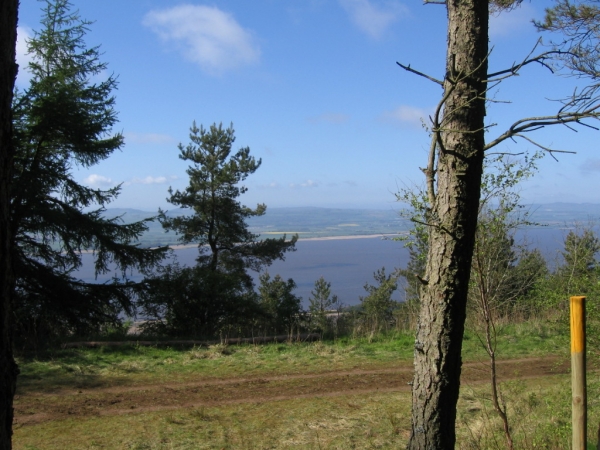 Description: Lindor Wood is a wonderful semi-mature Scots pine woodland about 250 metres above sea level on the very gentle western slopes surrounding the top of Lindamus Hill. From here there are splendid views over the Firth of Tay to the Angus hills in the distance.
The predominant and native Scots pine were planted in 1952 and are reaching graceful proportions, while spruce and sycamore, mixed with naturally regenerating birch, rowan, elder and ash create interesting contrast, diversity and habitat value. The woodland reverberates with birdsong in spring and early summer and has an enchanting character. Rich ground flora including lush grasses, ferns and primroses flourish in the open clearings and add to the pleasant ambience throughout the wood. These clearings could be further enhanced or multiplied with selective felling to allow natural regeneration of broadleaf species or woodland flowers and ground cover for bird and wildlife. Towards the north there is water for woodland animals - including roe deer and recently even a red squirrel was spotted there.
Access into the wood is via the ride-stop entrance and track leading to a parking area. A brashed private path leads through the wood to the southern boundary from where views to Norman's Law Hill, part of the Ochil Hills, and northeast Fife can also be enjoyed.
Access: There is a full right of access over a shared private road and woodland track leading up the hill for about 1 mile after turning off the A913. There is a secondary right of access from the minor road between Fliskmiln Farm and Brunton village over a cattle field and forestry track to the northeast of Lindor Wood.
Sporting Rights: These are owned and included with the land.
Surrounding area: Lindor Wood is situated in north Fife on the old Ayton Estate near the top of the Ayton Hill woods. The rural area, rolling hills and abundance of semi-natural ancient woodland makes this part of Fife particularly attractive to wild fauna and flora including red squirrels, roe deer, bluebells and wood anemones. The highest hill in northeast Fife is Norman's Law and this commanding 360° vantage point and site of an iron age fort is but a short walk from the woodland. Newburgh and Cupar are about 7 miles away with St. Andrews, Dundee and Perth all within 30 minutes drive. Edinburgh and Stirling are just over 60 mins drive away.
The purchasers of the woodland will be asked to enter into a covenant to ensure the quiet and peaceful enjoyment of adjoining woodlands.
There is a growing interest in hut, bothy and temporary shelter building, especially in Scotland; for those interested in erecting a hut or shelter, here is some interesting and very helpful guidance from Reforesting Scotland's Thousand Hut Campaign. Your Local Planning Authority should also be consulted.