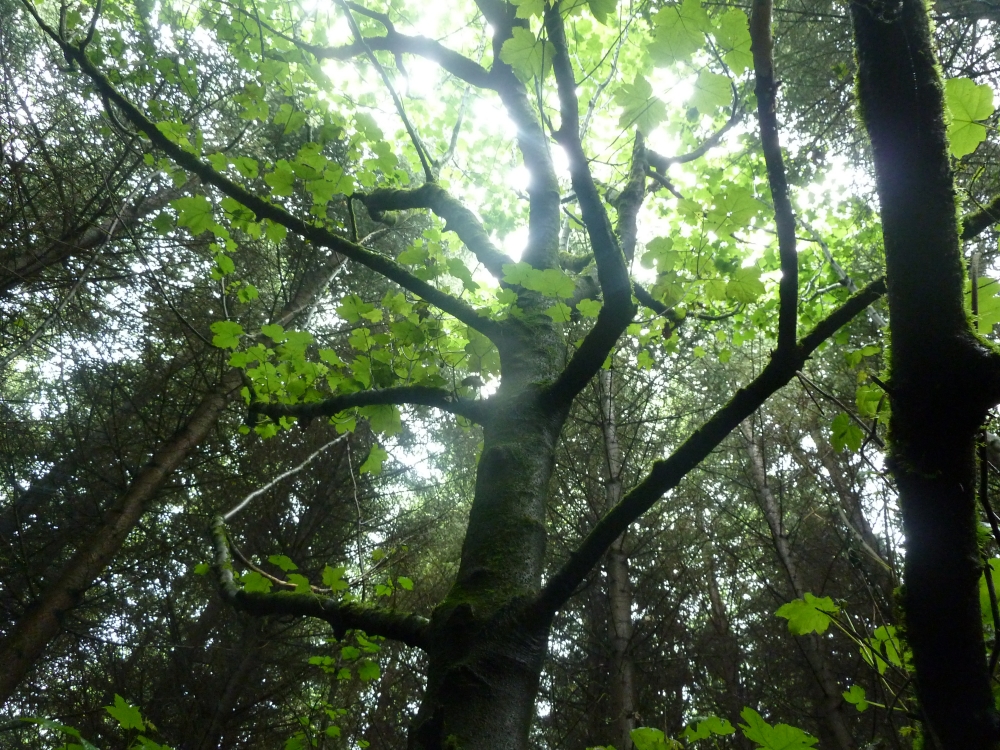 According to unwritten history, the Pictish kingdom was divided into several provinces and Fife was one of them. The hill-fort of Clatchard Craig near Newburgh was an important Pictish stronghold during the 8th century, as was the fort on Norman's Law situated directly behind Ayton Hill woods. The Picts left behind no written records and all that can be gleaned of this mysterious civilisation is from their elaborately carved stones. It is likely the Picts would have hunted in the woods all around their forts: presumably they would have gone through Red Fox Wood!
Red Fox Wood is a very private wood, of a modest and manageable size and it has easy access.
The wood is predominantly spruce with a fringe of alder, willow, sycamore and birch along two of its boundaries. It sits on a comfortable plateau towards the top of Ayton Hill woods with ample spacing between trees that could be opened up further with judicious brashing up.
Walking down off the core track, the shared entrance weaves its way into a fine clearing perfect for storage and management of woodfuel or the placing of a woodland shelter to assist in the working of the wood. For your convenience there are two benches towards the back of the clearing, ideal for sitting and enjoying the woodland.
From this central area various rambling trails lead off into a circuit of Red Fox Wood. On a fine day the light provides a kaleidoscope of dappled images accompanied by the delightful chorus of birdsong.
As its name suggests, the fabulous fox resides in the woods as well as numerous transitory deer. As with all woods, the more time spent within them, the more apparent becomes the wildlife and Red Fox Wood is no exception. Exploration of the myriad of trails is to be encouraged. This wood has great potential as a source of firewood with the creation of new clearings and glades as well as general thinning. These thinned areas could then be planted with a variety of native deciduous species to increase the diversity of the habitat within the woodland.
Access: There is a full right of access over a shared private road leading up the hill for about 1 mile after turning off the A913, and along shared forest tracks (shown green on the detailed maps) extending to the end of the wood's northeast boundary.
Sporting Rights: These are fully owned and included with the land.
Surrounding area:
Red Fox Wood is situated in north Fife on the old Ayton Estate near the middle south area of the Ayton Hill woods. The rural area, rolling hills and abundance of semi-natural ancient woodland makes this part of Fife particularly attractive to wild fauna and flora including red squirrel, roe deer, bluebells, primroses and wood anemones. The highest hill in northeast Fife is Norman's Law (part of the Ochil Hills) with a commanding 360° vantage point at the trigonometry pillar. It is known as a Marilyn, a hill with at least a 150m drop all the way round. Newburgh and Cupar are about 7 miles away with St. Andrews, Dundee and Perth are all within 30 minutes drive. Edinburgh and Stirling are just over 60 minutes drive away.
The purchasers of the woodland will be asked to enter into a covenant to ensure the quiet and peaceful enjoyment of adjoining woodlands and meadows.
There is a growing interest in hut, bothy and temporary shelter building, especially in Scotland; for those interested in erecting a hut or shelter, here is some interesting and very helpful guidance from Reforesting Scotland's Thousand Hut Campaign. Your Local Planning Authority should also be consulted.