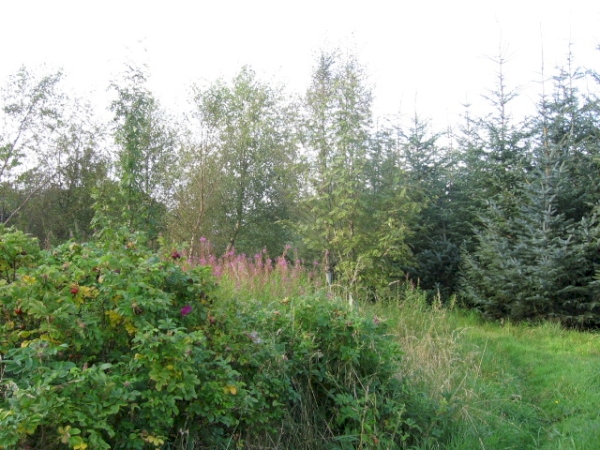 Description: Swail Wood is a bright and secluded mainly spruce woodland with larch and broadleaf fringes all planted in 1999. The trees are well established and are sited on level or very gentle sloping ground in generally good, fertile brown earth soils with good rooting depth and land drainage.
The groups of mixed broadleaves around the perimeter include oak, ash, rowan, silver birch, beech, hazel and hawthorn. The pink blossom and red hips of ramanas and dog rose can be found in the southwest corner and there are also rosebay willowherb, buttercups, clover and other wild flowers along the open rides. To the northwest there is a small wet flush area providing habitat for amphibious toads. With appropriate care this diversity in habitat could be further encouraged or may even be suitable for a small wildlife pond.
The spruce conifers are in a vigorous growth phase and will lead to a dramatic change in the woodland over the coming years providing privacy and winter shelter. As the trees mature and become cone-bearing it's possible that red squirrels will move in. There is more on the red squirrel project at: Red Squirrels at Lairshill.
Both main clearings can be reached by car along the internal track (as shown on the detailed map), and both are suitable for occasional camping and sharing picnics and campfires with friends and family. A brashed path through the centre of the spruce and larch area links up the clearings and more paths could easily be created to explore in different directions.
Some small-scale thinning could be done to create more glades, add more native species and diversify wildlife habitats. These thinnings would help improve the remaining trees and could also provide useful firewood.
Access: Access is off the minor public road and along a private shared grassy track with full rights of way.
Sporting rights: these are fully included.
Surrounding Area: Swail Wood is part of a larger planted area of woodland known as Lairshill Woods. The villages of Newmachar and Hatton of Fintray are nearby, as is the Kirkhill Forest and Formartine and Buchan Way cycling/walking routes. The coast with secluded beaches of Balmedie and Newburgh, as well as Dyce, Inverurie and Aberdeen, are all within 20 minutes' drive.
The purchasers of the woodland will be asked to enter into a covenant to ensure the quiet and peaceful enjoyment of adjoining woodlands.
There is a growing interest in hut, bothy and temporary shelter building, especially in Scotland; for those interested in erecting a hut or shelter, here is some interesting and very helpful guidance from Reforesting Scotland's Thousand Hut Campaign. Your Local Planning Authority should also be consulted.