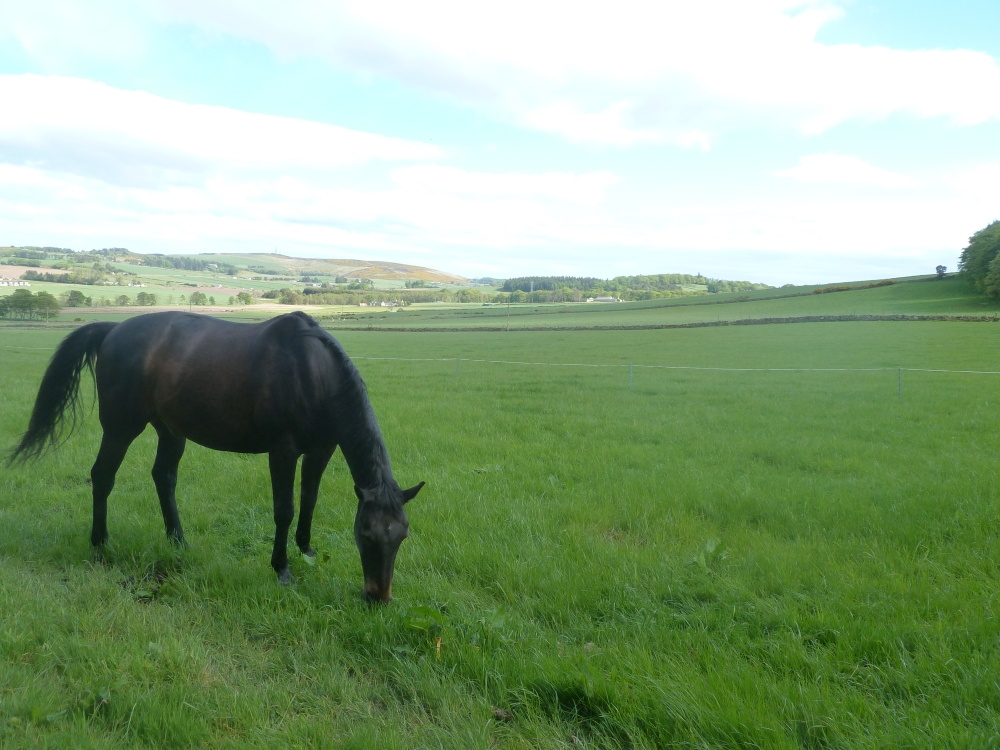 Wogle Wood is situated in an area known as the Garioch, one of the six committee areas of Aberdeenshire. In recent times the area has flourished in conjunction with the booming oil industry. The five acres of Wogle Wood, are set in peaceful rolling countryside , the perfect antidote to the hustle and bustle of Aberdeen life.
There is a new hardstanding area at the entrance to the wood with a useful small steel container for storing tools that is being sold with the wood.
It is enclosed on three sides with traditional drystane dykes that in themselves provide a flourishing eco system for small animals, lichens and mosses. Parallel to the stone wall is a magnificent avenue of mature beech trees creating an impression of grandeur.
At the heart of the wider woodland of which Wogle Wood is a part, is a stand of 1981 Sitka spruce extending to 8 acres which is growing well on freely-drained mineral soils. To the north of this there is a stand of similar-aged Scots pine. The southeast and western parts support a variety of hardwoods of different ages offering most attractive amenity with grassy glades and the prospect of private camping with logs aplenty for the campfire or domestic hearth and it is in this area that Wogle Wood sits.
The northern edge of the wood has a clear grassy area perfect for occasional camping or for additional tree planting. This is the only piece of woodland for sale in this location and will be well sought after, early viewing is recommended.
The purchasers of the woodland will be asked to enter into a covenant to ensure the quiet and peaceful enjoyment of adjoining woodlands and meadows.
There is a growing interest in hut, bothy and temporary shelter building, especially in Scotland; for those interested in erecting a hut or shelter, here is some interesting and very helpful guidance from Reforesting Scotland's Thousand Hut Campaign. Your Local Planning Authority should also be consulted.