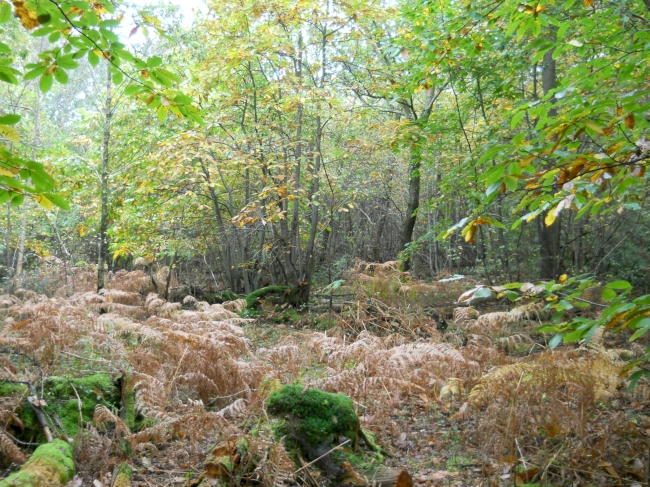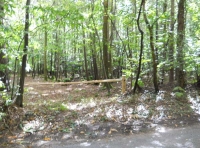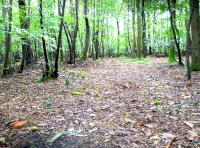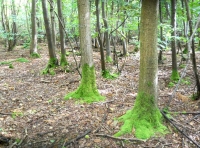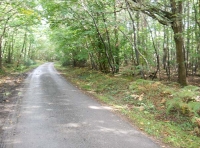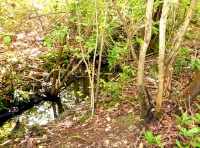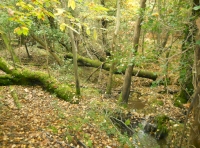 In many ways an ideal wood. In part of it you can walk about on the uncluttered woodland floor underneath oaks, birch trees, larch and chestnut. Elsewhere privacy is provided by the bountiful shrubbery, and by some moss-covered trees that were probably brought down in the '87 storm. The ground is mainly level, but there is a small stream along the whole of the extensive eastern boundary of the wood. It is possible that a very small pond could be enlarged here. There is lots of hazel coppice at the southern end, along with a couple of yew trees. The wood lies along a very quiet country lane, and there is direct access through a locked ride stop right into the centre of the wood.
Anchor Wood lies within the South Downs National Park, and is designated as Ancient and Semi-natural Woodland. Thismeans it has been continuous woodland since at least 1600AD. The wood is also a SNCI (Site of Nature Conservation Importance)
In the immediate area are the villages of Tortington and Walberton and Binstead, both of which have churches that can be traced back to the Norman period. The wood is less than 5 miles from the south coast beach at Climping. Within easy reach of the wood, although across a busy road, is the pub and hotel, 'The White Swan'.
The purchasers of the woodland will be asked to enter into a covenant to ensure the quiet and peaceful enjoyment of adjoining woodlands and meadows.