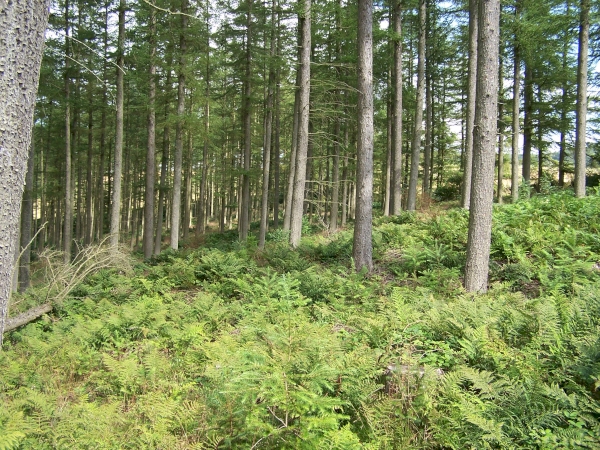 Burnfoot Wood is well-managed larch wood that has matured and naturalised in a most attractive manner. A stone track gives good access, passing an area of young broadleaf plantation, and leading to an open and level turning area.
Further exploration along recently mown paths gives a good impression of the light and open spaces beneath the larch. A wide variety of plants are exploiting the opportunity to establish a foothold. Hard fern, bilberry and holly compete with mosses and grasses to give a rich green carpet.
Two small ponds add to the diversity with wet land species lining their sides. Birchy Sike a small, but free flowing, burn creates yet another interesting feature.
An early morning visitor is more than likely to spot a deer resting in the wood. If you wait on the woodland bench you may give a sighting of the elusive lizard darting through the undergrowth.
Possibilities abound in Burnfoot Wood for conservation, family forestry, camping and woodland management. This is an opportunity to share space with the natural world in a secluded corner of the Tyne valley.
Access: Is through a wooden field gate off a small country lane, then along a shared track to a ridestop leading to a turning area in the wood. Good paths give access through the trees.
Surrounding Area: Burnfoot Wood is part of a larger area of woodland which runs down to the River Tyne. The Tyne is considered to be England's best salmon river which together with sea trout runs gives the opportunity for excellent fishing. This is a quiet rural setting with many public footpaths with good walking. Nearby is Hadrian's Wall with the more challenging Hadrian's Wall Long Distance Path.
The purchasers of the woodland will be asked to enter into a covenant to ensure the quiet and peaceful enjoyment of adjoining woodlands and meadows.